A 12-month plan for your money
Setting a financial planning goal for every month of the year will make the task of improving your personal finances more manageable.
This post comes from Rob Berger at partner blog The Dough Roller.

With the start of a new year, it seems appropriate to think about how we can make 2013 a financial success. But rather than making a New Year's resolution about getting out of debt that we won't keep, let's look at a month-by-month plan instead.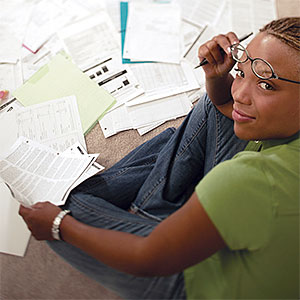 By breaking our goals into smaller pieces, we are much more likely to accomplish them. Of course, feel free to change the order of these goals -- for instance, move an emergency fund to the top of the list if you don't already have one -- or add your own.
January: Max out your retirement savings.
January is a perfect time to set your retirement contributions for the year. The 401k contribution limits edged up for 2013 to $17,500 (plus an additional $5,500 for those age 50 or older). So make sure your contribution percentage is high enough to take advantage of the increased limits. And if that's more than you can afford, make sure your contributions are at least enough to take advantage of any matching contributions from your employer. The same goes with contributions to your individual retirement account, which also increased by $500 for 2013 to $5,500 ($6,500 for those 50 or older).
February: Improve your credit score.
Your credit score is important for many reasons. There are the obvious ones -- qualifying for the best rates on mortgages and car loans, to name two. But there are some less-obvious reasons that your FICO score matters -- securing lower premiums on car insurance, renting an apartment and, in some cases, getting a job. If your credit score is not in tip-top shape, make 2013 the year of excellent credit.
March: Tackle your debt.
There's no greater feeling than getting rid of all your debt. My wife and I have struggled through everything from credit card debt to car loans to school loans. But with a determination to avoid new debt and a lot of hard work, we finally became debt-free, with the exception of our mortgage.
Key for us were avoiding new debt and earning a side income. You don't hear much about side income when you read articles about tackling your debt, but it's the best way to supercharge your efforts to climb out of debt. So make March your month to begin the journey to financial freedom.
April: Audit your spending.
I love this approach to budgeting. Rather than setting aside a certain amount to spend on eating out or buying clothes, audit your monthly bills. The idea is to go through every one of your monthly bills (e.g., rent or mortgage, cable, Internet, cellphone, insurance) and ask these questions about each one of them:
Do I really need this service at all (e.g., a home telephone, a second car)?
If I do need it, can I get it from my current provider for less?
Can I get the service from another provider for less?
This approach can save you hundreds if not thousands of dollars a month, and without changing your lifestyle one bit.
May: Re-balance your investments.
Diversifying your investments enables you to maximize your returns with less risk. As the stock and bond markets fluctuate, however, the amount of each that you have in your portfolio changes. The same is true of large cap versus small cap investments, and U.S. versus foreign investments. As a result, it's important to rebalance your portfolio once a year. It's an easy thing to forget about, but should take most folks about an hour or less to do.
June: Get in shape.
It may seem odd in a list of personal finance and investing resolutions, but getting in shape has a lot to do with finances. Your physical condition can affect the premiums you'll pay for both life insurance and individual health insurance. Staying in shape will reduce the number of days you miss work. And your condition has a direct effect on your stamina, which goes a long way toward your productivity at work and life.
July: Rethink insurance.
Insurance is a necessary evil. While we wish we could forgo the premiums, insurance plays an important part in protecting us from the unexpected. But we should still examine our policies once a year to see if we could lower the cost. There are several ways to reduce the cost of insurance. We can increase our deductibles, lower our coverage or shop for less-expensive options. The key is to evaluate your insurance needs each year to make sure you aren't paying more than you must.
August: Save more for emergencies.
It's a great feeling to know you're not living paycheck to paycheck, and that begins with an emergency fund in an interest-bearing savings account that covers, at the very least, one month of expenses. Set up automatic contributions to your emergency fund account.
September: Start tracking your net worth.
It's not how much money you make that matters. It's how much you keep. In fact, I know lawyers who make in the top 1% of wage earners, but spend everything they make and then some. Sure they make a lot of money, but their net worth is abysmal. Start tracking your net worth and focus on how you can increase it over time. Net worth should be the measure of your financial independence, not how much you make.
October: Save for your child's education.
Funding a 529 plan is a great way to save for your child's education. If you haven't started one, now is the time. And if you already have one, make sure you fund it each year.
November: Study.
One thing blogging about personal finance has taught me is that you never stop learning. No matter how much you study money management, investing, financial planning or business, there is still more to learn. While learning should be a continuous process, it's helpful to take one month out of the year to focus on learning new things that can help your finances. So put down the Steven King novel (although "11/22/63" is fantastic) and pick up a good book about money.
December: Dream.
This one probably should have been listed for January. So often we focus entirely on the here and now -- paying the bills, getting the kids to school, what's for dinner, and whether our boss really appreciates our hard work. While these are all important, it's worth stepping back and looking at the big picture. Even in my late 40s I continue to ask what I want to do when I grow up. I hope I never stop asking that question. And sometimes we need to shut out all the distractions in order to truly listen to our dreams. They are in each of us; we just need to find them.
Have a happy, healthy and prosperous 2013.
More on The Dough Roller and MSN Money:
DATA PROVIDERS
Copyright © 2014 Microsoft. All rights reserved.
Fundamental company data and historical chart data provided by Morningstar Inc. Real-time index quotes and delayed quotes supplied by Morningstar Inc. Quotes delayed by up to 15 minutes, except where indicated otherwise. Fund summary, fund performance and dividend data provided by Morningstar Inc. Analyst recommendations provided by Zacks Investment Research. StockScouter data provided by Verus Analytics. IPO data provided by Hoover's Inc. Index membership data provided by Morningstar Inc.