TV gets social with second screen
Producers and marketers are moving quickly to capture the growing number of viewers who check into their social networks while watching.
This post comes from MSN Money contributor Michelle V. Rafter.
When the Baltimore Ravens beat the San Francisco 49ers 34-31 in Super Bowl XLVI on Feb. 3, an average of 108.4 million people tuned into the game on CBS.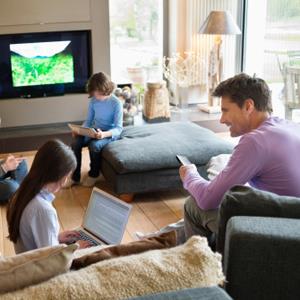 While they watched, 5.3 million of those football fans went on Twitter to share tweets about the game -- 31.1 million tweets to be exact.
That's a lot of hashtags. It's also a great example of how people watch TV today: with a remote control in one hand and a smartphone or tablet computer in the other.
The second-screen phenomenon, fueled by the duel growth of mobile devices and social media, is turning the once solitary experience of viewing live sports, special events and episodic TV into a group activity. The trend even has a name: social TV.
Today, four of 10 U.S. TV viewers check in on social media during a show or commercial break, according to an Associated Press video report released March 11.
"It's essentially making TV what it was always meant to be, a live, communal experience," says Andrew Somosi, chief executive at SocialGuide, a social TV ratings service. "It's different to tweet about 'Homeland' or 'Pretty Little Liars' when you know there are tens of thousands of other people tweeting about it."
Broadcasters, social networks and others entities are figuring out how to make money from social TV.
So far, they're focusing on squeezing more from advertisers. That's left social TV relatively cost-free for the average viewer -- apart from what they already spend on cable or satellite TV connections, smartphones and tablets, and online access or cell service for mobile devices.
Twitter is still social TV's epicenter, with 32 million individuals in the United States tweeting about their favorite shows during 2012, according to SocialGuide, which measures the impact of social media on TV viewing.
Twitter accounts for 95% of the public comments that get shared on social networks during real-time broadcasts, according to Bluefin Labs, a social TV analytics startup. Twitter bought Bluefin in February, part of the company's strategy to make money from social TV.
In December, Twitter said it will partner with TV ratings giant Nielsen and SocialGuide, which Nielsen bought earlier in 2012. Nielsen is using SocialGuide as the basis for a social TV rating service that's expected to debut in the fall.
Broadcasters are figuring out the best way to capitalize on Twitter's popularity with TV viewers. During March Madness, for example, Turner Broadcasting's TruTV and the NCAA are sharing  15-second video clips from games airing on the cable channel to Twitter within minutes of the action, according to USA Today. Twitter users can follow @marchmadness to see the clips.
Networks are using social TV to boost viewership and ratings. Programs like ABC's "Scandal," where the cast and crew live tweet episodes and engage with fans, "are the ones whose shows often get past the first few episodes," says Jane Boursaw, editor-in-chief of the entertainment website Reel Life With Jane. "It's how they do it that works, too. It may seem very off-the-cuff, but it's all very calculated and organized."
To promote the new season of "Mad Men," which starts April 7, AMC is running a sweepstakes cosponsored by Banana Republic and UrbanDaddy.com. AMC reaches out to the Twitterverse "to get them viewing," says Barbara Benham, a Washington-based social media consultant. "They offer games and ask questions to get folks to comment on its website."
Networks are building social TV into the mobile apps they're creating so viewers can use to watch TV on a smartphone, tablet or laptop. CBS recently unveiled a free iPhone and iPad app  for streaming full episodes of popular series such as "NCIS" and "How I Met Your Mother" that includes live social feeds, along with cast photos and other features.
For corporate America, social TV is another way to get brands in front of consumers. When Budweiser and Visa ran ads during the 2012 Summer Olympics, buzz around the company's brands on social media rose 1,500%, according to the Associated Press video report.
Mobile developers are building standalone apps they hope the viewing public will use along with or in place of Twitter and Facebook.
One is Zeebox, a free "augmented TV" app that works with Apple, Android and BlackBerry smartphones and tablets and automatically synchs with what a viewer is watching on TV. Zebox users who log onto Twitter or Facebook can chat about what their watching. On the same screen, they also see information about what's on the screen as a series of tags in real time. If someone's watching a rerun of "Top Gun," clicking on a tag could pull up information about Tom Cruise, his other films, and more, according to the company. In the first three months it was out, Zeebox was downloaded a million times, according to The Next Web.
More on MSN Money:
DATA PROVIDERS
Copyright © 2014 Microsoft. All rights reserved.
Fundamental company data and historical chart data provided by Morningstar Inc. Real-time index quotes and delayed quotes supplied by Morningstar Inc. Quotes delayed by up to 15 minutes, except where indicated otherwise. Fund summary, fund performance and dividend data provided by Morningstar Inc. Analyst recommendations provided by Zacks Investment Research. StockScouter data provided by Verus Analytics. IPO data provided by Hoover's Inc. Index membership data provided by Morningstar Inc.