Are gas prices bumming you out?
While some on the East and West coasts are paying more than $4 a gallon, for others the cost of gasoline is less shocking.
Is the price of a gallon of gasoline where you live heading off the charts?
That's one of the funny (strange, not ha-ha) things about the price of gas. It can be sky high in one part of the nation and much lower somewhere else.
Here are some examples from AAA's Fuel Gauge Report:
The national average for regular is $3.786, compared with $3.766 a week ago and $3.349 a month earlier. A year ago at this time, it was $3.716. (The highest recorded price for regular was $4.114 in July 2008.)
In California, the average price is $4.238.
In Colorado, it's $3.592.
Here in Montana, we're paying an average of $3.278.
In New York state, it's $4.013, topped by a $4.099 average in New York City.
In Washington state, people are paying $3.752.
This graphic clearly shows the disparities from state to state: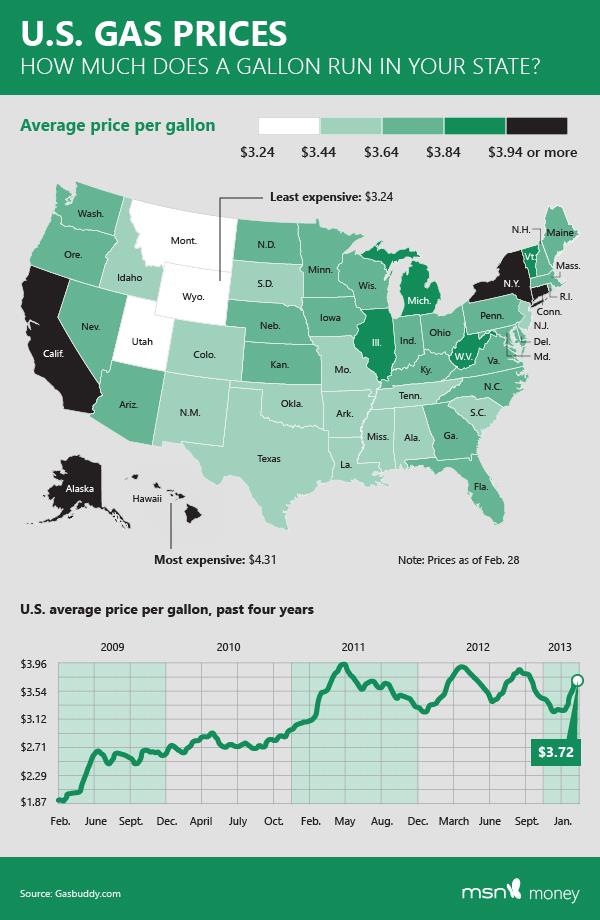 Why the big disparity? What you pay depends on factors like how close the refinery is, that refinery's sources of crude, and whether refineries are undergoing planned or unplanned maintenance and repairs.
Also, says National Geographic:
"A new analysis released by the Energy Information Administration, the U.S. government's energy statistics and analysis agency, suggests that 'about two-thirds of the rise in gasoline prices since the start of the year' can be traced to a rise in the 'crack spread,' a measure of refinery profit margins."
Remember also that gas prices move with the seasons, heading down for the winter months and moving back up when the weather improves. However, the price increase has come earlier this year.
And it's not over. USA Today says that although the wholesale price of gasoline has dropped in recent days, "experts still expect prices to rise another 20 cents a gallon before peaking just below $4 in late March or early April."
What can you do? First, take a deep breath and look a close look at your budget. If you don't have a long commute or you're not existing near the poverty line, gasoline is probably not consuming as much of your household spending as it seems.
It's just that we pay close attention to the price every day, and that, in turn, can affect how we view the overall economy, writes John W. Schoen of NBC News:
"An opinion poll conducted last week by the National Association of Convenience Stores found that nearly half of all consumers (44%) said that gas prices have a 'great impact' in how they feel about the economy, up from the 38% who felt that way in January."
There are ways to reduce the pain you feel at the pump. Don't waste your time with the "tips" that always pop up when gas prices are high, like filling up only in the morning. And for goodness' sake, don't forgo air conditioning in your car under the misguided belief that it's saving you money.
Here are three major ways to reduce your gasoline costs (which, granted, are not all practical for everyone):
Drive less. That could mean carpooling for work, taking public transportation, walking or riding a bike. If you must drive to the store, combine errands.
Upgrade to a more fuel-efficient car when it's time to replace your current ride.
Drive better. I've been known for "driving like an old lady" for decades, which means I avoid jackrabbit starts, stay within the speed limit and coast to a stop. Make fun of me if you want to (plenty have) but I guarantee you that, all things considered, I'm getting better gas mileage than you.
Is the price of gasoline where you live causing you financial pain?
More on MSN Money:
DATA PROVIDERS
Copyright © 2014 Microsoft. All rights reserved.
Fundamental company data and historical chart data provided by Morningstar Inc. Real-time index quotes and delayed quotes supplied by Morningstar Inc. Quotes delayed by up to 15 minutes, except where indicated otherwise. Fund summary, fund performance and dividend data provided by Morningstar Inc. Analyst recommendations provided by Zacks Investment Research. StockScouter data provided by Verus Analytics. IPO data provided by Hoover's Inc. Index membership data provided by Morningstar Inc.
LATEST BLOG POSTS
What does your credit report say about you?
A WisePiggy.com poll found that many Americans, especially older ones, do little or nothing to protect their credit scores and reports. See why you should check your credit history.