Beware these spring break scams
For starters, are you certain that the fabulous hotel you've booked at bargain rates really exists?
This post comes from MSN Money contributor Mitch Lipka.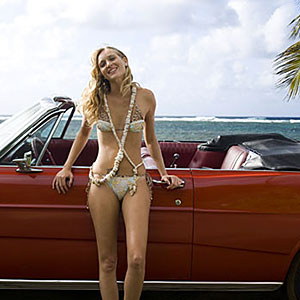 For those of you readying for spring break, there are a few more things on top of swimsuits, sunscreen and hangover cures to keep in mind before you head to the resorts or plan last-minute getaways.
Because of how many people participate in this annual rite of spring, those who make their living running scams are gearing up to rip you off, the National Consumers League warned today.
The threat of scams starts from the time you plan your trip and lasts throughout spring break. And they don't only target those who are on vacation. The notorious "grandparent scam" (.pdf file), which preys on grandparents concerned about their grandchildren, traditionally ramps up during this period.
Warn your grandparents to be sure they're really talking with you if they get a call claiming you're in some sort of trouble -- and leave behind several contact numbers to allow family to check in on you should there be some concern.
The scam tries to extract money by contacting a grandparent; Facebook and Twitter provide plenty of clues as to who is on vacation and who their relatives are. Scammers typically make a frantic call, either posing as a grandchild or as a friend and explaining an awful predicament -- like being in jail or getting hurt in a car wreck -- that urgently requires cash (to be sent via a money transfer service like Western Union).
Spring break travel scams tend to focus on college students and getting groups to book packages that appear to be a great deal but often are not. In some cases, the scams involve using photos and other information to create an illusion that the vacation will be somewhere far grander than reality.
Here are some tips from the National Consumers League to help avoid becoming a victim of a spring break travel scam:
Proceed with caution when considering deals that seem to offer a lot (five-star hotels, premium airfare, etc.) for a very low price or that require immediate payment to retain a rate. When something seems too good to be true, it generally is.
Ensure that all details from the purchase are in writing, including the total cost, any restrictions that may apply, and the exact names of the hotels or airlines promised (if applicable).
Be wary of any claims that say you "won" something, especially if the offer is unsolicited.
Pay for the vacation with a credit card so you are protected if something goes wrong, and so authorities can more easily track the fraudulent vendor. In fact, try to avoid companies that require payments by only cash, check, or wire transfer.
Go online to see if the company has an established reputation. Look to see if other consumers have complained of hidden fees or sudden price increases.
If a third-party company claims to have purchased airline tickets or hotel reservations, call the companies yourself to ensure that the claim is valid. Some consumers have traveled long distances only to find that the hotel they thought they were staying at does not exist.
Once you've actually made it to your destination, be sure your smartphone is password-protected and do not leave your wallet or any personal or financial information in a place where it can be grabbed. Spring break, because of the density of people, is a popular place to steal those items and commit identity theft -- a crime that can hurt your credit and take a long time to untangle.
More on MSN Money:
DATA PROVIDERS
Copyright © 2014 Microsoft. All rights reserved.
Fundamental company data and historical chart data provided by Morningstar Inc. Real-time index quotes and delayed quotes supplied by Morningstar Inc. Quotes delayed by up to 15 minutes, except where indicated otherwise. Fund summary, fund performance and dividend data provided by Morningstar Inc. Analyst recommendations provided by Zacks Investment Research. StockScouter data provided by Verus Analytics. IPO data provided by Hoover's Inc. Index membership data provided by Morningstar Inc.