Cheap spring skiing destinations
Unlike their more famous cousins, these ski hills have remarkably inexpensive lift tickets and affordable accommodations.
This post comes from Alyssa Goldman at Cheapism.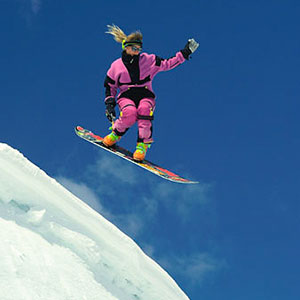 In many areas across the U.S., there's a ski slope nearby. But local doesn't always mean affordable. Ski resorts often charge $100 for an adult lift ticket, and that's just for the daytime activity. Add in travel expenses, hotel costs, equipment rentals, dining and, well, forget about that budget.
All is not lost, however. We did our homework and found some of the cheapest ski destinations where you can swoop down the slopes without going broke.
Saddleback, Maine
Saddleback Mountain rises 1,420 feet and is naturally divided into terrains based on difficulty. If you live on the East Coast and are a beginner, you've hit the jackpot. Saddleback's website boasts of the best beginner terrains in New England, with gentle trails and slopes at a remove from the more populated areas. The Ski and Ride School allows a maximum of five students to every instructor, which the site claims is the best student-to-teacher ratio in North America.
An adult lift ticket costs $49 on Sunday through Friday and $59 on Saturday. For the absolute best deal possible, the ski and stay package includes lodging and lift tickets with daily rates beginning at $69 a person; a minimum two-day stay is required.
North Conway, N.H.
Cranmore Mountain has come a long way since its Spartan beginnings in 1937. A recent infusion of $8.2 million has made this cheap ski resort particularly family-friendly. Some of the newer facilities include the Alberg Children's Learning Center, an adventure park, and New Hampshire's first "mountain coaster."
Even with such attractions, Cranmore Mountain is still one of the cheapest ski destinations. A one-day adult lift ticket costs $59 and a two-day ticket is $89. If you want to stay the night, choose one of the ski and stay packages, which include at least one lift ticket and, depending on the inn you select, a continental breakfast. The best deal we saw was at the Colonial Hotel: A family of four gets lift tickets, lodging and food for a starting price of $218.84.
Kingfield, Maine
Visit Kingfield, Maine and you just might feel as though you're on top of the world. From the top of Sugarloaf Resort's 4,237-foot summit, you'll take in views of New Hampshire, Vermont, Canada and Maine's Mount Katahdin.
As unbelievable as it seems, you can enjoy the stunning scenery and the slopes at a very reasonable price. A one-day adult lift ticket at this cheap ski resort costs $79, while ski and stay packages begin at $79 a person for each night. The packages include lodging, a daily lift ticket, and a daily skill-based 90-minute ski and snowboard tutorial for each adult guest.
Homewood, Calif.
Nestled on the west shore of Lake Tahoe is Homewood Mountain Resort, another of the cheapest ski destinations. The resort boasts 1,260 acres and 64 runs, and claims a commitment to environmentally sustainable practices.
Adult lift tickets are available online for $51 for Sunday through Friday and $58 on Saturday. The Peak to Shore package, which runs through May, starts at $299 a night for a stay at the West Shore Cafe and Inn and includes two lift tickets, a complimentary breakfast, and car valet and shuttle service to take you anywhere within the resort.
Bend, Ore.
Mount Bachelor's claim to fame: It has the highest skiable elevation (3,683 acres) in Oregon and Washington. While most ski resorts close shop in April, Mount Bachelor is accessible from November to late May.
Adult lift tickets go for $76 for a day, but we suggest taking advantage of one of this cheap ski resort's package deals. And book sooner, rather than later. For Jan. 6-16 the resort offered a package that provided two nights of lodging and two lift tickets a person for the price of one day of skiing and one night of sleeping at select hotels. With a deal like this, Mount Bachelor may just be the cheapest ski destination for that time period.
Another, ongoing special: Purchase a three-day or more adult lift ticket and your child skis free each day.
Salt Lake City
Just 35 miles southeast of Salt Lake City, Brighton encompasses four terrain parks that cater to every level -- beginner, intermediate, advanced and expert. The resort's website notes that Brighton Mountain stands atop Big Cottonwood Canyon and receives 500 inches of snow during the winter.
You can enjoy the slopes at this cheap ski resort for $64, the cost of a daily adult lift ticket. Get a good night's sleep, literally on the mountain, for a starting price of $129 a night. Continental breakfasts are included, and children ages 10 and under stay at no extra cost.
Inkom, Idaho
Pebble Creek, only a few miles south of Pocatello, Idaho, is part of the Caribou National Forest. Located 2.5 hours from Salt Lake City, 3.5 hours from Boise, Idaho, and three hours from Wyoming's Grand Targhee and Jackson Hole ski areas, Pebble Creek Mountain is geared toward experienced skiers. Fifty-three percent of its terrain is rated for advanced skiers and just 12% is for beginners.
Stay the night at one of the participating hotels in Lava Hot Springs to qualify for one free lift ticket for each ticket you buy. One of the cheapest ski destinations we found, Pebble Creek charges $40 for an adult lift ticket.
Santa Fe, N.M.
Go to Ski Santa Fe to experience the Sangre de Cristo Mountains, one of the highest ski regions in the continental U.S. with its base elevation of 10,350 feet.
Adults can ride the slopes for a lift rate of $50, while children standing up to 46 inches tall (with boots on) ski gratis. Seniors 72 and older also ski for free. The resort has a wide variety of lodging partners, most of which are about 16 miles away in Santa Fe. Lodging costs vary by hotel; the cheapest option is the Santa Fe Sage Inn, where rates begin at $45 a night.
Libby, Mont.
Turner Mountain may be a cheap ski resort but it's probably not the best option for novices. Sixty percent of the terrain is appropriate for advanced skiers, 30% for intermediate, and a mere 10% is for beginners.
Whichever level you're at, you'll pay $37 for an adult lift ticket and zero for children 6 or younger. Off-site lodging is available in nearby Libby. A full list of lodging options can be found on its website.
Lakeside, Mont.
Blacktail Mountain Ski Area is a 1.5-hour drive from Glacier Park International Airport and the train depot in Whitefish, Mont. The mountain is nicknamed the "upside down hill" because you go from top to bottom before settling onto a lift. The mountain is well-suited for skiers with some experience -- 70% of the slopes are rated intermediate.
Adults pay only $36 for a day of skiing, while children up to age 7 can ski for free. A Blacktail Mountain tradition, "Fifth for Free," gives all fifth-graders a free day ticket (bring proof). Its website has a list of nearby overnight accommodations.
More on Cheapism and MSN Money:
DATA PROVIDERS
Copyright © 2014 Microsoft. All rights reserved.
Fundamental company data and historical chart data provided by Morningstar Inc. Real-time index quotes and delayed quotes supplied by Morningstar Inc. Quotes delayed by up to 15 minutes, except where indicated otherwise. Fund summary, fund performance and dividend data provided by Morningstar Inc. Analyst recommendations provided by Zacks Investment Research. StockScouter data provided by Verus Analytics. IPO data provided by Hoover's Inc. Index membership data provided by Morningstar Inc.