Could moving make you rich (or poor)?
Relocating, even within your own city, could cut your spending.
Maybe it's a job opening in Memphis. Maybe an old friend calls from his new home in San Diego. Or maybe it's your mother, reminding you how much better the weather is in Seattle this time of year. Whatever the trigger, it's got you thinking about all the things a new house, a new job or a new life could offer, somewhere else. Now you've got something else to consider: how it could change your budget.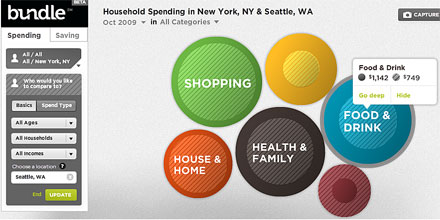 Here at Bundle, a brand-new MSN Money partner site that lets visitors compare how people like them spend money, users have been testing the financial implications of their dream move. Jeremy, a Bundle community editor, ran the numbers on Savannah, Ga., with a better climate and, it turns out, a lower cost of living than his current hometown in rural Michigan.
Logan, a young Portlander and community editor, weighed the options of moving closer to her family back East. "I figure I'll go back there at some point," she wrote, after comparing her top two choices, New York City and Washington, D.C., and learning, to her surprise, that (without factoring in rent or mortgage) the capital's residents are actually spending more.
D.C.'s got the Big Apple beat on home improvement spending, for example (in the graphic, solid orange is New Yorkers' spending; tiger stripes represent D.C.) -- which makes sense if you consider the number of New Yorkers who leave the dirty work to their landlord or co-op board.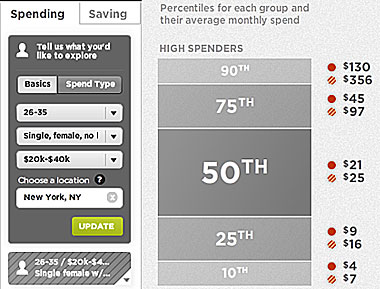 Whether users are moving or just dreaming, location matters when it comes to spending habits. Studies show that, yup, we're lazier than we like to admit: The biggest determinant of where we buy almost everything, from groceries to furniture to cars, is convenience. If the wholesome-but-pricey organic grocery store is the one nearby, it's reasonable to assume your monthly food bill will be higher than if your closest option had lower prices.
Sound obvious? Maybe, but when you consider where else you might live -- for fun, for work, for family or love -- smart spenders will investigate its impact on their wallets beyond just rent or mortgage. If you can find a new house without a gourmet espresso shop on your morning commute, it just might be the best financial decision you ever make.
Where would you like to live? Visit Bundle to compare cities, then report back on the spending trends in your dream town.

Editor's note: Janet Paskin is Bundle's managing editor. She will report back regularly to MSN Money about data trends and how America spends and saves. She can be reached at janet@bundle.com.
Related reading at Bundle:
DATA PROVIDERS
Copyright © 2014 Microsoft. All rights reserved.
Fundamental company data and historical chart data provided by Morningstar Inc. Real-time index quotes and delayed quotes supplied by Morningstar Inc. Quotes delayed by up to 15 minutes, except where indicated otherwise. Fund summary, fund performance and dividend data provided by Morningstar Inc. Analyst recommendations provided by Zacks Investment Research. StockScouter data provided by Verus Analytics. IPO data provided by Hoover's Inc. Index membership data provided by Morningstar Inc.