Ben Franklin tweets about new $100 bill
Redesign of largest U.S. note in circulation is aimed at deterring counterfeiting. Most of the bills circulate outside the country.
Benjamin Franklin may have been dead for 220 years, but he still has managed to appear on Facebook, Twitter, Flickr and YouTube.
The U.S. Treasury Department has unveiled the new $100 bill design, pulling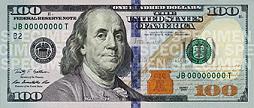 out all the social media stops. If you didn't happen to catch the unveiling live, you can watch it on YouTube. 
The new bill, the first revamp since 1996, was designed with more security features, and you can watch those on video here. It will go into circulation in February 2011.
"As with previous U.S. currency redesigns, this note incorporates the best technology available to ensure we're staying ahead of counterfeiters," Treasury Secretary Timothy Geithner said in a statement.
The redesign is an attempt to deter counterfeiting. New security features include a "3-D security ribbon" on the front, plus an image of a bell in an inkwell that changes from copper to green when tilted. The bill also retains previous security features: The numerals 100 on the front change color when tilted, and there is a watermark portrait of Franklin visible on the right front when the bill is back-lighted.
If you don't have a $100 bill in your wallet, you're not alone. At least two-thirds of $100 bills circulate outside the United States, and the U.S. is planning an education campaign to make sure the rest of the world is aware of the changes.
Here are a few facts about the $100 bill:
It's the largest currency denomination printed in the U.S. Notes of

$500

,

$1,000

,

$5,000

and

$10,000

were last printed in 1945 and were discontinued in 1969 because of lack of use. If you find one, however, they're still legal tender. Most are held by collectors.

Benjamin Franklin first appeared on the $100 bill in 1914. The $100 is one of two U.S. bank notes that does not feature a president. The other is the $10 bill, which features Alexander Hamilton.

The hands of the clock on the back of the $100 bill are set at 4:10, which you can see with 20-fold magnification. There are no records explaining why that particular time was chosen, according to the Children's Museum of Indianapolis, which assembled a large collection of

fun facts about money

.
You can learn more about U.S. currency from the U.S. Bureau of Engraving and Printing.
Related reading:
DATA PROVIDERS
Copyright © 2014 Microsoft. All rights reserved.
Fundamental company data and historical chart data provided by Morningstar Inc. Real-time index quotes and delayed quotes supplied by Morningstar Inc. Quotes delayed by up to 15 minutes, except where indicated otherwise. Fund summary, fund performance and dividend data provided by Morningstar Inc. Analyst recommendations provided by Zacks Investment Research. StockScouter data provided by Verus Analytics. IPO data provided by Hoover's Inc. Index membership data provided by Morningstar Inc.