IPad vs. myWallet: How many more apps can you buy?
Bundle shows how Apple and 'must-have' tech gadgets affect your bottom line.
Any TV show you want, any time you want it. Phones for talking, texting, e-mailing and Web surfing. Video chatting with friends and family across the ocean. Games that keep you fit, libraries' worth of reading in a portable e-reader, and untold entrepreneurial opportunities just waiting for you to claim a domain name and download some software. Living a wired life is pretty fun these days. But it's not cheap.

The tech-ier you get, the more you'll spend. According to data from MSN Money partner Bundle, Americans spend about $47 per month on gadgets. But the category is really buoyed by people making more than $100,000 a year. They spend almost twice as much, particularly if they are -- yup, you guessed it -- young, single, childless men.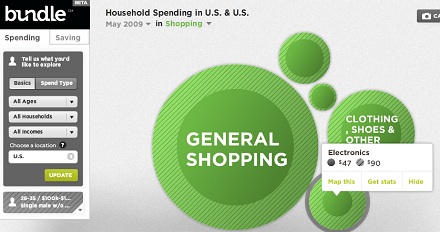 (In this graphic, the spending of the whole population is represented by the solid green color; the spending of single, upper-income, childless men, ages 26-35, is indicated by the stripes.)

Lately, the Bundle community has been fascinated by tech spending trends, not least of all in anticipation of Apple's tablet computer -- the now-public iPad, with untold bells and whistles, not to mention apps to buy and subscriptions to acquire. Tech subscriptions are already eating into the money Mark Armstrong, Bundle's director of content, might otherwise spend on "necessities" like cable. Community editor Logan Sachon, on the slightly overdue verge of decoupling from her parents' cell-phone plan, wondered how much she should budget for a phone and came up with the following comparison: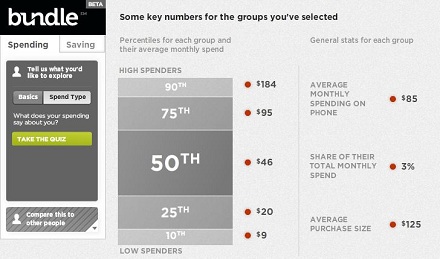 Even Loren Brichter, the developer of the popular Tweetie iPhone application and someone who, ostensibly, could get this stuff for free (right?), confessed to Bundle that he has paid as much as $90 for an iPhone app.
It all adds up, and with Apple consistently one of the "top merchants" for electronics spending on Bundle, it seemed worth it to ask: When an Apple store opens, do consumers spend more on electronics? Answer: sometimes. After a store opened in Santa Barbara, Calif., spending on electronics rose by 50% in the ensuing four months. But in Reston, Va., spending barely changed when Apple came to town.

Related reading at Bundle:
Editor's note: Janet Paskin is Bundle's managing editor. She will report back regularly to MSN Money about spending trends and how America spends and saves. She can be reached at janet@bundle.com.
DATA PROVIDERS
Copyright © 2014 Microsoft. All rights reserved.
Fundamental company data and historical chart data provided by Morningstar Inc. Real-time index quotes and delayed quotes supplied by Morningstar Inc. Quotes delayed by up to 15 minutes, except where indicated otherwise. Fund summary, fund performance and dividend data provided by Morningstar Inc. Analyst recommendations provided by Zacks Investment Research. StockScouter data provided by Verus Analytics. IPO data provided by Hoover's Inc. Index membership data provided by Morningstar Inc.