At 63, preparing for an economic hurricane
Steps will help her financially, even if she keeps her job.
This guest post comes from "vh" at Funny about Money.
It's probably a bit late to batten down the hatches, since the perfect storm has already made landfall.

On the other hand, I hadn't planned on being laid off, and that still looks like a possibility. My beloved employer, the Great Desert University, did not announce the predicted layoffs that were to have included everyone in my job classification. But with the economy still riding the down elevator, it's likely GDU will have to make more cuts.

So, I've taken a series of steps to help weather bad times. Some of these, I think, apply to just about anyone in most situations. Here's some plywood to nail over the windows:

Pay off or be in a position to pay off debt. My strategy is to prepare to pay off the $21,000 renovation loan.

The renovation loan financed upgrades to a house my son and I co-purchased as an investment. It's a 30-year fixed-rate second mortgage, not an equity loan, but because it is a loan against my house it does put me at risk of foreclosure if I can't make the payments, which I will not be able to do if and when I lose my job. I already have $11,000 in cash savings snowflaked for this purpose. I also moved $5,000 each out of two non-retirement funds that are losing the least. 

Identify all potential cuts in budget and prepare to implement them. My strategies are:
Pay off the renovation loan, to save $374 a month (the regular payment plus payments toward principal intended to eliminate the loan by the time I retire).

Cancel the newspaper, cell phone, DSL (goodbye Funny about Money), long-distance service, and monthly yard cleanup. Savings: $139 a month.

Cash out my almost mature whole life insurance policy. Savings: $30 a month. This also yields $23,000 less 28% tax = $16,560 in cash, about six months' worth of living expenses.

Quit putting $200 a month into a savings account for casual expenditures. Cut all indulgences to zero.

Cut back budget for all other living expenses that are not regularly recurring bills.
The first four maneuvers will cut my monthly recurring bills from $821 to $482 a month: 

As a practical matter, I probably won't cancel the DSL because I need it for my freelance editorial business. Also, Funny is now getting about 6,000 hits a month. It may be worth monetizing it. If I did that, I would have a good argument for deducting the cost of DSL from my income taxes. It's not much, but every little bit helps.

I could, in theory, cancel my homeowners insurance, saving about $65 a month. However, that's a risky move. The minute I jacked up the deductible I darned near set fire to the kitchen. Murphy's Law suggests that if I cancel the $780-a-year hit for homeowners insurance, a gigantic storm will come through, blow off the roof and, in a single lightning strike, burn down whatever remains.

With the monthly self-escrowing for principal payments on the renovation loan and the monthly $200 general savings gone, monthly savings set-asides drop $404, from $704 to $300.

I budget $1,500 a month for nonrecurring living expenses. If I'm very careful, do not indulge myself in anything, have no vet bills, and have no repair bills for the house or car, this amount can be as much as $300 more than needed. So, I'm figuring about $1,200 is what I will need each month to live on, above and beyond the costs of running the house.

Figure how much will be needed to live in reduced circumstances. My strategy is to add up projected reduced savings, monthly bills, and budgeted "other" living expenses.

The new monthly bills (less renovation loan payments and principal pay-down savings) now come to $482; add the $300-a-month tax and insurance and the estimated $1,200 for all other costs, and you get $1,982. 

OK. That's better than the $3,000 a month I'm spending now. Over a thousand bucks a month better.

Try to figure out where the money will come from. At the rate the market is going, I'm assuming there will be nothing left in my retirement savings. If I use the $23,000 that will come from cashing out my whole life insurance policy as an emergency fund to cover such things as veterinary, car, and house repair bills and to cover the $5,050-a-year cost of COBRA, then I'm left with this: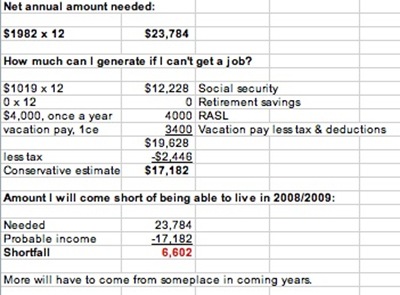 My strategy is to add up the next year's sources of spendable income.

This assumes the tax on Social Security will be only about 20%, but it may be significantly higher, because I will have earned my regular salary for 10 months of 2008. The RASL (amount the Great Desert University has to pay me for accrued sick leave) and vacation pay figures are net.

As you can see, even with the RASL pay and the one-time vacation-time payment, I'll come up short at least $6,600 in my first year of enforced retirement. It's possible that I might be able to net that much with freelance income -- a typical freelancer earns about $10,000 a year, working full time. 

If I don't get a job, I am going to be in deep trouble. But I probably can get something working at a Wal-Mart or even cleaning house. The rich will always be with us, and they're always in the market for servants to do their menial work.

Consider whether there are any other options. My strategy is to figure what happens if I try to live on cash savings for the next couple of years.

If I don't pay off the renovation loan but instead use the $21,000 cash savings and the $23,000 that will come from cashing out my whole life insurance policy, then we come up with a survival fund of $44,000. We have to add $170 a month back into the monthly cost of living. 

RASL is good for three years. The vacation pay is a one-time thing, affecting income in only one year. Without vacation pay, my shortfall will be about $10,000; without RASL and vacation pay, it will come to about $14,000.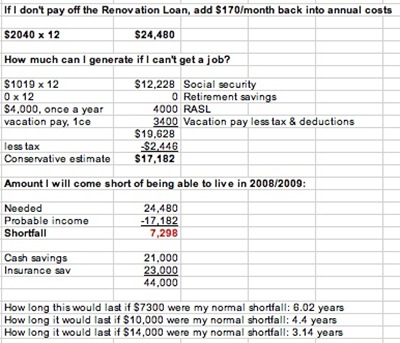 As strategies go, living on principal is less than ideal. I suppose I could do it if I were pushed to the wall. But selling the house and living out of the back of the van would keep me going longer.
Count blessings. My strategy is to quit focusing on the tsunami's roar and pick flowers by the roadside.
At least I have a roof over my head and the resources to pay it off.

No mortgager will be able to evict me from my home.

It will take the county tax assessor two or three years to put me out after I begin to default on taxes.

My son has a job and is young enough to recover from whatever happens to this country, assuming anyone in the sub-Richistan classes can recover.

I have a nice paid-off van with plenty of room to sleep in.

I know how to cook from scratch.

Beans are delicious and I know lots of ways to cook them.

The veggies I planted have started to sprout.

My health is good and so I at least can work at age 63, if I manage to overcome the prevailing cultural bias against older people.

The Copyeditor's Desk, the little moonlighting operation my associate editor and I started, is getting steady work and could (maybe) crank $10,000 or $12,000 a year for each of its principals.

They haven't canned me yet.

It's fall and so I won't have to run the HVAC system for another six or seven months.

The weather is drop-down dead gorgeous.

The dog is unfailingly cute.
Other articles of interest at Funny about Money:
Published Oct. 16, 2008
DATA PROVIDERS
Copyright © 2014 Microsoft. All rights reserved.
Fundamental company data and historical chart data provided by Morningstar Inc. Real-time index quotes and delayed quotes supplied by Morningstar Inc. Quotes delayed by up to 15 minutes, except where indicated otherwise. Fund summary, fund performance and dividend data provided by Morningstar Inc. Analyst recommendations provided by Zacks Investment Research. StockScouter data provided by Verus Analytics. IPO data provided by Hoover's Inc. Index membership data provided by Morningstar Inc.