5 tips to get ready for hurricane season
Experts say hurricane season, which started June 1, may be especially virulent this year. Is your home ready?
This post is by Jay MacDonald of partner site Bankrate.com.

Batten down your home insurance and National Flood Insurance policies, friends: This year's hurricane season could be a wild ride.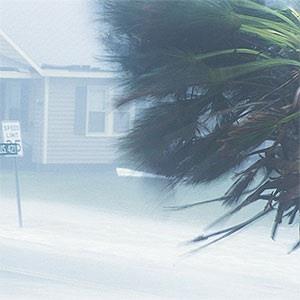 The combination of warm water temperatures in the Atlantic and Caribbean, an uptick in monsoon systems peeling off west Africa and the continued absence of El Nino's warming effect in the central Pacific Ocean have forecasters predicting an above-average and unpredictable hurricane season, which kicked off June 1. (Tropical Storm Andrea made landfall Thursday.)
The National Oceanic and Atmospheric Administration, or NOAA, has predicted 13 to 20 named storms for the Atlantic basin this year, seven to 11 likely to become hurricanes, including three to six expected to reach Category 3 or above, with sustained winds in excess of 111 mph.
While the NOAA prediction is well above the seasonal average of 12 named storms, six hurricanes and three majors, it bears a striking resemblance to what actually transpired last year. The 2012 season, the third-most active on record, saw 19 named storms, 10 hurricanes and two majors.
The NOAA forecast is in line with predictions earlier this month by Penn State University's Earth System Science Center, Colorado State University's Atmospheric Science Department, AccuWeather and others.
Each year, we encourage homeowners to prepare for extreme weather events, depending on how exposed you are to them.
Here are five important steps to take now to protect your home and family, courtesy of the Independent Insurance Agents and Brokers of America:

1. Collect vital information
Make a list of your home insurance policy number(s), your agent's contact information and website, and store all of that in your wallet, purse or on your phone. Agencies increasingly post information about claims procedures online and even via social media, especially if the agency itself has sustained damage.

2. Prepare a home inventory
Document, photograph or take video of your household belongings, paying particular attention to jewelry, antiques and collectibles. Then, make a duplicate set. Store one in a safe deposit box along with your insurance documents, stock certificates, deeds, titles and passbooks, and the other at home in a fireproof and waterproof container.
(Click to see our slideshow on the Top 10 costliest U.S. hurricanes)
3. Storm-proof your home
Address needed exterior repairs. Trim and clear tree branches that could become projectiles in high wind. Plan to cover windows and doors with plywood or protective panels. Secure items like boats that are too large to be brought inside.
4. Prepare to evacuate
Assemble a hurricane kit (food, water, first aid kit, needed medicine, flashlights, a transistor radio, fresh batteries, etc.). Gas up your vehicle. Plan to transport pets. Know your evacuation route.


Smart Spending on the go: Get our app for Android or iPhone


5. Plan to stay in place
Secure bookcases and tall furniture pieces to the wall. Plan to move beds, cribs and tall furniture away from windows. Gas up your emergency generator. Make room to store outdoor objects such as toys and tools. If your home is in danger of storm surge, find a room on an upper floor without windows, or an interior room at ground level in which to ride out the worst of the storm.
More from Bankrate.com:
DATA PROVIDERS
Copyright © 2014 Microsoft. All rights reserved.
Fundamental company data and historical chart data provided by Morningstar Inc. Real-time index quotes and delayed quotes supplied by Morningstar Inc. Quotes delayed by up to 15 minutes, except where indicated otherwise. Fund summary, fund performance and dividend data provided by Morningstar Inc. Analyst recommendations provided by Zacks Investment Research. StockScouter data provided by Verus Analytics. IPO data provided by Hoover's Inc. Index membership data provided by Morningstar Inc.