6 steps to picking the right camera
Looking for a new digital camera that will deliver picture-perfect results? Here's how to navigate the marketplace and focus on what really matters.
This post comes from Jeffrey Trull at partner site Money Talks News.

Buying a digital camera can be a confusing process, especially if you're not a professional photographer. Your new camera will be a multi-year investment, and you don't want to get stuck with a model that doesn't take great pictures or suit your needs.
You'll probably wonder: What features are most important? Megapixels still seem to be all the rage, but are they really that important? How do I figure out which model I want, and where I can find the best deal? Here's a step-by-step guide:

1. Consider your photo needs.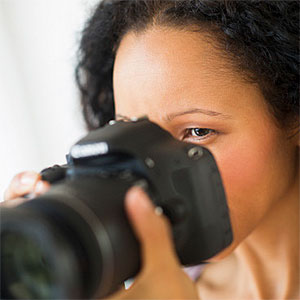 Digital cameras vary in size, photo quality, and price. Your first decision boils down to whether you're searching for a camera with basic features and a lower price tag or if you're looking to take professional-quality​ photos with interchangeable lenses and additional manual controls.
If you're a casual photographer on a budget who just wants to snap some photos of friends and family, you're likely in the market for a point-and-shoot model. These cameras are user-friendly, often smaller in size, and are most affordable, with prices starting under $100. Taking a photo doesn't require you to mess with a whole bunch of settings or even focus the camera yourself, and many models will fit in a pocket or purse.
The downsides of point-and-shoot cameras: limited manual control options and limited optical zoom. However, there are models a step above the basic point-and-shoots that offer increased optical zoom capabilities and additional features for controlling how your photos look. Just be aware that you'll probably be looking at higher prices and a larger camera.
If you're serious about capturing the highest-quality images, you'll be graduating into the digital SLR category. These cameras usually cost about $500 or more, but you can expect much more manual control over your photos and interchangeable lenses, external flash, and the ability to capture raw image files that are better suited for digital editing. Extra lenses and accessories can increase the cost.
2. Look at specs and features beyond megapixels.
You may be fooled into thinking that the greater the megapixels of a camera, the better the photos. It's true that megapixels matter, but many cameras today exceed 10 megapixels, which should be all you need.
It's also important to consider the sensor size, which will largely determine the quality of the photos with lower light. If you're looking to take high-quality photos, compare sensor size and not just megapixels. Many digital SLRs will be superior to lower-end cameras in this regard.
A few other important features to consider:
Face detection. Since faces are often the subject of our photos, cameras now have advanced features that detect faces and make sure they're in optimum focus and color.
Optical zoom capability. Digital cameras vary widely, with cheaper cameras often maxing out at 5x zoom but with higher-end models exceeding 30x with super zoom or detachable lenses. Consider your intended use when deciding what amount of magnification you'll need.
Image stabilization. This feature compensates for the difficulty of keeping a camera still while taking a photo, and is increasingly important the greater the zoom on your camera. Look for some level of image stabilization on any camera you consider.
3. Research models and compare reviews.
Now that you know what you're looking for and which features to focus on, it's time to read reviews. Like most consumer electronics, digital cameras are heavily reviewed both by experts and users like you. Both CNET and PCMag have extensive guides devoted to digital cameras, including editor picks for every camera class. You'll find detailed reviews, often with video, of different brands and models.
Also look at consumer reviews on retailers' sites you're considering buying from. Do owners of this camera agree with the experts? Are there any defects or technical problems? Use the critiques as a guide to make sure there aren't any issues the experts missed. Be aware, however, that fake reviews aren't uncommon.
4. Test the options in person.
Get your hands on the models you're considering, no matter how you plan to purchase. Visit a local camera shop or electronics retailer and take a few minutes to look over the options.
Notice the size and weight of the camera and how it feels in your hands. Will you have an easy time carrying it around? Or is the camera larger than you imagined? Be sure to snap a few photos and see how responsive the camera is and if you're comfortable with the controls and viewfinder.
5. Focus on the best prices from reliable retailers.
Once you've tested several models and have settled on one, research prices both online and offline. Many of the best camera review sites, like CNET and PCMag, also compile price comparisons next to their reviews.
You can also try an Internet search for the exact camera model, and price comparisons will typically pop up. Look for big-name retailers you trust or smaller sites that have sufficient positive ratings from customers.
Don't forget about your local camera shop. It may be more expensive than ordering online, but you'll get the added benefits of talking to experienced photographers. A reputable camera shop with well-trained staff can provide personal service with your purchase now and help with problems should they arise in the future. Plus, they'll be able to show you how to use the features of the camera you end up with.
Buying at the store also opens the door for price negotiation that typically isn't available online. If they won't budge on the price, they might throw in accessories.
6. Don't forget the extras.
If you buy a camera that doesn't come with a memory card or comes with a low-capacity card, you'll need one. Other extras include: camera case, extra lenses, external flash and tripod. Again, the need for these accessories depends on the camera and what you'll be photographing.
Some retailers offer bundles of extras at a discount versus buying them separately. But don't just leap at the opportunity to save a few bucks. Make sure you get the additional accessories you really need.
More on Money Talks News and MSN Money:
DATA PROVIDERS
Copyright © 2014 Microsoft. All rights reserved.
Fundamental company data and historical chart data provided by Morningstar Inc. Real-time index quotes and delayed quotes supplied by Morningstar Inc. Quotes delayed by up to 15 minutes, except where indicated otherwise. Fund summary, fund performance and dividend data provided by Morningstar Inc. Analyst recommendations provided by Zacks Investment Research. StockScouter data provided by Verus Analytics. IPO data provided by Hoover's Inc. Index membership data provided by Morningstar Inc.