Someone else's split could be your wedding discount
If a ceremony is called off, you can get a good deal on venues, photographers and the like. It's not the only way to save money, though.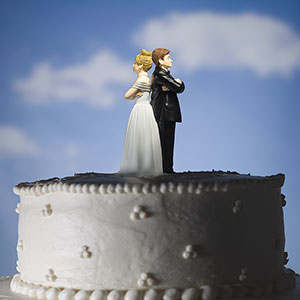 When a wedding gets called off, what happens to the deposits for venue, music, photographer and food? Gone, just like the love they once symbolized.

Unless they get put up for grabs on a site like Bridal Brokerage or Canceled Weddings, which exist to match old reservations with new buyers.

Angela Wakefield and her fiancé, Chris Watkins, paid $7,900 for a $12,000 Bay Area wedding package advertised on Bridal Brokerage. Not having to plan the event herself "took the headache away."she told the "Today" show: "It was easier and cost-effective."
Romantic, no?

Wedding spending has remained fairly stable for the past two years, according to The Wedding Report research firm. An aricle in MarketWatch blog suggests this is due to "engaged couples making ruthless budgeting decisions, even as vendor prices rise."
One expert quoted by MarketWatch said couples are "approaching their weddings like a small business venture" -- money is being spent, but it's also being micromanaged. Canceled weddings are just another way to get a discount.

Don't think of it as profiting from someone else's dashed dreams, but rather as helping the unfortunate ex-betrotheds get some of their money back and move on. The original planners of that California wedding, for instance, got back $5,000 worth of otherwise non-refundable deposits when Wakefield and Watson bought the package.

'Value dates'
Looking to wed sooner rather than later? A company called BrideRush specializes in finding last-minute or off-peak deals on venues, photographers and the like.

Wedding planners may also be able to clue you in about canceled nuptials in your area. Again, you're not capitalizing on their splits so much as helping them get some of their money back for clothing, gifts, decorations and the like.

Similarly, ask local venues about "value dates," i.e., off-peak times. You can save up to 30% this way, according to MarketWatch. Talk with service providers, too, since a wedding photographer or musician who's looking at a long dry spell (think "mid-January") might be willing to deal.
You could also find your own deals. I once interviewed a woman who wanted (but couldn't afford) to rent "Tuscan-style lighting." She contacted the woman getting married in the same venue the day before her own wedding. The contractor left the lights up for two days and gave them a break on the price.


Something old, something new?
You don't necessarily have to buy into a cancellation in order to opt for something old or  something new (to you).
An infamous newspaper ad in The Anchorage Daily News was for a like-new wedding dress, "worn once by mistake." Ahem. You can find all sorts of wedding and reception items in newspaper classified ads or on Craigslist.
Ads can pop up elsewhere, such as the forums of wedding websites or bulletin boards at your local supermarket. Keep an eye out on The Freecycle Network, too, since decorations, serving pieces and other useful stuff could be available for nothing.
Or check eBay. Kate Harrison, author of "The Green Bride Guide" and the
GreenBride.com website
 wanted Vera Wang shoes for her own wedding but couldn't afford to pay retail. Luckily, another bride was selling her designer footwear for $50.
That's how much Harrison sold them for after her own wedding: "So all I paid for was the shipping."


Readers:
Would you buy a canceled wedding? Why or why not?


More on MSN Money:
DATA PROVIDERS
Copyright © 2014 Microsoft. All rights reserved.
Fundamental company data and historical chart data provided by Morningstar Inc. Real-time index quotes and delayed quotes supplied by Morningstar Inc. Quotes delayed by up to 15 minutes, except where indicated otherwise. Fund summary, fund performance and dividend data provided by Morningstar Inc. Analyst recommendations provided by Zacks Investment Research. StockScouter data provided by Verus Analytics. IPO data provided by Hoover's Inc. Index membership data provided by Morningstar Inc.