Halloween freebies and deals
Freebies for Halloween aren't limited to trick-or-treat candy this year. Take your pick of video games, doughnuts and restaurant meals.
This guest post comes from Leah Ingram at Living on the Cheap.

When you think about it, Halloween is the ultimate freebie holiday, with free fun things for everyone to do. Kids get dressed up in costume and go door to door to get free candy.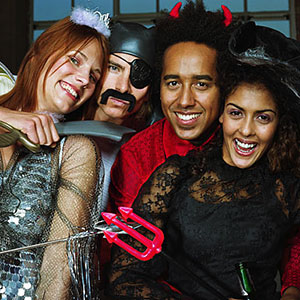 This year it doesn't have to be just the little ghosts and goblins who benefit from the free stuff. A number of restaurants and retail outlets have lined up frightfully terrific freebies and deals that, in most instances, nearly anyone can take advantage of on or around Oct. 31.
Some do require dressing up in costume but, hey, isn't that the fun of Halloween anyway?
Here are nine ways or places to go to get free stuff or food deals for Halloween:
Save on a Boorito at Chipotle. I don't know what time trick-or-treating begins or ends where you live, but if you live near a Chipotle, take note: Anyone who shows up in costume at Chipotle between 4 p.m. and closing time on Halloween will get a Chipotle burrito, bowl, salad or an order of tacos for only $2. Though prices vary based on location, those entrees normally cost upward of $6, meaning you'll be saving big time with this $2 Halloween deal.
Kids eat free at Outback. When you dine at Outback on Halloween, you may be eligible for two freebies. First, order an adult entree for yourself, and your child will get a free kid's meal. This is for dine-in and curbside pickup, and, Outback says, only while supplies last. Second, while you're waiting for your meal to arrive, look for a "Find the Treat" sticky note that might be inside the drink menu. It's good for a free steak dinner, which you can redeem on your next visit to Outback between Nov. 1 and Nov. 29.
Scare up a free doughnut at Krispe Kreme. Stop at Krispy Kreme in costume on Halloween and you can get a free Halloween or pumpkin spice doughnut. You don't even have to say "trick or treat!" first. In fact, no purchase is necessary. One doughnut per customer and at participating Krispy Kreme locations only.
Walk away with a free trick-or-treat bag at Subway. Like most fast-food restaurants, Subway offers its version of a kid's meal, called Subway Fresh Fit for Kids Meal. As part of its promotion for the new Halloween-ish movie "Frankenweenie," every youngster who visits Subway in October and orders a kid's meal will get a Frankenweenie reusable bag and a glow stick, while supplies last.
Get your game on for free. If your kids enjoy playing PopCap's popular video game Plants vs. Zombies, you know that this gaming experience normally costs $20. Not this Halloween season. Parents (and anyone else) can head over to the Stop Zombie Mouth website and download coupons for playing the game free. The trick to this treat is you need to download the free coupons before Oct. 30.
Then recipients can redeem the coupons between Oct. 30 and Nov. 10. This freebie was created in partnership with the American Dental Association for people to have a candy-free giveaway for trick-or-treaters. For video game lovers, it means game on -- for free!
Enjoy a free Jr. Frosty at Wendy's. Every autumn, Wendy's sells coupon books that benefit the Dave Thomas Foundation for Adoption, a good cause the Wendy's founder set up to help kids find "forever families." This year is no different. For $1 you can get a booklet with five coupons inside for free Jr. Frosty treats.
The booklet is designed to hand out in lieu of candy on Halloween, but if you decide to keep it for yourself, you've supported a good cause and found a way to get five Jr. Frosty treats for only $1, or 20 cents each. They normally cost about a buck each at Wendy's.
Treat kids to a free meal at Dickey's Barbecue Pit. Bring your children in Halloween costumes to one of the 260 Dickey's Barbecue Pit locations on Oct. 31, and they'll eat for free. All you need to do is have your children show up in costume on Halloween, and their meals are on the house.
Chomp on cheap corn dogs at Sonic. No costume is necessary to take advantage of Sonic's Halloween deal. According to a Sonic Drive-In Facebook page, Sonic will be selling corn dogs on Halloween for 50 cents all day.
Free kid's meal at Chili's. For the past three years, Chili's has offered a kids eat free promotion on Halloween and this one will be no different. Bring your little ghosts and goblins  between Oct. 29 and Oct. 31 to take advantage of this offer, which kicks in when you order an adult entree and use this printable coupon, found on the Living on the Cheap website. This free meal is good for children age 12 or younger and at participating locations only.
More from Living on the Cheap and MSN Money:
DATA PROVIDERS
Copyright © 2014 Microsoft. All rights reserved.
Fundamental company data and historical chart data provided by Morningstar Inc. Real-time index quotes and delayed quotes supplied by Morningstar Inc. Quotes delayed by up to 15 minutes, except where indicated otherwise. Fund summary, fund performance and dividend data provided by Morningstar Inc. Analyst recommendations provided by Zacks Investment Research. StockScouter data provided by Verus Analytics. IPO data provided by Hoover's Inc. Index membership data provided by Morningstar Inc.