5 things never to keep in your wallet
You probably have items in there that could help a thief steal your identity and empty your bank account. Take them out -- now.
This post comes from Tisha Tolar at partner blog Wise Bread.

I lost my wallet at the mall the other day. I paid my bill at the Hallmark card store, but at my next stop in Bath & Body Works I had to borrow $24 and some change from my 10-year-old daughter. My wallet was gone, and I had no recollection of what had happened in the two minutes it took me to walk from one store to the next.
I am a personal finance writer, creating hundreds of articles a year on the topic, including tips for preventing financial meltdowns. Yet here I was in the mall poking through trash cans, convinced some jerk had taken the cash, and maybe the credit cards, and ditched the evidence.
As the hassle of what it would take to get back my identity flowed through my head, my main thought was how stupid I was. If anyone should know better about financial protection, it should be me. I was such a failure.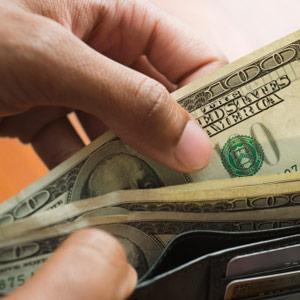 I didn't have an updated list of credit card contact information. My Social Security card was inside the wallet. Every credit card/debit card I own was in the wallet, along with receipts for the purchases I had made.
I hadn't felt so inadequate in a long time. I mean, I warn people for a living, yet what I practice is not what I preach.
Despite my despair at being so careless, the story has a happy ending. A nice woman returned my wallet to the nearest department store and reported her find to mall security. Thankfully, everything was intact, and I was even able to call my hero of the day to personally thank her. 
However, my good karma that day does not negate my reckless financial behavior. So I am here to confess publicly my disregard for my own advice about wallet safety and add some additional tips.
Social Security card and birth certificate
You may have needed this information for some specific purpose and just never took the card and certificate back out of your wallet, purse or briefcase, even though you see the documents every time you are looking for something else. Remove such personal information immediately, and file it in a safe at home. Someone with access to this information can essentially do anything you can do in your name, such as open a credit card.
Receipts
While store receipts may not have all the data one would need to use your credit and debit cards or personal identity, they could provide just enough details for an experienced crook to figure out the rest. If you keep receipts for other reasons, clean them out of your wallet and your vehicle on a regular basis. Dispose of them by shredding them into pieces before they hit the garbage can.
Every credit card you own
You never want to be without access to some kind of money if your wallet is stolen. You should carry only one credit card with you for emergency purposes and leave the rest at home. Write down the contact information and card number for each card you do carry, and file it in a safe place so you can easily report the card missing if your wallet is taken. If the thief has access to all of your credit and bank cards, you are basically a sitting duck and will have a mountain of hassles in front of you to get things back to normal.
Spare house keys
If someone has access to your wallet, there is a strong likelihood your personal identification will lead a thief right to your home. A spare house key is an invitation to steal more. A thief can assume you are still at the mall searching for your lost wallet and may be inclined to go see what good stuff can be removed from your house. Not only will you have safety concerns; you'll also have to act fast to change locks and increase security at your home while at the same time trying to resolve your other lost wallet problems.
Your PINs
Every card provider tells you to select a personal identification number that is easy to remember. Still, some people find they have to write down the information and keep it in their wallet next to their bank cards for easy access. This may be helpful to you when you need to use the ATM, but you can say goodbye to your bank account if you give the same details to the crook who stole your wallet. Store your PINs as phone numbers in your locked mobile phone, or work hard at memorizing the PIN for the card you use most.
More on Wise Bread and MSN Money
DATA PROVIDERS
Copyright © 2014 Microsoft. All rights reserved.
Fundamental company data and historical chart data provided by Morningstar Inc. Real-time index quotes and delayed quotes supplied by Morningstar Inc. Quotes delayed by up to 15 minutes, except where indicated otherwise. Fund summary, fund performance and dividend data provided by Morningstar Inc. Analyst recommendations provided by Zacks Investment Research. StockScouter data provided by Verus Analytics. IPO data provided by Hoover's Inc. Index membership data provided by Morningstar Inc.