First comes love, then comes mortgage?
A new study says one-fourth of millennial couples buy homes before marrying. Before plunging into homeownership, go see a lawyer.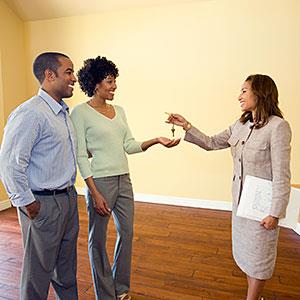 About one in four married couples younger than 35 bought their first home together before they actually tied the knot, according to a recent study from Coldwell Banker.
The millennial generation is marrying later but -- contrary to its slacker image -- is facing up to "financial realities" right now, psychotherapist Robi Ludwig told U.S. News & World Report.
"The boundary of needing to be married before purchasing a home has been broken," says Ludwig, a lifestyle correspondent for Coldwell Banker.

"It requires you to be financially transparent and you have to have the maturity and forethought to say 'What do you want in the next five, 10, 15 years?' going into homeownership."

Lower interest rates have likely encouraged this trend. Why not grab the opportunity to buy if you know you're getting married eventually? It just makes financial sense.

That is, unless you split up. Plenty of people are deeply in love yet separate a few years (or a lot of years) down the road. Trouble is, when it comes to the division of property our legal system's default setting is "married couples." No such laws exist for live-ins, according to Craig Davitian, an attorney in the Washington, D.C., area.

"The best advice for all unmarried couples buying a home together is the same: Sign a written property agreement with your partner," he advises in this post on the Urban Turf blog.
Better to be proactive
Shared homeownership exists in various forms. Among the most common:

Sole ownership. This is just what it sounds like.
Joint tenancy. Two (or more) people have equal but undivided shares. If one person dies, his or her share goes to the other owner(s).
Tenancy by the entireties. Partners are joint tenants, each owning 50% of the property; neither can sell unless the other approves.
Tenants in common. Two or more people can hold title; if one owner dies, his or her share goes to the heirs, not to the other owners.
An advance agreement for domestic partners can do more than specify how a property will be disposed of in the unhappy event of a breakup. According to Steve McLinden of Bankrate.com,  the agreement can also codify other money matters, such as "who pays what household expenses, who uses what savings and checking accounts, and who pays for insurance." 
"To keep the breakup mess to a minimum you can also agree in this document that you will go to arbitration, in the event a post-breakup dispute should arise," McLinden says.

Keep in mind that some states don't fully honor domestic-partner agreements or recognize them only in certain counties. "Court cases involving domestic partners can be very convoluted and drawn out," he warns.

Don't count on the notion of "common law marriage" bringing you under the protection of the law. Only 15 states and the District of Columbia have statutes recognizing common-law marriage, according to Davitian, "and among this group, there is little uniformity, particularly when it comes to dividing real property."

Ditto domestic partnerships: The laws surrounding these vary widely, even from city to city.

What's the worst that could happen?
Joint, unmarried homeownership could get complicated and maybe even ugly during a breakup. For example, in a tenants-in-common situation your formerly loving partner might decide to get even with you by selling his or her share to someone you despise.

Most situations won't turn quite that rotten, but anything can happen. It's also possible that you'd lose a bundle due to ignorance of the law or a desire just to get away from the situation. That's why it's essential not only to know your rights, but to get them in writing.

Does a date at the lawyer's office sound unromantic? Too bad.

"Moving in with your sweetheart may be a romantic decision, but buying a home is a financial one," writes Emily Guy Birken in a post on the Cash Money Life blog.
"Even though it may feel uncomfortable to talk dollars, cents and percentages when you just want to set up housekeeping, protecting yourself and your partner financially is more important than avoiding an uncomfortable conversation."

Put another way: If you can't talk about important practical matters, what kind of relationship are you entering?

And if you think it's a squicky conversation topic now, imagine how it might feel if you break up a few years down the road. You might not even want to be in the same room with this person, yet you'll be forced to hammer out a fair disposition of this jointly held asset.

Unless, of course, you want to let a couple of lawyers do the negotiating. It'd be cheaper to pay one lawyer, right now -- while you're still talking to each other.

More on MSN Money:

DATA PROVIDERS
Copyright © 2014 Microsoft. All rights reserved.
Fundamental company data and historical chart data provided by Morningstar Inc. Real-time index quotes and delayed quotes supplied by Morningstar Inc. Quotes delayed by up to 15 minutes, except where indicated otherwise. Fund summary, fund performance and dividend data provided by Morningstar Inc. Analyst recommendations provided by Zacks Investment Research. StockScouter data provided by Verus Analytics. IPO data provided by Hoover's Inc. Index membership data provided by Morningstar Inc.