How to handle debt when you're ADHD
Hard enough to manage finances, add in attention deficit disorders and you've got some serious challenges. Here are 9 tips to help you manage.
This post is by Erica Sandberg of partner site Creditcards.com

What happens when you can't keep your mind on your money? That's the dilemma of approximately 8 million Americans, according to the Anxiety and Depression Association of America.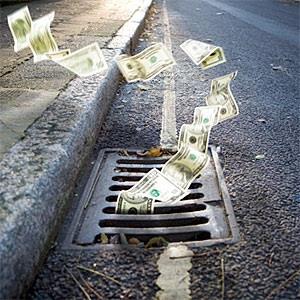 More than 4% of U.S. adults have Attention
Deficit/Hyperactivit​y
Disorder (ADD/ADHD), according to the
National Institute of Mental Health.
ADD is Attention Deficit Disorder without the hyperactivity, which is often used synonymously with ADHD. Whether you or a loved one is among this group, you need to be attuned to the financial chaos it can cause. Problems include blowing cash on unnecessary or duplicate items, failing to pay bills and running amok with the credit cards.

The ADHD-money mess connection

Symptoms of ADD/ADHD can include extreme difficulty getting and staying organized and an inability to concentrate. They can also include impulsiveness and restlessness. Therefore, constructing and sticking to a budget and determining which bills need to be paid and when can be especially challenging for those with the disorder.
Such was the case for Venice Beach, Calif., resident Connie Yang, who was diagnosed with ADHD as a minor. "I made a lot of financial mistakes and jumping from school to school or career to career," says Yang. "I would spend tons of money taking classes or on certifications, which contributed to my debt. I also have impulse control problems, which is part of my ADHD. I buy things I don't necessarily need."     
Cali Estes, an addiction coach and clinical therapist out of Miami, also has firsthand experience with the financial wreckage brought on by ADHD. Not only does she treat people in her practice with it, her husband, a drummer in a rock band, has also been diagnosed with ADHD.
"Before he met me, he always had an overdrawn bank account," says Estes. "He'd never look, he'd always just spend." When they first got together, she tried to have him share in caring for the household expenditures. The electric bill was his one task. "I even gave him the money, envelopes and stamps," says Estes. "He forgot to pay, and I got a shut-off notice. He had gotten distracted and spent the money!"
Credit cards were especially hard for Estes' husband. "Oh, he'd get a lot of cards and charge them up and then forget to pay," says Estes. His solution was to apply for more.
Financial positives of ADHD

"Most of my clients who have ADHD are passionate about something," says Estes. "They all have one thing they really love. I have one client -- he's a manager of a gym. He loves it. Very motivated, and has that drive to be the best. Because of that, it has been financially rewarding."
Her husband, too, can channel his energy into his career and earns big. The paycheck, though, is not the driving force. "He cares about drums, and he's playing all the time, " says Estes. The positive thing about having ADHD is that whatever those who have it choose to do, they typically do it 100%, says Estes.
Since ADD/ADHD can help you delve deep into your passions, it is more than possible to make the disorder work for, rather than against, you, says Estes: "Sir Richard Branson is ADD. If you think of his empire, it goes all over the place. He has no barriers to his mind and where it can go."
In fact, the self-made billionaire Branson is just one of countless people with ADD/ADHD who enjoy extreme financial successes. Famous folks who have confirmed they have ADD/ADHD include Steven Spielberg, Dustin Hoffman, Magic Johnson and Terry Bradshaw.
Talk with your doctor

Want to emulate Branson and others' success stories? Your first step is diagnosis, and the sooner the better. Yang wasn't ADHD identified until she was 25, and believes the delay resulted in serious yet avoidable credit problems. "By the time I figured it out, I was $30,000 in debt and that's not including student loans and car payments.
Talk to your doctor about ADD/ADHD, being sure to ask about its relationship to financial mismanagement. Your doctor may not address or detect the connection, so you may have to.
Claire Vannette, from Carlsbad, Calif., was diagnosed with ADHD as a child. Today, as a businesswoman, she understands the financial struggles of people living with it, and how they're often missed by professionals.
"I think psychologists and psychiatrists should bring up money issues proactively when they're working with someone with ADHD -- any mental illness or neuroatypicality, really," says Vannette. "Some doctors just don't think about their patients' financial situations at all. It's silly, since money is such a stressor."
ADD/ADHD treatment often includes medication as well as therapy, but money issues can require additional help. "I do talk to my psychologist, but have not found a real solution to my financial problems," says Yang, who takes Adderall for her ADHD. "I find it helps with my shopping impulses most of the time. But I still splurge occasionally."
Tips for self management

Whether you have ADD/ADHD or live with someone who does, you can reduce the economic dangers associated with the disorder. Tips include:   
1. Get a coach.
Specialized ADD/ADHD coaches can help you stay on track with your goals through daily check-up calls. Check out who's available at Children and Adults with
Attention/Deficit/Hy​peractivity
Disorder (CHADD).   
2. Go to a support group.
CHADD also lists support groups, so find one in your area. Some offer advice on how to handle the financial problems brought on by ADD/ADHD.   
3. Open separate bank accounts.
Estes suggests having one account for bills and another just for pleasure. It works for her and her husband. "We transfer money from one account to another," says Estes, who takes charge of the account for household bills, while he uses the other.   
4. Assign a money manager.
A person you trust to concentrate on bills and resist temptation should be the one with total control over cash and credit.   
5. Opt for a prepaid card.
An open line of credit can be unintentionally run up, so go for a
prepaid card
instead. With it you can only spend the cash on the card, thus averting debt.    
6. Carry cash.
Try withdrawing the amount you need for the week to establish a cash-only habit. Incorporate charging only when you feel comfortable living and spending within that sum.   
7. Have the right amount and type of credit.
Multiple cards can be too overwhelming to manage properly, so simplify by having just one account. Which kind? Make it a charge card. Charge cards require that you pay the balance in full every month. Without the revolving balance option, you can keep debt in check.   
8. Use bill-pay, cautiously.
Many people with ADD/ADHD forget to pay their bills on time. That can lead to late fees or even collection activity. To avoid both, consider setting up automatic bill pay with your bank, so the bills get paid on time. Be careful, though. It's best when cash is plentiful. "Automatic bill pay can be a powerful tool for forgetful people, but it can also be dangerous if you're living
paycheck-to-paycheck​,"
says Vannette. "Without a cushion in your bank account, it's easy for an automatic payment to push you into the red."

Smart Spending on the go: Get our app for Android or iPhone
9. Make the most of your smartphone.
As an ADHD coach, Estes teaches people to use technology to their financial advantage. "I set up their iPhone so a message pops up every 30 minutes to annoy them -- pay your bill!" says Estes. "They learn to manage whatever bills they have because it's right there in their face. If not, it's out of sight, out of mind." If you have a smartphone, set up your own bill-paying alarm system.
Finally, recognize when ADD/ADHD and plastic don't mix. If you have the disorder and a propensity for charging outside your means, Yang suggests an no-nonsense strategy: "Leave the credit cards at home."

More from Creditcards.com
:
DATA PROVIDERS
Copyright © 2014 Microsoft. All rights reserved.
Fundamental company data and historical chart data provided by Morningstar Inc. Real-time index quotes and delayed quotes supplied by Morningstar Inc. Quotes delayed by up to 15 minutes, except where indicated otherwise. Fund summary, fund performance and dividend data provided by Morningstar Inc. Analyst recommendations provided by Zacks Investment Research. StockScouter data provided by Verus Analytics. IPO data provided by Hoover's Inc. Index membership data provided by Morningstar Inc.