'Webrooming' on the rise
Retailers loathe 'showrooming,' or checking out merchandise in-store but buying online. They should be delighted by the newest shopping trend.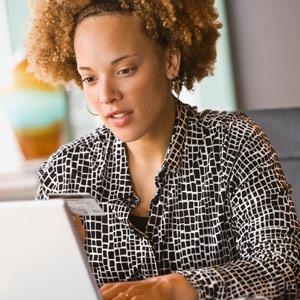 An Australian store owner made headlines recently by declaring a $5 charge for shoppers who were "just looking." This was an attempt to curb a consumer tactic called "showrooming" -- researching an item in-store but buying it online.

Fie on that fee, scolded Chris Morran of The Consumerist. If customers aren't buying, then businesses need to figure out why, the blogger says.
"Window-shoppers are part of the retail equation," Morran declares. "It's up to the retailer to either ignore them or turn them from looky-loos into bona fide buyers."

While showrooming may not be as bad as it seems (more on that below), retailers will likely be delighted to hear of a new consumer trend: "webrooming," or browsing online but buying in-store.

According to the new Accenture Seamless Retail Study, 73% of shoppers have showroomed in the past six months -- but 88% have webroomed.

Somehow that sounds counterintuive. Isn't the whole point of online shopping to beat the brick-and-mortar prices? To try on the jeans or test the feel of the new smartphone, then zip off to find a slightly (or greatly) better deal?

Not necessarily. With showrooming, the bottom line is the dollar sign. Webrooming is "more of an indication as to how the shopping experience has evolved for most consumers," according to Renato Scaff of Accenture.

"Today's shopper expects to be able to shop easily across different channels to fulfill their shopping mission. In fact, it is expected that well over half of retail sales will be influenced by online and mobile, regardless of where the ultimate purchase is made," Scaff says. 

That idea of "seamless" shopping is the study's takeaway. Consumers indicated they want an easy, consistent retail experience, from initial discovery of a product through research (reliability, price) and the decision to buy -- and, if need be, to return. Shoppers want this journey to be hassle-free whether it's done via smartphone, laptop or face-to-face.

"If their experience is a disjointed one, then the customer will soon lose interest and go elsewhere," he says.

Good for business?
What of the brick-and-mortar stores' claims that showrooming is ruining them? A September 2012 study from the mobile marketing firm Vibes suggests that the practice could actually be good for businesses (.pdf file).

Some 84% of shoppers do use their phones while they're still in the store. But that's often in search of product reviews as well as price comparisons, lest they buy and then discover that "the item had poor reviews or was available at a much cheaper price" elsewhere, says Brad Tuttle of Time magazine.

Often those cost comparisons work in favor of the brick-and-mortar locations: Just 6% of shoppers surveyed actually buy the item somewhere else.

Nearly three in 10 (29%) showroomed a physical location but wound up buying from the same retailer's website. Consumers tend to view the store site and the store itself as interchangeable, even though the two sales venues may at times be competitive.


The human touch
Tuttle suggests that online and in-store salesfolk should be "on the same team, sharing similar goals and offering a seamless sales experience no matter how the consumer wants the transaction to happen."
(There's that word again, "seamless.")
Some brick-and-mortar stores find niches and fill them -- audio products for the discriminating listener, say, or attractive and stylish clothing for women sizes 16 and up. Even if they also sell online, they build clientele as much through stellar customer service as through unique merchandise.
Businesses must do this if they want to prevail, according to Bob Phibbs, aka "The Retail Doctor."
In a post on his website
, the retail specialist says that a low price is just one part of the shopping experience. Customers also want in-store ambiance, knowledgeable staff and warm, friendly interactions.
"(Those) can't be had with a computer screen, mobile device or virtual anything," Phibbs says.


Readers:
Do you webroom? Or showroom?


More on MSN Money:
DATA PROVIDERS
Copyright © 2014 Microsoft. All rights reserved.
Fundamental company data and historical chart data provided by Morningstar Inc. Real-time index quotes and delayed quotes supplied by Morningstar Inc. Quotes delayed by up to 15 minutes, except where indicated otherwise. Fund summary, fund performance and dividend data provided by Morningstar Inc. Analyst recommendations provided by Zacks Investment Research. StockScouter data provided by Verus Analytics. IPO data provided by Hoover's Inc. Index membership data provided by Morningstar Inc.