How street names affect home prices
Homes with 'Boulevard' in the address sell for 36% more, on average, than 'Street' properties, a research team concludes.
This post comes from Marilyn Lewis of MSN Money.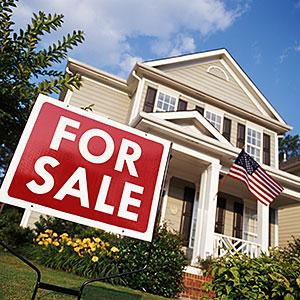 This research won't cure cancer, yet it's interesting to know that homes with street addresses ending in Boulevard, Place and Road sell for more, on average, than those ending in Avenue, Drive or Street.
Not that you should go on a campaign to get your city to transform your street into a boulevard, even for a 2% bump in value (about $6,000 on a $300,000 home sale). It's just fun to know.
Real-estate marketplace Trulia came to this conclusion ("Which homes typically cost more -- those on Wisteria 'Lane' or Sesame 'Street'?") by analyzing its database of homes for sale.
The researchers looked for the median price per square foot for each address suffix. They used only suffixes with at least 10,000 homes for sale. The correlation between street name and price was surprising. "As it turns out, homes on 'boulevard' ($117) are the most expensive while the cheapest are those on 'street' ($86) -- that's a 36% price difference!" says Trulia.
A 2% bump
When we emailed a request for more information on how the survey was done, Trulia responded:
We looked at more than 2.5 million listings in this study after examining all of the listings on Trulia (which has a continually refreshed database that contains more than 110 million properties, including 4.5 million homes for sale and rent). So "boulevards," at 2%, represents approximately 50,000 listings, while "streets," at 19%, represents approximately 475,000 listings.
Below is what Trulia learned. Here's a guide: The dollar figure shown is the average per-square-foot price of sales in each category. The percentages are each suffix's share of the total number of properties analyzed. (The percentages are rounded off, so they add up to less than 100%.)
Boulevard, 2%, $117.
Place, 2%, $110.
Road, 16%, $109.
Way, 3%, $107.
Terrace, 1%, $102.
Court, 6%, $101.
Lane, 8%, $101.
Circle, 3%, $100.
Trail, 1%, $97.
Avenue, 15%, $96.
Drive, 22%, $96.
Street, 19%, $86.
Trulia speculates on why the pricier addresses are on boulevards:
Well, while the word does have a sophisticated French origin, it actually might have more to do with the mix of the homes located there. Approximately, 37% of homes on "boulevards" are in multi-unit buildings, such as apartments and condos. In contrast, these types of homes make up no more than 16% of homes on every other address suffix. A greater concentration of multi-unit buildings could drive up costs as they are often located in denser, urban areas where space is at a premium.
For the record, we're a little dubious that multi-unit buildings could drive up costs by themselves, unless they are premium downtown co-ops and condos. It's possible, perhaps, that higher-priced towns are more likely than others to use the term "boulevard." If so, their condos and townhouses (often located on boulevards) would have higher prices.
Paying for prestige
This isn't the first study on the subject. MSN Real Estate's Listed blog reported about a year ago on similar research. "What they found," Listed says, "was that people were willing to pay for perceived prestige, maybe even more than they were willing to pay for good schools."
Velma Zahirovic-Herbert and Swarn Chatterjeem of the University of Georgia studied 21 years of real-estate transactions in Baton Rouge, La. They found that homes in subdivisions with "country" in the title sold for 4.2% more. Add the word "club" and you add an additional 5.1% to the sale price.
The word "estates," on the other hand, didn't add a penny to the value, they mention in a footnote. The study attempted to control for all the other features of the homes, including location.
You'll find that study here. The 125-page paper was published in the Journal of Real Estate Research. It notes that "our research supports literature on conspicuous consumption within a real property context, including the ideas that wealthier buyers pay more to showcase affluence and that conspicuous consumption decreases during market downturns."
Poetic beings
We're poetic beings, it seems. One word can just turn us on more than another, even when both have essentially the same meaning. That comes across loud and clear in yet another study into word choices, this time in real-estate listing descriptions.
MSN Real Estate reported in 2008 on professor Paul Anglin, a real-estate economist in Ontario, who found that "homes described as 'beautiful' in real-estate listings sold for 5% more. Those described as in 'move-in condition' were unaffected.
What surprises Anglin is that some hot words not only speed a sale but also seem to raise the closing price. "If a house is described as 'beautiful,' everybody expects it to sell for a higher price," he says. "The thing that surprised me is that it sells for a higher price -- and faster. ... I don't have a good explanation for it."
The MSN Real Estate article lists the dollar value buyers put on the following words. The first number shows how much faster or slower a home sold when a word was included in the property description. The second number is the effect the word has on the list price. The third number shows the word's effect on the final sale price.
Beautiful: -15%, +5%, +5%.
Move-in condition: -12%, insignificant, insignificant.
Good value: -5%, -6%, -5%.
Must see: insignificant, +4%, insignificant.
Starter home: -9%, -10%, -10%.
Vacant: insignificant, -5%, -8%.
Rental property: +60%, -7%, -9%.
Handyman special: -50%, -30%, -30%.
Moving: insignificant, -1%, -1%.
Motivated: +30%, -6%, -8%.
Landscaping: -20%, +5%, +6%.
More on MSN Money:
DATA PROVIDERS
Copyright © 2014 Microsoft. All rights reserved.
Fundamental company data and historical chart data provided by Morningstar Inc. Real-time index quotes and delayed quotes supplied by Morningstar Inc. Quotes delayed by up to 15 minutes, except where indicated otherwise. Fund summary, fund performance and dividend data provided by Morningstar Inc. Analyst recommendations provided by Zacks Investment Research. StockScouter data provided by Verus Analytics. IPO data provided by Hoover's Inc. Index membership data provided by Morningstar Inc.