Do FHA loans hurt homebuyers?
Concentrations of risky FHA-backed mortgages in poorer neighborhoods are damaging to borrowers and the nation, a researcher says.
This post comes from Marilyn Lewis of MSN Money.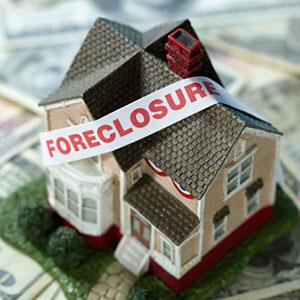 The American Enterprise Institute dropped a bomb on federal housing policy recently with a report charging that Federal Housing Administration-backe​d loans hurt, rather than help, working-class Americans.
The FHA was created in the midst of the Great Depression to help Americans own homes affordably. But, after analyzing 2.4 million FHA mortgages, researcher Ed Pinto wrote that lax FHA lending policies create pockets of foreclosures in poor neighborhoods in some cities.
The FHA insures mortgages. This guarantee gives lenders the assurance that, in following more liberal FHA eligibility guidelines, they'll be covered in case of default.
Concentrations of risky loans
Pinto, a fellow at the conservative American Enterprise Institute, predicts that in 9,000 ZIP codes -- about 20% of the country's roughly 44,000 -- foreclosures on FHA mortgages issued in 2009 and 2010 will reach 10% or more.
Critics of Pinto's study, however, say that FHA loans are naturally riskier. That's the point, because they're for borrowers who can't qualify for conventional mortgages.
The AEI report includes a map showing 11 metropolitan areas -- Chicago, Detroit, Cleveland, New York, Nassau-Suffolk, N.Y., Newark, N.J., Baltimore, Washington, D.C., Atlanta, Tampa, Fla., and Miami -- with concentrations of troubled FHA mortgages. More cities will be added.
"More than a dozen ZIP codes in the Baltimore metropolitan area could see foreclosure rates above 15% and as high as 43% for Federal Housing Administration-backe​d loans, according to the American Enterprise Institute for Public Policy Research, a conservative think tank," The Baltimore Sun writes.
Pinto says the FHA's low down payments, looser credit requirements and higher debt-to-income ratios let lower-income households take on debt they can't afford, making them vulnerable to foreclosure and putting the country at risk for having to bail them out.
"The new study of the potential risks in recent FHA-insured loans is illuminating because it provides a level of detail, including where government-backed loans are, that is usually missing from agency analyses. In addition, the report's loss estimates are somewhat surprising given that the loans it examined were made after the mortgage crisis became evident."
FHA spokesman George Gonzalez told the Times, "Selective use of FHA data ignores that FHA has successfully provided access to mortgage financing for millions of creditworthy borrowers for almost 80 years."
Politics
The AEI has been campaigning energetically against the FHA. Its FHA Watch project is home to many critiques. Pinto's is labeled "Nightmare at FHA: Selling Hope, Delivering Harm."
Where others blame speculators, reckless lenders and borrowers, lax oversight by regulators, and the bundling and selling of mortgages as securities for the mortgage bust, AEI points to federal affordable housing policy for setting the stage.
Last year, the liberal Center for American Progress attacked Pinto's research on another project.
"Pinto's work is based on a series of faulty assumptions and serious methodological flaws," and his conclusions were dramatically at odds with other mainstream researchers' findings, the center said. It hasn't addressed Pinto's newest report.
FHA troubles
FHA's recent financial troubles make it an easy target. Few dispute that it has charged borrowers too little for mortgage insurance. In November, FHA acknowledged that its insurance fund, used to cover loans when homeowners default, is short by about $13.5 billion.
FHA loans are relatively easy to get. That heightened risk is theoretically offset by the mortgage insurance FHA borrowers must buy for five years or until they have 78% equity in the home.
But FHA loans all carry similar premiums, regardless of risk, says the Times. A borrower with a 3.5% down payment, a 580 credit score and a 50% total debt-to-income level pays about the same as one with a 720 credit score, a 20% down payment and a 25% debt-to-income ratio.
Pinto wants FHA mortgages limited to 20 years, so buyers accumulate equity faster, or for borrowers to be required to have lower debt loads.
FHA's market share grew after lenders pulled back during the mortgage crisis. It insured 19% of mortgages made in 2010 and nearly 16% this year. FHA's share fluctuates, from 14% in 1993, for example, to under 4% in 2006, at the bubble's peak.
'Philosophical question'
Pinto told Bloomberg that "40% of all the loans FHA made in 2012 have FICO scores below 660, which is one of the regulators' definitions of subprime. Another definition of subprime is a total ratio to income of over 50%. Forty percent of FHA loans have one or both of those characteristics."
But there's a reward to society for that risk, said foreclosure expert Rick Sharga, an executive vice president at Carrington Mortgage Holdings, in a Bloomberg interview:
"If you're making loans to people with low FICO scores who're making low down payments and have high debt-to-income ratios, they're going to default at a higher rate than more conventional borrowers. The real philosophical question here is, is it better for the economy and for our society to make 100 loans, knowing that 10 or 15 loans are going to default, or not make any loans at all?

 

"I don't want to lose the point that 85% to 90% of those 100 people we talked about are succeeding and a lot of people wouldn't have a chance at success without somebody like the FHA."
More on MSN Money:
DATA PROVIDERS
Copyright © 2014 Microsoft. All rights reserved.
Fundamental company data and historical chart data provided by Morningstar Inc. Real-time index quotes and delayed quotes supplied by Morningstar Inc. Quotes delayed by up to 15 minutes, except where indicated otherwise. Fund summary, fund performance and dividend data provided by Morningstar Inc. Analyst recommendations provided by Zacks Investment Research. StockScouter data provided by Verus Analytics. IPO data provided by Hoover's Inc. Index membership data provided by Morningstar Inc.