5 doable challenges to try this year
Whether your goal is to save more money, make more money or declutter your living space, there are creative and fun ways to go about it.
This post comes from J. Money at Budgets are Sexy.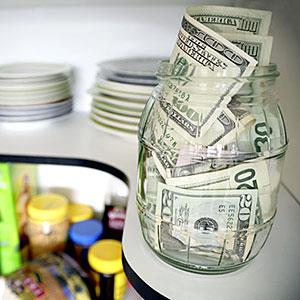 Well, it's that time of year again, when everyone makes grand declarations of all types and takes on some serious challenges. But that's what I love about the new year and all the buzz that comes with it: people using their time and energy for good.
Even if the motivation dies over the next few months. But that would never happen to you, right?
So,  I thought we'd make a shout-out to the personal-finance challenges going around, as we did last year, with a list of those I've come across this year so far. If you've joined (or started) any of your own out there, let us know about them. Maybe they'll inspire us, too.
The 52-week savings challenge
This one comes from my friend Shawanda Greene, who posted it on Facebook a few days ago, saying, "I'm not sure where it originated, but it seems like an easy way to save $1,378 in a year. The first week you make sure to save $1. The second week, you save $2. The third week, you save $3, and on and on until you get to the end of the year. For those who struggle with saving, this idea could work."
The no more frivolous spending challenge
This was started by my friend and fellow blogger Suzanne Cramer, who vows to start tracking her money again and cut out all unnecessary spending -- anything outside of basic needs such as food, shelter and clothing. That sounds pretty hard-core to me, but if you need to get yourself back on track and buckle down, then maybe you should start this one.
The $3K blogging challenge
Edward Antrobus continues his mission of trying to earn $3,000 from his blog in a year. This time around, he'll be upping the grand prize to $175 to one lucky blogger who joins him in trying to accomplish this. He's only allowing online income sources to be counted (online advertising, affiliate links, paid blogging gigs, online sales, etc.). If you're up for the challenge, fill out the form on his page and join the community. Or better yet, start a blog anyway and see if you enjoy it.
The 365 less things challenge
This one is a personal favorite of mine, as it goes perfectly with my own New Year's resolution this year of keeping things simple and focused -- and even more important, decluttered. The blogger behind this, Colleen Madsen, started an entire site around it with the goal of getting rid of unused items in her house to declutter every wardrobe, bench, shelf, under-bed, pantry and garage space by giving away, throwing away or selling one item every day for 12 whole months. I love it, and I plan on following suit to see how long I can last.
A nice way to get started with decluttering goals is to find a few boxes and label them "donate," "sell" and "trash." Then, as you go around your house, throw the unwanted things in the appropriate box, and you're on your way. Nice and easy.
The reverse '100 Thing' challenge
If the above goal seemed a little too easy for you -- which may be the case if you're already pretty neat and tidy -- then feast your eyes on this more extreme idea: dumping 100 things in one month. The original challenge was to get rid of 100 things by the end of the year starting late last October, but seeing how that has since passed, I've changed it to make it current.
The blogger, Courtney Carver, dubbed this a "reverse" challenge because "The 100 Thing Challenge," a book by Dave Bruno, is about getting all your possessions down to only 100 things in total. Since that goal is pretty much unfathomable to 99.9% of us, though, this is a nice middle ground where we can still keep our normal lifestyles.
Think you can do any of these? Or, more importantly, want to do any of these? I plan on doing the 365 Challenge and/or the Reverse 100, since I need to clean up anyway if my wife and I want to move in the near future. This is a great way for us to start on it.
Let us know if you've heard of any other cool new-year challenges out there.
More on Budgets are Sexy and MSN Money:
DATA PROVIDERS
Copyright © 2014 Microsoft. All rights reserved.
Fundamental company data and historical chart data provided by Morningstar Inc. Real-time index quotes and delayed quotes supplied by Morningstar Inc. Quotes delayed by up to 15 minutes, except where indicated otherwise. Fund summary, fund performance and dividend data provided by Morningstar Inc. Analyst recommendations provided by Zacks Investment Research. StockScouter data provided by Verus Analytics. IPO data provided by Hoover's Inc. Index membership data provided by Morningstar Inc.