Shattering tea tumblers recalled
Teavana recalls glass tea tumblers after hundreds of reports of them breaking, causing several injuries.
Nearly a half-million glass tea tumblers were recalled today after the company received hundreds of reports of the glasses breaking and shattering while being used,
the U.S. Consumer Product Safety Commission said.
At least six consumers suffered cuts or burns.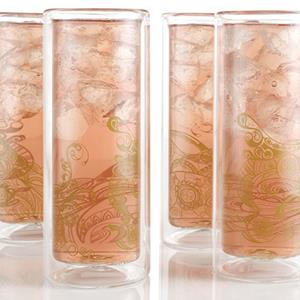 The Chinese-made Teavana tea tumblers -- double-walled glasses -- were sold at Teavana stores nationwide and on the company's website since August 2007. A variety of different models are being recalled.
Those who have the tumblers are urged to stop using them immediately and return them to any
Teavana stores
with the exception of these three: Columbia Mall in Maryland; Dallas Fort Worth Airport in Texas; and Galleria Mall in Fort Lauderdale, Fla.
Teavana operates 284 company-owned stores
.
Teavana told the CPSC that it had received more than 300 reports of the tumblers breaking while being used. Typically, only a fraction of those who have a problem with a product report it to the company or the government. Federal product safety laws require companies to notify the government after a single report of a potential product defect that could cause serious injury. It is up to the commission to determine whether there was a serious risk of injury, that the company knew about it, and should have issued the recall earlier.
"The safety of our customers and employees is our top priority, and we take our obligation to provide safe products seriously," Teavana spokeswoman Jaime Riley said.

The company "became aware of an accumulation of incidents" in February, she said. "At that time, Teavana investigated the issues, and determined, for the safety of our customers, a voluntary recall was the appropriate course of action."

The CPSC maintains the website
SaferProducts.gov
to allow consumers to report product dangers and to read other consumers' reports of problems or incidents. One consumer filed  complaint on the site earlier this year when their Teavana
tumbler exploded while it was just sitting on a shelf
.
Those who return their tumblers will receive a free replacement metallic tea tumbler along with a two-ounce package of Opus Rouge Rooibos Tea. For those who bought tumblers or glasses that came in sets will receive a replacement tumbler and a package of tea for each glass or tumbler returned. Consumers also have the option of mailing in the recalled products by requesting a prepaid mailing label from Teavana.
Most models in the recall have a removable stainless steel tea infuser basket, removable lids, and ornamental etchings on the inner wall. They came in color-coordinated cylindrical packages with a sticker on the bottom that has both the SKU number and UPC code.
The recalled tumblers -- a full list with SKU numbers and UPC codes can be found
here
-- were sold for $15-$33. Flourish Iced Tea Glasses sets cost about $40, and Imperial Blooming Collection Tea Sets sold for $80-$100.
The recalled products were made by Shaanxi Cathay Import and Export Corporation, Anhui Fuguang Industrial Co., Ltd., and Hong Tai Yang Glass Product Co.
For more information, call Teavana at 877-261-1509 weekdays from 8 a.m.-5 p.m. Consumers are asked to leave a message if they call outside of those times.

More from MSN Money:
DATA PROVIDERS
Copyright © 2014 Microsoft. All rights reserved.
Fundamental company data and historical chart data provided by Morningstar Inc. Real-time index quotes and delayed quotes supplied by Morningstar Inc. Quotes delayed by up to 15 minutes, except where indicated otherwise. Fund summary, fund performance and dividend data provided by Morningstar Inc. Analyst recommendations provided by Zacks Investment Research. StockScouter data provided by Verus Analytics. IPO data provided by Hoover's Inc. Index membership data provided by Morningstar Inc.