55-inch TVs see huge price drops
Good news for those coveting a new TV for the Super Bowl: The price of really big screens, including those with 3-D, has come way down.
This guest post comes from Louis Ramirez at dealnews.com.
Big screens require a big budget. Or so we used to think.
Recent data we've collected from dealnews' exclusive databases show that in the past 12 months, the price of name-brand 55-inch LCDs has fallen significantly.
This is especially so for top-of-the-line models with built-in 3-D; they have plummeted in price by a whopping 50%. So while $2,970 for a 55-inch 3-D TV was a great deal in February 2010, $1,499 for a similar 3-D TV in January 2011 is even better.
(Dealnews' data are based on deals listed on dealnews.com, which represent low points, not averages. Shipping prices, where applicable, were factored into the pricing. Name brands include Samsung, Sony, Vizio, LG and Toshiba.)
That's not the only good news for those who are thinking about buying a new TV in 2011. Prices for 55-inch LED LCD HDTVs (those that don't feature 3-D, but still support Internet apps) have also dropped in the past 12 months by a respectable 42%. Post continues after video.
In fact, these sets are doing so well that they're cannibalizing their non-app-supporting counterparts, much like when LCDs with 120Hz overtook those with 60Hz. While sales on non-Web-enabled LED LCDs are slowing down, deals on Web-enabled LEDs are going strong, with $1,117 being the best price we've seen in the past 12 months (back in November).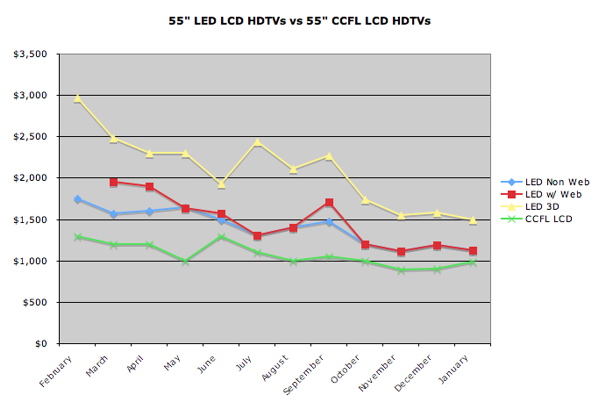 Is that still too expensive? You'll be happy to know that for the first time ever, we've seen name-brand 55-inch CCFL-based LCDs drop comfortably below the $1,000 mark. (Just so you know, older LCD HDTVs have cold cathode fluorescent lamp, or CCFL, backlighting, which is generally considered inferior to LED HDTVs.) We are now seeing them go for as little as $888.
Here are the one-year price drops worth noting:
55-inch 3-D LED LCD HDTVs: 50% drop.
55-inch LED LCD HDTVs (with Internet support): 42% drop.
55-inch LED LCD HDTVs (without Internet support): 35% drop.
55-inch CCFL-based LCD HDTVs: 23% drop.
If you're wondering why 3-D TVs are dropping so fast in price, then watch our video series on the future of 3-D, which explains:
More from dealnews.com and MSN Money:
DATA PROVIDERS
Copyright © 2014 Microsoft. All rights reserved.
Fundamental company data and historical chart data provided by Morningstar Inc. Real-time index quotes and delayed quotes supplied by Morningstar Inc. Quotes delayed by up to 15 minutes, except where indicated otherwise. Fund summary, fund performance and dividend data provided by Morningstar Inc. Analyst recommendations provided by Zacks Investment Research. StockScouter data provided by Verus Analytics. IPO data provided by Hoover's Inc. Index membership data provided by Morningstar Inc.