Voters file fewer claims, Safeco says
If that's the case, should voting history be used as a factor for setting insurance rates? Some say no.
This post comes from Des Toups at partner site CarInsurance.com.

Here's a development that could put a whole new spin on Decision 2016.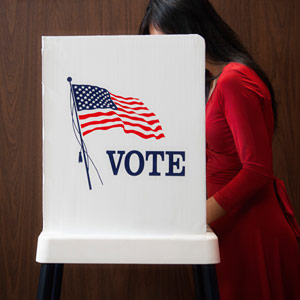 Safeco Insurance of America last week was assigned a patent for using voter registration and voting history as a means of determining risk -- and thus your insurance rates.
"Generally, an increase in voting frequency, such as an instance of recent voting, correlates with a decrease in risk of insurance loss," the patent application states. "Analysis of existing policyholder data has indicated a significant correlation between a person having voted at all and a lower likelihood that the person will claim a loss. Furthermore, a person who has voted within the last 12 months has an even lower likelihood that the person will claim a loss."
The patent filing suggests Safeco could use such a system to screen potential customers, to target recent voters for better rates or to reward agents who sell policies to registered voters. It also offers some potential metrics for identifying those least likely to file a claim, including:
Voter registration.
Recent voting.
Voting frequency.
Type of election (general, primary, special).
Turnout for the election.
Voting method (early in person, Election Day in person, absentee).
A master voter file is a publicly available document. San Francisco County's file, for example, is available to anyone with an ID and 75 cents. While the files do not reveal how your ballots were cast, they typically offer a history that can include your registration date, declared party, precinct, the elections you participated in and whether you voted early or by mail.
Safeco did not reveal any plans to base underwriting decisions on what the document calls a "voting status generator."
Who drives better: Democrats or Republicans?
All insurance companies use broad brushes to lump drivers and homeowners into groups. You are very likely paying rates based largely on your ZIP code, gender and age. Discounts or surcharges based on data specific to you -- such as your own driving record or credit history -- are applied on top of those base rates.
A new way to measure risk "could open up a can of worms," muses Penny Gusner, a consumer analyst for CarInsurance.com. "Some very safe drivers don't vote, and some religions forbid it. What if registered Republicans have many fewer accidents than Democrats do?"
Yet many companies already use the same kind of risk management to mete out car insurance discounts to particular professions or the military, and to married people and homeowners.
Insurance regulators in each state must approve the factors companies can use to calculate rates. California, Hawaii and Massachusetts forbid use of credit information, for example.
Robert Hunter, a spokesman for the Consumer Federation of America, worries that voting records may act as a proxy for information that insurers are prohibited from using to calculate rates, such as income and race.
Census Bureau data show (.pdf file) that women typically vote at higher rates than men do, older more than young, government workers more than the private sector, rich more than poor and white more than minorities.
Hunter's organization would prefer that insurers stick with rates based on your driving record, using insurance prices to reward safe driving behavior.
More on CarInsurance.com and MSN Money:
DATA PROVIDERS
Copyright © 2014 Microsoft. All rights reserved.
Fundamental company data and historical chart data provided by Morningstar Inc. Real-time index quotes and delayed quotes supplied by Morningstar Inc. Quotes delayed by up to 15 minutes, except where indicated otherwise. Fund summary, fund performance and dividend data provided by Morningstar Inc. Analyst recommendations provided by Zacks Investment Research. StockScouter data provided by Verus Analytics. IPO data provided by Hoover's Inc. Index membership data provided by Morningstar Inc.