7 same-day delivery options
Tired of waiting for online orders to ship? Depending on where you shop and where you live, delivery may be measured in hours instead of days.
This post comes from Jeffrey Trull at partner site Money Talks News.

Online shopping has a drawback: You've found what you want, but you'll have to wait days for delivery.
Now, however, large retailers and others are rolling out a same-day delivery option, combining the ease of online shopping with instant -- or near instant -- gratification you get when shopping in a brick-and-mortar store.
Here's how and where you can take advantage:
Amazon.com Local Express Delivery
Already famous for its two-day Prime shipping service, Amazon now offers a faster option. The online retailer's Local Express Delivery provides same-day service in 10 U.S. cities: Baltimore, Boston, Chicago, Indianapolis, Las Vegas, New York City, Philadelphia, Phoenix, Seattle and Washington, D.C.
Thousands of items are available for same-day delivery. You'll have to check the product detail pages or look for the same-day option at checkout to see what's eligible.
Order deadline times range from 7 a.m. in Indianapolis and Chicago to noon in Seattle, with all other locations falling in between. A shipment of eligible items costs $8.99 plus 99 cents per each item in your order. Amazon Prime members enjoy a flat rate of $3.99 per item.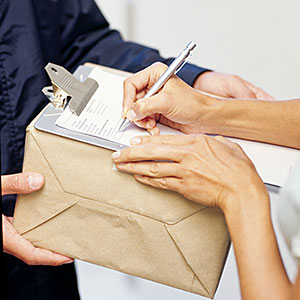 Wal-Mart To Go
Wal-Mart's To Go same-day delivery service covers a wide selection of products, including electronics, furniture and groceries. Customers are guaranteed the same prices found in their local Wal-Mart store without the hassle of making a shopping trip.
Shoppers select products on Wal-Mart's dedicated To Go website. At checkout, customers choose a four-hour delivery window. To Go costs $10 per order for an unlimited number of items, and there's a minimum order total required to qualify.
It's available in select locations in Philadelphia; Minneapolis; San Jose, Calif.; San Francisco and Virginia. Users can check availability at the To Go website. Wal-Mart says it's adding new ZIP codes all the time, and you can sign up for an account to be notified when service becomes available in your area.
EBay Now
EBay Now offers same-day delivery from stores, including Macy's, Target, Best Buy and Office Depot. Shoppers can browse through thousands of items and order using the eBay Now app on their iPhone, iPad or iPod Touch. A local valet will deliver the order in as little as an hour.
The service costs $5 per order during the beta testing period. Returns, which are also handled by the valet service, are free.
EBay Now is currently available in San Francisco and New York. 
U.S. Postal Service Metro Post
The Metro Post service launched in December with its first retail partner, 1-800-Flowers.com, but its website says it will soon include others. Customers who purchase items online from participating local retailers before 2 p.m. can have orders delivered between 4 and 8 p.m. on the same day.
Metro Post is available to residential customers in San Francisco, and delivery costs vary based on the retailer. Check the Metro Post website for updates on partner retailers and locations.
Shutl
Shutl offers delivery within minutes of purchase from participating retailers. This 24/7 service lets shoppers choose delivery within 90 minutes of ordering or a one-hour window.
Shutl is available only in the United Kingdom, but service will begin in San Francisco and New York in the first quarter of 2013. Shutl plans to expand to at least 10 more North American cities, including Atlanta, Boston, Chicago, Houston, Los Angeles, Miami, Philadelphia, Washington, Montreal and Toronto.
Postmates Get It Now
Postmates' Get It Now service has same-day delivery of 20,000 products from 3,300 stores. This mobile app-based service offers delivery of lunch, office supplies, groceries and more.
Delivery starts at $6.99 per order, with pricing based on the time, distance and location. It's currently available in San Francisco.
TaskRabbit Deliver Now
With TaskRabbit's Deliver Now, customers can have same-day delivery from any local business. TaskRabbits, who are regular people vetted by the service, pick up your order and deliver it to you.
Deliver Now costs $10 and is currently available only in San Francisco. However, TaskRabbit's general service, which can be used to arrange same-day delivery, is available in nine metro areas in the U.S.
More on Money Talks News and MSN Money:
DATA PROVIDERS
Copyright © 2014 Microsoft. All rights reserved.
Fundamental company data and historical chart data provided by Morningstar Inc. Real-time index quotes and delayed quotes supplied by Morningstar Inc. Quotes delayed by up to 15 minutes, except where indicated otherwise. Fund summary, fund performance and dividend data provided by Morningstar Inc. Analyst recommendations provided by Zacks Investment Research. StockScouter data provided by Verus Analytics. IPO data provided by Hoover's Inc. Index membership data provided by Morningstar Inc.