How to get $1,000 in 'free' money
Here's how a family of 4 could use rewards credit cards strategically to generate maximum cash back -- if they pay off cards monthly.
This post comes from Rob Berger at partner blog The Dough Roller.
Recently I published a review of the Blue Cash Everyday from American Express credit card. With the preferred version of the card, you earn 6% cash back at the grocery store. That's a huge return, and it got me to thinking: Could a typical family earn $1,000 a year or more in cash rewards simply by using the right credit cards?
I call it the ultimate cash-back credit card strategy.
The trick is to use the right card for the right purchase to maximize your cash back. The approach takes some effort. You can't maximize your rewards by using just one card. But you can get excellent results with just a few credit cards -- if you pay off your balances each month.
To get you thinking along those lines, here are a few things to consider:
Understand how the rewards program works. This is a must. Many of the programs have limitations. For example, some cards might offer 5% cash back, but it's on rotating categories that change every three months and there are caps on the amount you can earn.
Seek out cards with double or triple points. The standard cash-back reward is 1% or 1 point per $1 spent. But there are cards that do much better. Go for the cards that offer more bang for your buck.
Pay monthly bills with a credit card. Consider paying some of your bills with your credit cards as a way to rack up some points. While some can't be paid with a credit card (e.g., your mortgage), many bills -- such as your cellphone, cable, Internet, and even garbage collection -- can.
Use a business credit card. If you are a business owner you might be able to add a business card as part of your strategy. Many business rewards cards have a higher rewards cap. For example, instead of earning double points on gas purchases up to $2,500, you might earn double points on up to $5,000 in gas purchases.
Find cards with sign-up bonuses. Take advantage of cards that offer a cash-back bonus to new card members.
With these factors in mind, it is absolutely possible with modest spending to earn $1,000 or more a year in free money by using the right credit cards. Below I've listed my top cash rewards picks for common spending categories. Then we will put this strategy to the test with some modest spending assumptions. (Post continues below.)
Grocery shopping. The Blue Cash Preferred from American Express card is an exceptional card to use for grocery shopping because you earn a whopping 6% cash back on groceries. This card also has a $150 cash-back bonus after spending $1,000 within the first three months of getting the card. There is a $75 annual fee, but the nice bonus offer is enough to cover this fee for two years.
Gas purchases. The PenFed Visa Platinum Cashback Rewards Card gives 5% cash back on your gas purchases. It doesn't have a bonus offer, but there is no annual fee to worry about either. If you spend $4,800 per year (or $400 per month) on gas you will earn $240 cash back.
Dining out. I like the TrueEarnings Card from Costco and American Express because it gives 2% back on restaurant purchases. I figure that if my family spends $250 a month on eating out or $3,000 a year, I will get $60 back. The other perk I like is that the annual fee is waived if you are a Costco member. The yearly fee to have a Costo membership is about $55 (depending on the type of membership), which is less than most annual fees for a rewards card.
Travel. The Chase Sapphire Preferred Card gives 2% cash back on travel purchases. It also gives 50,000 bonus points after you spend $3,000 in the first three months, which is a nice way to jump-start your earnings. If you spend $1,500 a year on travel, that equals out to $30 cash back. Now, 30 bucks isn't enough to retire on, but combine that with no annual fee for the first year ($95 thereafter) and 50,000 bonus points (equal to $625 toward your travels) and that's not a bad deal.
Shopping. The Blue Cash Preferred from American Express mentioned above for groceries also offers 3% cash back for department store purchases. Most cards usually give only 1% or 2% for those types of purchases, so 3% is a nice offer. If you spend $100 a month or $1,200 per year, that's an earning of $36 cash back.
All other purchases. The Capital One Venture Rewards card offers 2% back on all other purchases. "Other purchases" could include big-box stores, pharmacy, cellphone, cable, car repair, and every other monthly expense that can be charged. There is a catch: The 2% has to be spent on travel. You can use the miles for other purchases or even cash back, but those rewards are worth 1%. So if you spend a great deal on travel, this card can help you save some dough with rewards equal to 2% of your purchases. If you spend $1,000 per month on other purchases, then you will earn $240 back at the end of the year.
Calculate your earnings
Using the same figures and categories we discussed above, you can review the table below to see how much you can earn if you play your cards right. The table reflects an estimation of what reasonable monthly expenses for a family of four would be.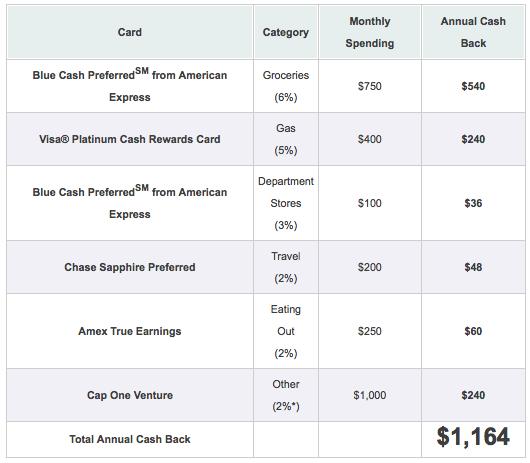 So, even accounting for annual fees, saving $1,000 or more a year with the right credit cards is not difficult. And many families spend far more than what's listed in the table.
To earn even more, consider using a card like the Discover More Card that gives 5% cash back in rotating categories. The categories change each quarter and there is a spending cap of $1,500. As we mentioned above, understanding these details can help you plan your strategy and maximize your earning potential.
If one of the quarterly categories is dining out, then consider using this card to receive 5% back on the first $1,500 you spend dining out -- this is $75 back. Once you reach the $1,500 spending limit, switch over to another card (like the TrueEarnings card -- 2% on dining out) that gives cash back for those same purchases.
More on The Dough Roller and MSN Money:
DATA PROVIDERS
Copyright © 2014 Microsoft. All rights reserved.
Fundamental company data and historical chart data provided by Morningstar Inc. Real-time index quotes and delayed quotes supplied by Morningstar Inc. Quotes delayed by up to 15 minutes, except where indicated otherwise. Fund summary, fund performance and dividend data provided by Morningstar Inc. Analyst recommendations provided by Zacks Investment Research. StockScouter data provided by Verus Analytics. IPO data provided by Hoover's Inc. Index membership data provided by Morningstar Inc.