How to run a household like a business
Does your family have a CEO and a CFO with well-defined responsibilities?
This post comes from Len Penzo at partner blog Len Penzo dot Com.
Before I started my blog, I spent my free time as a dedicated volunteer for Little League Baseball. And although I rose through the ranks over the years to eventually become a league president, looking back, my fondest Little League memories still come from the time I spent managing my son's tee-ball team.
My first "practice" was a pitiful failure. I was woefully disorganized and, as a result, the 5-year-olds got bored almost immediately. Before long, that practice session looked like something straight from "Lord of the Flies." I had lost control, surrounded by a band of marauding boys who defiantly spent the rest of the hour kicking up the infield dirt and pulling the wings off moths in the outfield.
Needless to say, I made sure the rest of my practices were always well-organized.
The importance of organizing your personal finances
Organization is a means to an end. The truth is, organized people save more time and money than those who don't. When you're organized, you become more efficient, and that makes life much easier.
With respect to personal finances, organization is what enables people to manage seemingly complex and/or enormous jobs such as tracking income and outgo down to the last penny with relatively little effort.
The good news is, getting organized isn't hard. In fact, all it takes is a little commitment and discipline -- and I found that one of the best ways to get organized is to run your household like a business.
My household business organizational structure
In the grand scheme of things, a household is a business with real assets and liabilities. There are revenues -- represented by our household income -- while household obligations such as the mortgage and utility bills represent nondiscretionary costs. There are also discretionary costs in the form of entertainment, vacations, and other noncritical expenses that require careful analysis and smart decisions.
And just as any smart business works to efficiently manage and maximize its revenues, I too want to ensure that our household spending decisions always give us the most bang for my paycheck.
Our family finances have been jointly managed by the Honeybee and me since shortly after we got married 15 years ago. Each of us has separate responsibilities that are clearly defined, as shown in the handy-dandy household organization chart below.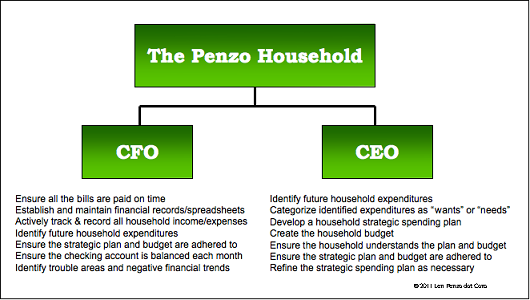 As you can see, it's not very complicated: I act as the CEO, while she is the CFO. I know. But just play along.
I'll now go into a little more detail for both our jobs.
My duties as the household CEO
As the CEO, I'm responsible for long-term and strategic financial planning decisions, including stuff like how much life, auto and homeowners insurance to carry, retirement plan and other investment contributions, emergency fund allocations, and future big-ticket discretionary spending. That requires me to evaluate all household expenses, both past and future, and then determine whether those expenses are discretionary or nondiscretionary. (Are you saving enough for retirement. Try MSN Money's calculator.)
In short, my job consists of seven primary tasks:
Identifying future household expenditures.
Categorizing those expenditures as either nondiscretionary or discretionary ("needs" or "wants").
Developing a household strategic spending plan.
Establishing the household budget.
Ensuring my family understands the strategic spending plan and budget.
Ensuring the strategic spending plan and budget are faithfully adhered to.
Refining the strategic spending plan as necessary.
My wife's duties as the household CFO.
As the CFO, the Honeybee acts as the family's financial manager. Essentially, in addition to handling day-to-day financial operations, she keeps her fingers on the family financial pulse, always aware of past and impending nondiscretionary expenses, as well as any near-term discretionary spending considerations.
In a nutshell, here are her seven primary responsibilities:
Establishing and maintaining our financial records and spreadsheets.
Ensuring all the bills are paid on time.
Actively tracking household expenses and income.
Identifying present and future household expenditures to support strategic planning.
Ensuring the strategic spending plan and budget are faithfully adhered to.
Ensuring the checking account is balanced each month.
Identifying negative financial trends and potential trouble areas.
Summing it all up
Running our household like a business has played a crucial role in ensuring that our family income has been used as efficiently as possible over the years. In fact, it's been more successful than I ever imagined.
That being said, will the way we run our household work for everybody? That's doubtful.
Has it worked perfectly for us? Of course not.
But it has instilled a strong sense of organization and financial discipline into our lives. And for most anyone who aspires to take control of their personal finances and achieve financial freedom, that is absolutely essential.
More on Len Penzo dot Com and MSN Money:
DATA PROVIDERS
Copyright © 2014 Microsoft. All rights reserved.
Fundamental company data and historical chart data provided by Morningstar Inc. Real-time index quotes and delayed quotes supplied by Morningstar Inc. Quotes delayed by up to 15 minutes, except where indicated otherwise. Fund summary, fund performance and dividend data provided by Morningstar Inc. Analyst recommendations provided by Zacks Investment Research. StockScouter data provided by Verus Analytics. IPO data provided by Hoover's Inc. Index membership data provided by Morningstar Inc.