10 ways to make resolutions last
Only 46% of New Year's resolutions are still in force beyond six months, according to a study. Here's how to stick to yours.
This post comes from Trisha Shervan at partner site Money Talks News.

There's something special about a new year that makes you want to live a better life. Many of us resolve to save money, lose weight, be more organized, get out of debt, find love, and more.
According to research from the University of Scranton, 45% of Americans make New Year's resolutions, but only 46% of those resolutions last beyond six months.
But there are simple strategies to make your resolutions stick. 
1. Make a plan
It's best to do this early, but it's not too late for 2013 resolutions. Write down your resolution and map out a detailed plan to get there. Ask yourself what steps you'll take and consider your timeline. For example, if you want to save $1,000 this year, write a plan to save $20 a week and outline which expenses you'll cut, whether it's morning lattes, Thursday happy hours or your obsession with shoes.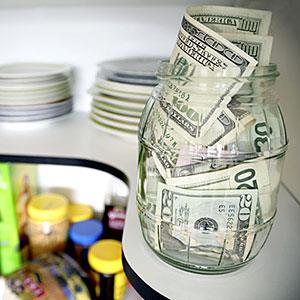 2. Be realistic
You're not going to drop 50 pounds in a month, but you could lose 5. Small, achievable goals are better then grand, unattainable ones.
3. Think positively
Have confidence in yourself and think positively. Document your progress and don't be afraid to reward yourself for every small success. Celebrating your progress could motivate you to keep going.
4. Limit the number of resolutions
Too many goals at once are going to diffuse your focus. Start with just one and see it through.
5. Forgive setbacks
You're going to have a few bumps in the road, but don't get bogged down. Falling off the wagon isn't an excuse to stop trying entirely. Don't be afraid to start again as many times as you may need to accomplish your goal.
6. Make your goal public
Sharing your goal with even one person brings it out of your head and into the world. Declare your resolution at your next book club meeting, post it as a status update on Facebook, or simply share it with a friend. Making your goal public helps keep you accountable.
7. Enlist a buddy
Team up with a friend, family member, co-worker or fellow "resolver" to stay on track. Talking with people who are also working on a goal, even if it's not the same, will help you feel connected and motivated.
8. Embrace novelty
Consider your resolution an opportunity to try something different, whether it's eating more fresh fruits and veggies instead of cookies and cake, or making coffee at home instead of buying a latte every day. Look at your resolution as a way to break free from your old routine, and you'll be more likely to get excited about it, rather than consider it a task.
9. Substitute new behaviors for old ones
You can't expect change if you don't make any. If you smoke every time you take a break at work, find someone to take a walk with instead. Changing your pattern of behavior will help your brain reprogram.
10. Take things a month at a time
Change happens over a period of repeated behavior. Hang in there for the first month and let the change set into your lifestyle. It will get easier to keep going.
Even if you don't reach your ultimate goal this year, keep working at it so every day you get closer to the finish line.
More on Money Talks News and MSN Money:
DATA PROVIDERS
Copyright © 2014 Microsoft. All rights reserved.
Fundamental company data and historical chart data provided by Morningstar Inc. Real-time index quotes and delayed quotes supplied by Morningstar Inc. Quotes delayed by up to 15 minutes, except where indicated otherwise. Fund summary, fund performance and dividend data provided by Morningstar Inc. Analyst recommendations provided by Zacks Investment Research. StockScouter data provided by Verus Analytics. IPO data provided by Hoover's Inc. Index membership data provided by Morningstar Inc.