The potential pitfalls of Airbnb
Is your prospective host adhering to local laws that govern hotel rooms and other accommodations? Perhaps you should check.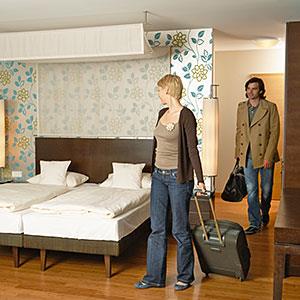 You're all set to make some extra income by renting out a room in your apartment via Airbnb, the hugely popular website that connects travelers with those willing to offer space in their homes for a price. It's the budget traveler's friend, with accommodations generally much cheaper than most local hotels.
So far, so good. Then the local authorities show up and cite your landlord. In your city, running a bed and breakfast requires a permit. Or perhaps it's prohibited by your lease, and now your landlord wants to kick you out.
If you book your travel stays through Airbnb, which boasts accommodations in 34,183 cities in 192 countries around the globe, or through other sites like it, consider the above from a guest's perspective. How do you know your hosts aren't breaking local laws?
These types of conflicts are bound to happen when components of what's called the "sharing economy" encounter old rules and regulations. Some examples:
Brooklyn resident Chris Dannen

recounted on Fast Company

 how he made nearly $20,000 in nine months by hosting Airbnb guests at his apartment -- until his landlord had him served with a restraining order.
"Mr. Warren, like many if not most Airbnb users, had not read the terms and conditions on Airbnb's website telling him not to break any laws (while also wiping the company's hands clean of responsibility for hosts' compliance with those laws)."
A report that authorities in Amsterdam are looking for illegal hotels prompted speculation that Airbnb could be targeted. Not so,

says Airbnb's new Public Policy blog

, launched after Lieber's story appeared.
You can expect to see more such reports. Lieber wrote:
"In fact, local laws may prohibit most or all short-term rentals under many circumstances, though enforcement can be sporadic and you have no way of knowing how tough your local authorities will be. Your landlord may not allow such rentals in your lease or your condominium board may not look kindly on it."
Airbnb said on its Public Policy blog that it's working with local and state officials in New York to draft new laws.
It added: "We are increasingly engaging with governments around the world to address the patchwork of laws governing the activity of our community. In some cities, short-term rentals are always OK. In others, they are not. But in many cities, laws are confusing and unclear; sometimes, even to the governments that created them."
That blog, which has only three posts, also says that "short-term rental laws around the world vary widely, and it is important for hosts to check their local laws and individual leases before listing on our site."
In other words, it's up to you -- both hosts and guests -- to read the fine print and get this right.
There are a lot of you out there. Founded in 2008, Airbnb says it hit the 10 million guest-night mark in June, up from 5 million in less than half a year, according to TechCrunch. 
The attraction is that travelers can save money, while hosts can earn extra income. Many are using the money to make their homes pay for themselves, more or less. For instance, the average annual income for hosts in San Francisco was $9,300 for entire homes and $6,900 for those renting a smaller space, Forbes says. That's a nice help toward meeting the mortgage or rent in an expensive city.
The company gets a 3% fee from the host, as well as a separate percentage from the guests.
And lest you underestimate the power of the sharing economy, consider this thoughtful post by Justin Elof John on VentureBeat about what someone could expect to make by ditching their regular job (if they have one) and instead using Airbnb, TaskRabbit, Lyft and GetAround for income.
But not every abode is appropriate for a bed and breakfast. Commented one landlord on Fast Company:
"By making AirBnb a full-time business out of your apartment, you crossed the line. For a landlord, there are insurance considerations, cost considerations (water/power/etc.), and the fact that a continuous stream of guests coming and going can be disruptive to other tenants."
Another commenter said:
"I lived in a beautiful new condo that I loved dearly. My neighbours seemed great too, that is until they turned their new condo into an Airbnb hotel."
Have you used Airbnb, either as a host or a guest? Is your neighbor hosting paid guests that that or a similar service? If so, how's it working out?
More from MSN Money:
DATA PROVIDERS
Copyright © 2014 Microsoft. All rights reserved.
Fundamental company data and historical chart data provided by Morningstar Inc. Real-time index quotes and delayed quotes supplied by Morningstar Inc. Quotes delayed by up to 15 minutes, except where indicated otherwise. Fund summary, fund performance and dividend data provided by Morningstar Inc. Analyst recommendations provided by Zacks Investment Research. StockScouter data provided by Verus Analytics. IPO data provided by Hoover's Inc. Index membership data provided by Morningstar Inc.