5 steps to prep for the holidays
Christmas will be here before you know it. It's time to prepare a budget and a spending plan. Here's how.
This post comes from Gerri Detweiler at partner site Credit.com.

The countdown to Christmas has begun. Last night, I pulled out the calendar and counted off just 10 weekends before the big day. It will be here before I know it.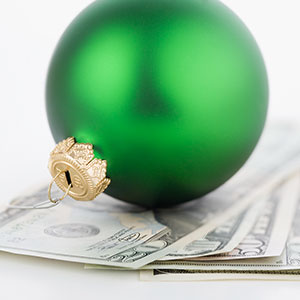 And that means I need to start getting organized now, even if it does feel too early. So I've gathered five suggestions for ways I can start to prepare the holidays, and invite you to join me, so when we say "happy holidays" this year, we'll really mean it.
Make your list. We hear this advice every year, and those who are list-makers follow it, while those who aren't usually wing it. But there's a reason why so many stories about planning for the holidays advocate it: It works. Get started with Credit.com's free Holiday Budget Worksheet. Print it out or use the spreadsheet version on your computer.
Ultimately your goal is to put in writing what you plan to spend, then to keep track of what you actually do purchase. Plus, starting a list will help you remember things you might have forgotten to budget for. I hold a holiday baking party every year for my daughter and a few of her close friends. It's not expensive, but I do need to make sure I include ingredients and party favors in my spending plan.
Cash in rewards now. If you earn rewards points on your credit cards or through other loyalty programs, now is the time to check your balances. If you plan to redeem points for merchandise or gift cards, do that now, too, because some programs state that you should allow four to six weeks for delivery.
A related strategy is to round up all those gift cards you haven't used and sell them on a gift card resale site such as Plastic Jungle, ABCGiftCards.com or Cardpool to get cash you can use for other purchases.
You can also use those sites to save money when shopping, says Marcia Brixey, the author of "The Money Therapist: A Woman's Guide to Creating a Healthy Financial Life." Check those sites for gift cards at the stores you like to shop at. Buy a $50 gift card for $35, for example, and you'll save 15% right off the bat. Then use coupons or sales at the store to save even more.
Create a timeline. Work with the time you have, and get started now, advises Mary Hunt in her must-get book, "Debt-Proof Your Christmas, Celebrating the Holidays Without Breaking the Bank." "Face it, when it comes to Christmas, the longer you wait, the more you'll spend," Hunt writes. She recommends setting a series of small deadlines and working with the time you have. "Even five minutes is enough time to get something done when you have a plan."
It reminds me of a Mark Twain quote that hangs on my office wall: "The secret of getting ahead is getting started. The secret of getting started is breaking your complex overwhelming tasks into small manageable tasks, and then starting on the first one."
Start a savings account. "CrystalH," founder of the Sophisticated Spender blog, is encouraging her readers to save $500 by the holidays. That may sound like an impossible goal, but if you break it up into daily goals, you may be able to get closer than you think. She recommends looking for every opportunity to save, including packing a lunch instead of buying one, going to happy hour instead of going out to eat, finding a friend to help hold you accountable, and even picking up side work to earn a little extra cash.
Put technology to work for you. Erik Salmon, a co-founder of SOHO Services, uses You Need a Budget to keep his spending on track. He explains: "They have a good app for smartphones that works with the desktop budgeting software, so when you're out and about you can stay on budget. It's designed to get you to a buffer so that you are paying this month's bills on last month's income so there is no more living paycheck to paycheck. You can install the software on as many computers as you own, so I have two of my sons that live out of the house on it, helping them learn how to budget."
A host of other apps can also help you do everything from finding the best price on an item you're considering to helping you save and organize receipts. As long as you don't overload yourself with more deals to sift through -- or create temptation to buy things you don't really need -- you can use technology to save yourself time and money.
And if you're worried about adding to your debt this holiday season, try ReadyForZero, which just added a new payment feature to its online get-out-of-debt program. It may just help you remember to focus on what's more important, a stocking stuffer that will soon be forgotten or being debt-free.
After all, a lot of people are still recovering from financial setbacks, and for them, "the main focus in those first years of recovery should be toward rebuilding savings. That means planning to spend a little less than budgeted for holiday shopping in order to devote more money to rebuild that emergency savings account," says Bruce McClary, a certified financial educator at ClearPoint Credit Counseling Solutions.
"If there is still lingering debt collection activity, or other unresolved financial obligations, extra attention should be devoted toward quickly resolving those items as well. Staying focused on the big picture helps save money and keeps the focus on financial stability, which makes future holidays a little more peaceful and secure," he adds.
More from Credit.com and MSN Money:
DATA PROVIDERS
Copyright © 2014 Microsoft. All rights reserved.
Fundamental company data and historical chart data provided by Morningstar Inc. Real-time index quotes and delayed quotes supplied by Morningstar Inc. Quotes delayed by up to 15 minutes, except where indicated otherwise. Fund summary, fund performance and dividend data provided by Morningstar Inc. Analyst recommendations provided by Zacks Investment Research. StockScouter data provided by Verus Analytics. IPO data provided by Hoover's Inc. Index membership data provided by Morningstar Inc.