Groupon offers NYC dinner in the dark
But New Yorkers struggling with Sandy and its aftermath may not be amused by the daily deal.
This post comes from Antoine Gara at partner site TheStreet.
In a display of its prowess -- or poor judgment -- daily deals site Groupon is sending out mobile and email ads targeting powerless and hungry New Yorkers hit by Hurricane Sandy.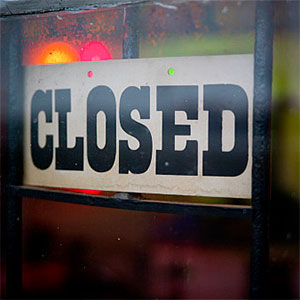 In a targeted deal called International Dinner in the Dark sent to New York area users, Groupon is offering a discount on two- and four-person meals at Dans le Noir, an international-themed​ restaurant on West 38th Street in midtown Manhattan.
"Blocking one sense is said to heighten the others: Musicians tend to play with their eyes closed, and artists only paint when their noses are all stuffed up. Taste more clearly with this Groupon," wrote the daily deals site, in an obvious allusion to a blackout affecting millions of New York area residents as of this morning.
The deal may receive mixed reviews from New Yorkers facing what President Barack Obama calls a major disaster. Many of New York City's restaurants and supermarkets remain closed in the aftermath of Sandy, as many residents wake up without power and water.
According to Groupon's website, the deal is on after at least 20 users purchase coupons for the dinner this morning. Still, Groupon's mocking tone in the face of the widespread power outages impacting Lower Manhattan, Brooklyn, Queens and Staten Island may test the patience of some.
More than 8 million people were without power today after Sandy made landfall. The storm has killed at least 33 people in seven states and is expected to move into western New York tonight and into Canada on Wednesday.
Lower Manhattan, where the New York Stock Exchange floor is located, was still largely without power this morning after energy company Con Edison shut off most of the electricity in the area to protect electrical equipment from the massive storm surge caused by Sandy.
Investors looking to buy or sell Groupon shares will have to wait until at least Wednesday to trade U.S. stocks. The New York Stock Exchange and Nasdaq announced on Monday that U.S. equity and option markets would be closed through today.
Groupon shares sit at $4.47 and have shed nearly 80% of their value in 2012 as of Friday's close. The daily deals site is struggling to grow revenue and operate at a profit since its November 2011 initial public offering.
More from MSN Money
Will Sandy's damage move the GDP needle?
Smart Spending on the go: Get our app for Android or iPhone
Will Sandy affect gasoline prices?
DATA PROVIDERS
Copyright © 2014 Microsoft. All rights reserved.
Fundamental company data and historical chart data provided by Morningstar Inc. Real-time index quotes and delayed quotes supplied by Morningstar Inc. Quotes delayed by up to 15 minutes, except where indicated otherwise. Fund summary, fund performance and dividend data provided by Morningstar Inc. Analyst recommendations provided by Zacks Investment Research. StockScouter data provided by Verus Analytics. IPO data provided by Hoover's Inc. Index membership data provided by Morningstar Inc.