Part-time jobs with serious discounts
The trick is to find the job with an employee discount that's most in line with what you like to spend money on.
This post comes from Mikey Rox at partner blog Wise Bread.

Part-time jobs are great for supplementing income, but there are other things to consider, too, like the kinds of perks they offer. If you have to put in a few extra hours a week, you might as well reap the benefits, right?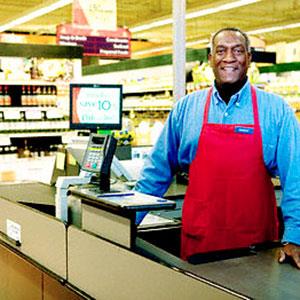 I've highlighted several types of part-time jobs and the bonuses associated with them. Take a look:
Retail sales (clothing)
I took a job at Gap in high school because it was a fun environment, it gave me the weekend spending cash I needed, and it offered a hefty discount on the inventory because employees were encouraged to wear the brand's clothes.
I worked at several retail establishments during my high school and college days, including Britches, Abercrombie & Fitch and Hollister. These companies provided me with anywhere from 20% to 60% off on my new duds. This was perfect for me because I like to buy new clothes, but the discount was even handier around the holidays, allowing me to save big on gifts.
Retail sales (non-clothing)
If you're not a clothes horse but find yourself buying other items like electronics, furniture or appliances, there's still room for you in the part-time retail workforce. Many companies offer amazing discounts to employees. For instance, Williams-Sonoma, whose items tend to be a bit higher-end to begin with, offers 40% off merchandise, while home-improvement store Lowe's provides 10% off to its employees.
The trick here is to find that part-time job where the steep discount is most in line with what you most need to save money on.
Restaurants
Restaurant employees generally get a meal for free during their shift, and that can add up to more than $1,000 worth of food savings over the course of a year. Even when you're off the clock, many restaurants offer an employee discount, so you can treat your friends to lunch on the cheap.
Coffee shops
Coffee lovers may want to consider a part-time gig as a barista. Coffee shops like Starbucks give employees free drinks while they're at work -- got to stay alert -- as well as a free pound of coffee to take home each week.
Airline industry
You don't have to be a flight attendant to work for an airline ; there are plenty of jobs in the industry. Airlines are rather generous with their employee discounts, and many even offer free flights. Southwest, for instance, offers employees unlimited free flights to wherever it flies as long as there's room on the plane. Airlines also tend to have inside deals with competitors to help you save on travel outside of your employer's areas.
Grocery stores
We all have to eat, which is why it makes sense to pick up a few hours at your local supermarket if you're low on cash. Most supermarkets offer 10% or so off their employees' grocery bills -- savings that really add up. And, yes, you can still use your coupons, too. It also wouldn't hurt to befriend the people in the deli and bakery. They might throw a few freebies your way from time to time.
Movie theaters
Enjoy frequent trips to the movies? To save a bundle on new releases, work a couple nights a week at your local multiplex. Employees are graciously granted access to any flick they want to watch, whenever they want to watch it, as long as the show isn't sold out. Depending on your appetite for movies, you can save several hundred dollars a year on your entertainment bill.
Day care centers
If you're a parent seeking part-time employment, look into helping out a local day care center during the week. What better way to bring in extra income and make sure that your child is well taken care of during the day? You may not get the service completely free, but your employer will likely give you a discount.
What other part-time jobs offer great discounts? Let me know in the comments below.
More from Wise Bread and MSN Money:
DATA PROVIDERS
Copyright © 2014 Microsoft. All rights reserved.
Fundamental company data and historical chart data provided by Morningstar Inc. Real-time index quotes and delayed quotes supplied by Morningstar Inc. Quotes delayed by up to 15 minutes, except where indicated otherwise. Fund summary, fund performance and dividend data provided by Morningstar Inc. Analyst recommendations provided by Zacks Investment Research. StockScouter data provided by Verus Analytics. IPO data provided by Hoover's Inc. Index membership data provided by Morningstar Inc.