15 hostess gifts under $5
Not sure what to take to your next holiday party? These gifts are inexpensive and easy to assemble or make.
This post comes from Angela Colley at partner site Money Talks News.

Some people might think summer is the party season, but I always receive the most invitations during the holidays. Last December, I went to five parties at five different houses in the same week. I didn't want to show up empty-handed, but even cheap bottles of wine get expensive.
This year I've resolved to reduce my spending on hostess gifts using a combination of inexpensive and homemade stuff. 
1. Cone of chocolate
You can turn a few handfuls of individually wrapped chocolates and a flower bag into an attractive gift for under $5. Grab one of the cone-shaped bags used to hold long-stemmed flowers from the florist section of the grocery store. Then pick out enough candy to fill three-quarters of the bag. Add the candy to the bag and tie off the open end with ribbon or twine.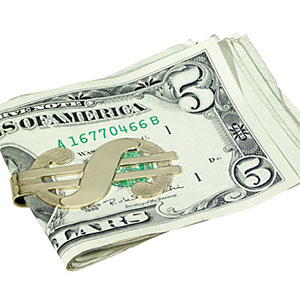 2. Small candle holders
Big retailers like Target and Wal-Mart, specialty gift shops and even some drugstores have a selection of inexpensive tea light candleholders. They're usually pretty basic -- either glass, metal or ceramic -- but you can dress them up with a colorful tea light candle, or by tying ribbon or twine around the outside of the tea light, and still keep it under $5.
3. Card games
Card games are a great party gift because they're cheap and everyone can play if the party lags. Pick up card games like Uno, Go Fish or Hit the Deck in the toy or board game section of stores, or just buy a set of regular playing cards.
4. Gift jars
Throughout the year, I save Mason jars, jars with attractive etched designs, and even wine bottles. When I need a quick gift, I fill a jar with a homemade food or drink mix, screw on the lid and tie a gift tag around the rim with twine. These gift jars are great because you can use ingredients you already have around the house.
5. Handmade goods
If you have time to wait for shipping, Etsy sells thousands of items made by independent artists and crafters. You can find small items like coasters, potholders, candles, homemade soaps and small picture frames for under $5. Just search the site for gifts $5 and under. 
6. Photo albums
Drugstores, card shops and retailers like Target, Wal-Mart and Big Lots carry a selection of photo albums. You can pick up a small basic album for under $5. If you want to go the extra mile, check out friends' Facebook pages and your own digital photos for good shots, then print them at home and put them in the album.
7. Beauty supplies
Lotions, bath salts, bubble bath and hand soap are welcome gifts. You can pick up bottles for under $5 at beauty supply stores like Bath and Body Works or Ulta. During the holidays, look for special holiday scents to make your gift more festive.
8. Filled coffee mugs
For a housewarming party last year, I bought a large coffee mug and saucer on sale for $2 at Wal-Mart. I filled the coffee mug with individually wrapped hard candies, wrapped some colored cellophane around the outside and gave it to the hostess. The whole thing cost about $4 and took five minutes to put together -- and she loved it. You can also try this idea with tea bags, sample-sized bags of coffee or any candy you think the hostess would like.
9. Magnetic notepads
Magnetic notepads make great gifts. After all, everyone needs to write out a shopping list or jot down a note at some point. You can pick these up just about anywhere, but Target usually has some different styles in its $1 section. Grab three to five, tie them in a bundle with a ribbon, and you have a great gift.
10. Blank note cards
Blank note cards are another thing most people appreciate having around the house. You can find small sets of note cards and matching envelopes at card stores, party supply stores, big retailers and even drugstores.
11. Wine glass charms
Wine shops and home goods stores like World Market, T.J. Maxx and Marshalls sell different styles of wine charms (small charms that go around the stem of a wine glass so you can tell them apart). They're cheap and something most people don't already own.
12. Travel cups
When I had my own housewarming party, one of my favorite gifts was an insulated travel mug. The friend who gave it to me picked out one with a dog that looked almost exactly like my own dog. A year later, I still use it.
13. Homemade magnets
Arts and crafts stores sell make-your-own-magnet​ kits. Most kits come with three to six blank magnets. All you have to do is find a design you like and pop it inside. I recently made these for a housewarming party using photos of some mutual friends, but even gift wrap, scrapbook paper or a Sunday newspaper comic strip would look great.
14. Fruit bouquet
Those expensive edible arrangements aren't that hard to do yourself for much less. You need  some fruit, a melon baller, a flower-shaped cookie cutter and some wood skewers. I filled a medium-sized ceramic bowl with cake to act as the base. I cut large, flat pieces of watermelon and pressed the cookie cutter through to make the shapes. Then I used a melon baller to make the center of the flowers out of cantaloupe. It wasn't the easiest gift I've ever tried to drive across town with, but it was cute and inexpensive.
15. Knitted cup cozy
A friend of mine knits cup cozies as inexpensive gifts. From start to finish, each one takes her less than four hours and uses only one skein of yarn. If you're a knitter, you can download a free pattern at Red Heart. 
More on Money Talks News and MSN Money:
DATA PROVIDERS
Copyright © 2014 Microsoft. All rights reserved.
Fundamental company data and historical chart data provided by Morningstar Inc. Real-time index quotes and delayed quotes supplied by Morningstar Inc. Quotes delayed by up to 15 minutes, except where indicated otherwise. Fund summary, fund performance and dividend data provided by Morningstar Inc. Analyst recommendations provided by Zacks Investment Research. StockScouter data provided by Verus Analytics. IPO data provided by Hoover's Inc. Index membership data provided by Morningstar Inc.