Over-the-top holiday lights
Christmas light displays can be awesome, tacky, ingenious and extremely expensive. Here's the best in neighborhood lighting extravaganzas, including some near you.
This post comes from Marilyn Lewis of MSN Money.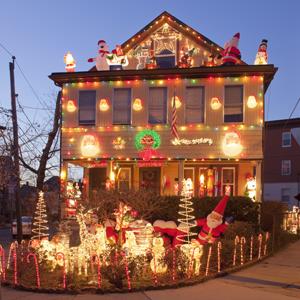 If your idea of a great and frugal December excursion is piling everyone into the family-mobile for a nighttime tour of holiday light displays, we've got you covered.
To find the best Christmas lights near you, do an Internet search for "holiday lights" and your city's name. Local websites and newspapers usually have written a story or two that will point you to the best gawking.
Best are stretches of adjoining homes where neighbors up and down and across the street work at outdoing each other. You've got to hand it to them. Staging a holiday extravaganza isn't cheap. National Association of Realtors' HouseLogic examined some of these electric bills in 2010.
$82,320 electric bill
The biggest was that of the Faucher family of New Castle, Del. They used a million bulbs and paid $82,320 for electricity that December. That's $686 per hour for four hours each night for a month, says ABC News.
Fox Business did its own look at costs, profiling Lebanon, Tenn., homeowner Chad Barnard. He spends two months assembling his display of 2 million lights spread over eight acres -- and two months dismantling it. "Usually I'm with it six months out of the year," Barnard says.
The display costs him $5,400 in electricity over the holiday season. He charges a $10 per-car admission fee. People from neighboring states drive to visit his display between Thanksgiving and New Year's.
Huge commitment
Setting up a big home display can be all-consuming. The most deeply hooked attend the Christmas Expo, says ABC News. The next one will be held July 11-13 at the convention center in Gatlinburg, Tenn.
With competition like this, the pressure on neighbors can sometimes be too much. That's apparently the case for an Arizona woman this year. Says Fox News:
"Using red and green lights, Kristina Green of Maricopa spelled out the word 'ditto' and made an arrow pointing toward her neighbor's home.

 

"KNXV-TV reports that Green's display is made of around 600 lights. Her neighbor's setup has about 16,000 colorful lights."
She wasn't the first to try this cop-out, according to Curbed. 
Tasteful and tacky
"Tastefully executed Christmas decorations can evoke a sense of awe and grandeur," as The Huffington Post puts it. But tacky is sometimes great, too. HuffPo's slide show features some of the most garish displays around the world. Think inflated Santas, elves, trees, wacky snowmen, reindeer, a plastic chimney, a Christmas frog, sleighs and plenty of other kitsch. And that's just at one (No. 18 of 25) of the homes. Our favorite is the funky peace-on-Earth house (slide 14 of 25.)
The custom of lighting homes apparently originated in 18th century Germany, where upper-class homes put candles in their windows. 
Japan has a history of improving on Western innovations (chocolate, beer, electronics, films, to name a few). Christmas celebrations are relatively new in Japan but they may be headed that way, too. The evidence: this YouTube video, "Insane Christmas lights in Japan," of one family's Christmas fantasyland in rural Japan. It appears to have been shot in 2009.
Best viewing in the U.S.
Closer to home, real-estate Web site Redfin names its favorite five holiday neighborhoods in the U.S. You have to take the "national" part with a grain of salt, since Redfin operates in just 14 states and Washington, D.C.
Redfin's top five are:
Redfin also compiled a list of great displays in 17 metro areas. "The list is based on input from Redfin real-estate agents, whose dozens of home tours a month require them to drive through neighborhoods," says the company.
No need to leave home
But for pure entertainment, you can also stay home and observe via your computer. Two hands-down winners are in Cathedral City, Calif., and in Austin, where homeowners married high tech with tradition.
The Simmons home, near Palm Springs, is the creation of Michael A. Simmons, a tech lighting professional. He put up his animated light show on Nov. 23. Simmons told the Yellow Pages site (which has maps, directions and descriptions of 15 great home displays across the U.S.) that his 150,000 LED lights are linked to 2,600 computer-controlled lighting and animation channels. This makes the lights appear to "dance" to holiday music that's broadcast from the Simmons home by short-range radio (at 107.5 FM).
Finally, this Austin household has programmed its ingenious light display to dance to (among other tunes) a madcap cover of the Angry Birds Theme Song by Pomplamoose.
Speculating about what such endeavors say about our culture is another time-honored tradition. Evolutionary biologist David Sloan Wilson, at Binghamton University in New York, says holiday lights reflect well on us. "It turns out that this urge to decorate your house is an expression of neighborliness," Wilson told the Chicago Tribune. "Some of the best neighborhoods literally glow more brightly."  
More on MSN Money:
Are you sure you want to delete this comment?
DATA PROVIDERS
Copyright © 2013 Microsoft. All rights reserved.
Fundamental company data and historical chart data provided by Morningstar Inc. Real-time index quotes and delayed quotes supplied by Morningstar Inc. Quotes delayed by up to 15 minutes, except where indicated otherwise. Fund summary, fund performance and dividend data provided by Morningstar Inc. Analyst recommendations provided by Zacks Investment Research. StockScouter data provided by Verus Analytics. IPO data provided by Hoover's Inc. Index membership data provided by Morningstar Inc.
LATEST BLOG POSTS
10 great kid gifts for less than $10
If your wallet is running on empty but you still have more shopping to do, we've got you covered. Here are 10 cool kid gifts that won't break the bank.