5 ways to protect against ATM skimming
Skimming's on the rise, so ATM users should know the warning signs.
This post comes from MSN Money contributor Mitch Lipka.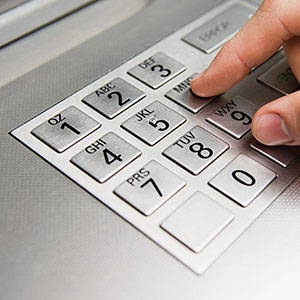 If you get cash from ATMs, watch out for the warning signs of skimming -- a crime that's on the rise.
Skimming, which involves attaching a device to an ATM that records your card number and password, has become an increasing problem, according to FICO Labs. FICO, which has a monitoring service it says analyzes two-thirds of all ATM transaction in the U.S., is also the company that calculates credit scores that are used by most lenders in the U.S.

Apparently, consumers aren't even completely safe at their own bank. Almost half the skimming took place at bank ATMs, about one-third at retail terminals and about one-fifth at ATMs not run by banks, FICO found.

Increases were reported in 20 states, FICO said -- with the biggest increase (26%) reported in South Dakota. The East Coast also saw a big increase in skimming, including a rise in the following states: Maine, Massachusetts, New York, North Carolina, Pennsylvania, Vermont and Virginia.
 
According to Tyco Integrated Security's ATM security expert, Tracie Adkins, consumers should:
Check the machine before putting your card in and ask yourself if the card slot is securely in the machine. Has anything been installed around the edges that could conceal a camera? Is any glue or sticky substance around the key pad or card slot?

If there is more than one ATM and a sign has been placed on one of the units saying it is out of service, the sign could be an attempt to direct traffic to the machine where skimming equipment is installed.

Always cover your hand when you enter your PIN so that if there is a camera, the numbers cannot be captured.

Watch your account activity and report any unauthorized credit or debit charges immediately .

If the access door to a lobby ATM is broken, don't use it and go somewhere else.
DATA PROVIDERS
Copyright © 2014 Microsoft. All rights reserved.
Fundamental company data and historical chart data provided by Morningstar Inc. Real-time index quotes and delayed quotes supplied by Morningstar Inc. Quotes delayed by up to 15 minutes, except where indicated otherwise. Fund summary, fund performance and dividend data provided by Morningstar Inc. Analyst recommendations provided by Zacks Investment Research. StockScouter data provided by Verus Analytics. IPO data provided by Hoover's Inc. Index membership data provided by Morningstar Inc.