5 tricks for saving on Halloween
Don't let the cost of this year's Halloween celebration scare you. You can save a bundle on both costumes and candy.
This post comes from Jeffrey Trull at partner site Money Talks News.

Halloween is fun for both kids and adults. But with costumes, candy and decorations to buy, the price for your celebration can creep up quickly. According to the National Retail Federation, the average American is expected to spend $80 on Halloween.
But the cost doesn't have to be frightening. As with putting together a great costume, a little imagination and creativity may be all you need for big savings.
1. Come up with a costume idea.
Whether you're looking for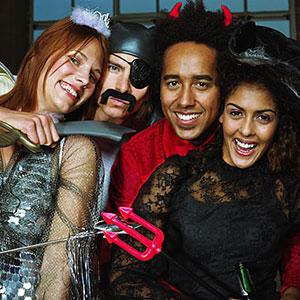 a fresh and timely costume or prefer a classic, there's no shortage of places to look for fun and unique ideas.
The best place to identify what's popular this year is your local costume or Halloween store. Some popular options for 2012 include characters from the "Game of Thrones" TV show and  Spider-Man and Thor from the blockbuster movies. See what's for sale, but don't buy anything yet.
More-creative ideas are available online. One of the best places to find ideas for Halloween is Pinterest. Check out hundreds of photos and ideas that others have pinned and scroll until you find inspiration for your own costume, as well as creative examples for kids.
Trendy costumes for adults are always a hit, and you'll find hilarious topical costume ideas online. You could dress up as gold medal-winning gymnast McKayla Maroney and her unimpressed expression, or the "Tanning Mom" accused of putting her daughter in a tanning booth earlier this year. Think about recent headlines and turn them into a unique costume.
If you love "punny" ideas, a cereal killer can be made in minutes with basic supplies.
2. Assemble a used or reused costume.
Here's where the real creativity comes in. While you could buy a costume at the store, you can easily make one for a fraction of the cost.
Start with remnants from previous costumes. Vests, tights, and other items you wore last year work great for a variety of costumes. Accessories like hats and wigs are often interchangeable, too. Not enough to go on? Hit up your friends or the parents of your kids' friends and swap. 
Materials found around your house can also be used to create a costume. Cardboard boxes, for example, can be cut up and made into a robot, Lego piece, or even a Rubik's Cube.
If you're looking for something ready-to-wear, check Craigslist or eBay for used costumes. Many traditional costumes don't change year to year, so you may find a vampire or pumpkin at a deep discount. You might even find free costumes up for grabs on Freecycle.
3. Get a deal at the thrift store.
Thrift stores are great spots for deals. If you're planning to shred a shirt or drench yourself in fake blood, you won't have to worry about ruining clothes you'd like to wear again.
You'll find clothing in all sorts of designs and colors. Maybe you need red pants to complete your clown outfit or a vest to transform yourself into a pirate. Whatever you're looking for, you'll likely find a wide range of sizes and styles unrivaled by other clothing stores. Search both the men's and women's sections for the items you need.
4. Don't forget DIY special effects and decorations.
Makeup and decorations can be made inexpensively at home using common ingredients and materials. One recipe for fake blood uses cocoa mix, corn syrup and food coloring. Makeup for a witch or Frankenstein's monster requires combining a base with food coloring.
Want a homemade spider web? A post on the Pepper design blog shows six different types made from common items like yarn, cheesecloth and electrical tape. If you want a cotton web, just use cotton balls.
As with costumes, look to recycled materials for decoration possibilities. Instead of tossing out milk jugs, you can transform them into a ghost-lit walkway, as described in this Money Crashers post, and you can use glass jars and some common foods to create spooky eyeballs and fingers.
5. Find a bargain on bulk candy.
Sugar candy is often cheaper than chocolate. You can grab a package of 360 Dum Dums from Sam's Club for about $8. Or compare dollar-store deals. Dollar Tree offers 15 rolls of Smarties for a buck.
If you still choose to go with chocolate, buy the smaller sizes of candy sold in bulk. Wal-Mart sells bags with 95 pieces of Hershey's Halloween candy for $8.88. Skip the full-size candy bar packs, which go for $10.98 for only 18 pieces.
Don't just let kids grab a giant handful and run. Spread the love around by giving each trick-or-treater one or two pieces. You don't have to feel stingy. Just remember how many more houses are on your block for kids to fill their candy sacks.
More from Money Talks News and MSN Money:
DATA PROVIDERS
Copyright © 2014 Microsoft. All rights reserved.
Fundamental company data and historical chart data provided by Morningstar Inc. Real-time index quotes and delayed quotes supplied by Morningstar Inc. Quotes delayed by up to 15 minutes, except where indicated otherwise. Fund summary, fund performance and dividend data provided by Morningstar Inc. Analyst recommendations provided by Zacks Investment Research. StockScouter data provided by Verus Analytics. IPO data provided by Hoover's Inc. Index membership data provided by Morningstar Inc.