Housing help for Sandy victims
HUD issues a foreclosure moratorium and expands rental assistance. But will FEMA trailers fit in dense urban neighborhoods?
This post comes from Marilyn Lewis of MSN Money.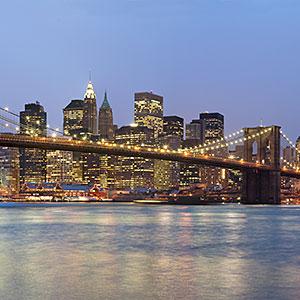 As life in superstorm Sandy's path starts rebounding for many, the difficulty of restoring life to normal for other storm victims is becoming clear. Take housing. Thousands of people in New York, Connecticut, New Jersey and Rhode Island lost homes, The Associated Press reports.
Sandy was unusual in several respects: It was particularly large, uncharacteristically​ severe, and while hurricanes are not unheard of in the Northeast, they're not common. Likewise, the Federal Emergency Management Agency, better known as FEMA, may have trouble adapting its typical post-disaster housing solutions to dense urban neighborhoods hurt by the storm.
"For example, (crisis management consultant Mark) Merritt said, it's impossible to set up trailers in people's driveways if everyone lives in an apartment building, and it's harder to find space to set up mobile homes," AP says.
FEMA announced it has increased payments for temporary housing. In a region where housing is notoriously costly, and where the average New York City hotel room cost $277 a night in 2011, the Department of Housing and Urban Development's market rates don't stretch far. The (New Jersey) Star Ledger writes of the new allowances:
"The allowable rate for a two-bedroom apartment in Hudson County, for example, would increase from $1,322 to $1,625. In Essex County, the allowable rate for a two-bedroom unit would rise from $1,202 to $1,502."
The federal government is investigating "using everything from hotels and motels to FEMA trailers and prefab homes," Homeland Security Secretary Janet Napolitano says.
One source for inspiration, according to AP: a design competition held by New York City in 2007 to generate ideas for housing people made homeless in a powerful hurricane. "The winning ideas included building a six-story complex mounted on ship hulls; using debris to create provisional housing; and turning shipping containers into living quarters."
Homeless
Mayor Michael Bloomberg estimates that up to 40,000 New Yorkers -- half of them from public housing -- need temporary housing. Around a quarter may be permanently homeless. "I want to assure everyone that every New Yorker who needs a warm place to live and a roof over his or her head is going to have one," Bloomberg said.
In addition, some 4,000 New Jersey residents are in shelters, although many should be able to return home when power and heat are widely restored.
The numbers are substantial, but they're small compared with numbers from Hurricane Katrina. Then, 1 million Louisianans evacuated before the storm and an additional 100,000 fled afterward. Several hundred thousand Mississippians were displaced, too. A quarter-million people were in shelters scattered across several cities and states. The Washington Post wrote in 2005:
"FEMA officials said that about 50,000 people are in Louisiana shelters, but Brecke Latham, spokeswoman for Gov. Kathleen Babineaux Blanco (D), said that virtually none of the 1 million evacuees have been able to return to their homes. Many are now living in hotels, with family or with friends, but officials said they are preparing for many of them to need help as their money, or their welcome, wears out."
While the ruin from Sandy could have been worse, that was surely no comfort for a New York family interviewed by the AP:
"Amin and Rachael Alhadad and their four children have been sleeping sitting up in their Jeep.

"… 'We're homeless right now and it just keeps getting worse every day,' Amin Alhadad said. 'We can't shower, we can't use the bathroom, we can't sleep properly. We're struggling right now. I'm losing my job right now due to this.'

"Alhadad said FEMA told him the government would deposit $2,900 in his account for a hotel, but it has yet to show up. He planned to make some phone calls to see if there were any hotel rooms available. His kids do not want to go to a shelter."
Winter's coming
Cold weather has arrived and, the AP says, there's no comprehensive long-term plan for housing storm victims:
"… can enough vacant apartments be found? Will the task involve huge, Hurricane Katrina-style encampments of trailer homes? And if so, where will authorities put the trailers? In stadiums? Parks?"
Bloomberg reports on the HUD's efforts: "Through the Federal Housing Administration (an arm of HUD), residents of the four states also can obtain as much as 100% financing to rebuild their houses or purchase new homes."
HUD issued a 90-day moratorium on foreclosures for federally insured mortgages in the four-state storm region. (Most U.S. mortgages are federally insured.) The Connecticut Mirror writes, "(HUD Secretary Shaun) Donovan also said he is urging homeowners who receive insurance payments or disaster grants or loans to use them to repair their homes instead of paying down their mortgages."
Here are HUD's disaster resources. TheStreet gives details on other aid available to storm victims.
Banks, too, are offering help by, for instance, postponing foreclosures and evictions and waiving late fees on mortgage payments, says HousingWire.
More on MSN Money:
DATA PROVIDERS
Copyright © 2014 Microsoft. All rights reserved.
Fundamental company data and historical chart data provided by Morningstar Inc. Real-time index quotes and delayed quotes supplied by Morningstar Inc. Quotes delayed by up to 15 minutes, except where indicated otherwise. Fund summary, fund performance and dividend data provided by Morningstar Inc. Analyst recommendations provided by Zacks Investment Research. StockScouter data provided by Verus Analytics. IPO data provided by Hoover's Inc. Index membership data provided by Morningstar Inc.