How to shop for tablets under $300
Think about how you'll use the device, since size, memory, features and available apps can vary.
This post comes from MSN Money contributor Michelle V. Rafter.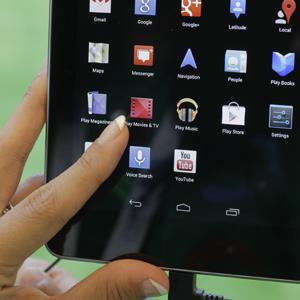 In three years since Apple introduced the first iPad, tablet computers have gotten simultaneously bigger and smaller, more powerful and more kid-friendly, more expensive and cheaper -- in some cases a lot cheaper.
Today it's possible to choose from dozens of tablets priced well under $300.
But how to decide if an inexpensive tablet is right for you?
Cleveland software developer Greg DeLozier picked his, an Amazon Kindle Fire HD, because it's small enough and light enough to fit into a pocket. Using it isn't as distracting as opening a laptop during meetings. "When you open up a laptop in a meeting, you open up a barrier. But tablets, they're socially more acceptable. It's the same as having a planner or steno pad," DeLozier says.
DeLozier thinks so highly of the $199 Kindle Fire, he's bought nine, for himself and family members, who use them to listen to music, read and get work done. "They're so nice" and simple, he says. "My 12-year-old daughter can do tech support for my mother-in-law. I gave one to my wife and now you can't pry it out of her hands."
More people like DeLozier are choosing tablets over computers for online activities. Among tablet owners, 27% use desktops or laptops less frequently for browsing online and 20% use the devices less often for Facebook, according to a new NDP Group study.
When shopping for cheap tablets, size and weight aren't the only things that matter. Consumers also need to keep in mind how they'll use a device, since memory, apps, connectivity and other features vary by model and price.
What to look for
If you're in the market for an inexpensive tablet, here's what to consider:
Screen size: Tablets are no longer one-size-fits-all. The devices generally fall into three categories: small, with 7-inch screens (measured diagonally), large, with 10-inch screens, or somewhere in the middle. Lower-cost tablets' screen resolutions vary widely too -- don't expect to see a lot with the Retina displays found on higher-end models. Devices such as the Kindle Fire HD and the Barnes & Noble Nook HD+, however, do stream standard and high-definition video content.
Storage: When it comes to internal memory, bigger is better, especially if you want a tablet to store and play music, games, movies or other graphic-intense material. Lower-priced tablets often come with less storage than higher-end devices. Retail prices for the Nexus 7, for example, start at $199 for 16GB and jump to $299 for a 32GB model. Some -- but not all -- low-cost tablets have built-in micro-SD memory card slots that can be used to add memory.
Apps and "ecosystems": When it comes to apps, the iPad and iPad mini are still the tablets to beat, though with starting prices of $499 and $329 respectively, neither is technically a low-cost tablet. Apple's App Store lists 250,000 iPad-specific apps, and iOS tablets can run iPhone apps in compatibility mode. Tablets that run on Google's Android operating system can use apps built for Android smartphones. Native apps for Android tablets are still few and far between, a deficit that Android fans hope Google and independent app makers will fix. Microsoft lists approximately 5,000 apps for with its new Surface RT tablet-laptop hybrid in the Windows Store. (Microsoft is the publisher of MSN Money.) However, at $499 for the most basic model, the Surface comes in at the extreme high end of low-cost tablets. Tablets from Amazon and Barnes & Noble have their own "ecosystems" as well, meaning there's a pool of apps that work only on devices sold by those companies. In Amazon's case, Kindle fire HD owners who are also Amazon Prime customers can get free TV shows and movies and borrow books from the Kindle library. DeLozier was already an Amazon Prime customer, which is another reason why he bought his family Kindles. "We found the applications were pretty nice," he says.
Connectivity: All tablets can connect to the Internet via Wi-Fi, through your home or office network, which doesn't cost anything extra, or through public networks that may or may not be free (Starbucks, airports and the like). While many high-end tablets offer Internet access over cellphone networks, the number of cheap tablets with 3G or 4G connections is much smaller. That trend may continue, as at least one study has shown that more tablet users are sticking with Wi-Fi, which doesn't require a separate data plan.
Cameras: Many high-end tablets have front- and rear-facing cameras for taking pictures and video and handling real-time video chats through FaceTime, Skype and similar services. Cheaper tablets have only front-facing cameras. "Honestly, at the price points these tablets are coming in at, some sacrifices did have to be made," says tech reviewer Linus Sebastian, creator of the LinusTechTips YouTube channel.
Where to find cheap tablets
Once you're ready to buy, where to look? Here are a few online resources:
 More from MSN Money:
DATA PROVIDERS
Copyright © 2014 Microsoft. All rights reserved.
Fundamental company data and historical chart data provided by Morningstar Inc. Real-time index quotes and delayed quotes supplied by Morningstar Inc. Quotes delayed by up to 15 minutes, except where indicated otherwise. Fund summary, fund performance and dividend data provided by Morningstar Inc. Analyst recommendations provided by Zacks Investment Research. StockScouter data provided by Verus Analytics. IPO data provided by Hoover's Inc. Index membership data provided by Morningstar Inc.