Upgrade your spring wardrobe cheaply
Save money on clothes, household items and more by shopping at thrift stores. Learn techniques to help you scour for bargains.
This post comes from Raechel Conover at partner site Cheapism.com.


Thrift store shopping has always been popular among frugal consumers. But with the economy still lagging, more consumers are finding themselves browsing the thrift shop racks. And the new hit song "Thrift Shop" by Macklemore and Ryan Lewis (featuring Wanz) has made thrift store shopping sound, well, cool. Here's how you can make the most of the thrift store this spring.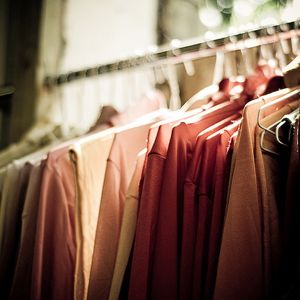 N
o expectations.
 The thrift store is the place to update your wardrobe cheaply, regardless of the season. You can browse aisle upon aisle of tops, bottoms, dresses, and more. The best strategy for finding good buys is to approach thrift store shopping without any expectations. That is, don't go with a list or a particular item in mind but with a flexible attitude that lets you browse through everything.
Yes, that means checking out the entire thrift shop for wardrobe updates. There's a very good chance that the store isn't well organized, so women's apparel may be mixed in with the men's, or a men's blazer may be a better fit than the jacket found in the women's section. You never know, so give the entire place more than a quick once-over.
Just ask Macklemore. He doesn't only rap about thrift stores, he regularly shops them himself and recently told
GQ
 that of more than 3,000 thrift store purchases, the best have come from the sections that weren't meant for him.
Hit up the thrift shop hot spots.
 Did you know that thrift stores have hot spots? According to
Woman's Day
, newly stocked racks can be spotted when employees push them out onto the sales floor. Swoop in on them first because the best goods and most in-season items are the first to go. Another smart location to check is the rack right outside the dressing rooms. This is a gold mine for in-season duds and items in the best condition that were discarded because they didn't fit someone else.  
Accessorize. Even if you aren't having much luck with clothes on a particular day, accessories are thrift shop finds that can make or update an outfit. Don't end your thrift store shopping without combing through all the accessories. Perhaps a cute spring purse, a light scarf or skinny belt, a gently-worn watch or a few wrist bangles are waiting to be snatched up.
Examine items carefully. It goes without saying that you should closely examine whatever you plan to buy at the thrift shop. If it's stained, ripped, discolored, or overly worn you probably won't be able to fix it and won't be happy wearing it. But if you think the problem is fixable, go for it -- assuming the repair cost doesn't unwind your thrift store shopping bargain. A chic pair of pants with a ripped knee can be patched at minimal expense, but a grease stain down the front of an otherwise perfect summer dress is likely to be there forever.
Choose popular labels, kids clothes, and maternity clothes. It's no secret that some brands of clothing hold up better than others. Check the labels in the items you like and make sure they're worthy of a second-hand purchase. Thrift store shopping is also one of the best ways to freshen up your child's spring wardrobe or a spring maternity wardrobe. Such items typically aren't worn out because kids quickly outgrow them and pregnancies last only so long.
Things to avoid. While the lure of the thrift shop is strong, there are some types of clothing you should never buy used. Socks and underwear come to mind for health and sanitary reasons. We likewise recommend against hats, boots, or shoes during a thrift store shopping spree. 
When and where to shop. There's a lot of advice floating around on the Internet about the best thrift stores and when to shop them. Macklemore says you shouldn't shun any thrift shop if you really want to score the best deals -- after all, thrift store shopping is full of serendipity. Frugal consumers recommend chatting up thrift store workers to find out when new inventory hits the floor and when sales happen. If there's a thrift shop near you, make a habit of visiting often to learn the schedule. Also note that some of the best finds surface when items are out of season. Even though you're eyeing spring clothes right now, you may score with some bonus winter wardrobe updates as well.
More on Cheapism.com and MSN Money:
DATA PROVIDERS
Copyright © 2014 Microsoft. All rights reserved.
Fundamental company data and historical chart data provided by Morningstar Inc. Real-time index quotes and delayed quotes supplied by Morningstar Inc. Quotes delayed by up to 15 minutes, except where indicated otherwise. Fund summary, fund performance and dividend data provided by Morningstar Inc. Analyst recommendations provided by Zacks Investment Research. StockScouter data provided by Verus Analytics. IPO data provided by Hoover's Inc. Index membership data provided by Morningstar Inc.