Deal or no deal: How do dollar stores stack up?
A blogger compares prices of 13 items at the dollar store, Wal-Mart, Rite Aid and Albertsons.
This guest post comes from Len Penzo at Len Penzo dot Com.
Believe it or not, the dollar store has been around since at least 1955, when Dollar General opened its first store in Springfield, Ky.
Granted, in terms of purchasing power, a dollar went a lot further back then -- equivalent to about $8 today. Even so, when you walk into a dollar store, it quickly becomes apparent that inflation has done very little to reduce the size of its qualifying inventory.
In fact, my local dollar store carries such a wide variety of products that I am confident I could get by fairly well in a pinch if it were the only store in town. It even carries fresh produce.
Still, for every person who says dollar stores provide terrific bargains for a buck or less, you'll find another who will say that you only get what you pay for. Others insist that if you aren't careful, you can actually get ripped off at a dollar store.
It's the modern version of the Hatfields and McCoys.
So who's right and who's wrong? I know I was confused.
Time to play secret shopper
That's why last week I decided to spend a few hours and do a little comparison shopping in order to find some of the best bargains dollar stores have to offer -- and perhaps sniff out a few items you might be better off getting somewhere else.
For my comparison I decided to compare 13 items I found at my local dollar store (99 Cents Only) with the prices of similar items at my local Wal-Mart, Rite Aid drugstore and Albertsons supermarket.
Here is a summary of the results: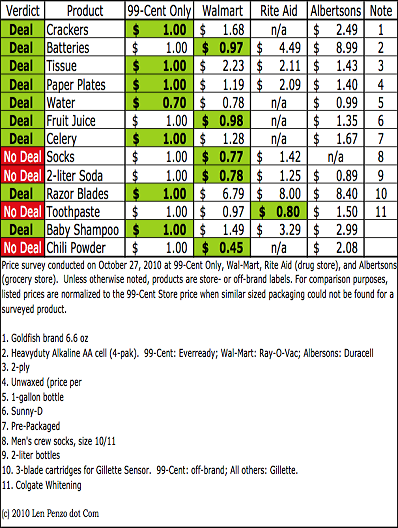 The best dollar store deals:
Razor blades. Any man who uses a traditional razor will tell you that replacement blades are not cheap. The results of my survey weren't a close shave by any means. The dollar store offered a four-pack of off-brand blades for a Gillette Sensor razor for a buck. The best the closest competition could do was offer a name-brand pack at almost seven times the cost on an equivalent basis.

Batteries.

The Wall Street Journal warns that you should always

stay clear of dollar store batteries

because of their inferior quality. While my dollar store couldn't claim it had the cheapest batteries -- the Wal-Mart price was 3 cents lower -- they were still a deal. Even better, I was shocked to discover that the dollar store was not selling the poor-performing

carbon zinc batteries

, but higher-quality alkalines! Best of all, they were $3.50 cheaper than similar batteries found at Rite Aid.

Goldfish crackers. I love Pepperidge Farm's goldfish-shaped crackers. My local dollar store handily beat out the prices offered by Wal-Mart and Albertsons. In case you're wondering, the crackers at the dollar store really were worth their salt; they still had more than a month to go before the date on the package.

Tissue. On a per-count basis, the deal the dollar store was offering on tissues was nothing to sneeze at; the closest competition found at my Albertsons grocery store was 43% more expensive.
The worst dollar store deals:
Chili powder. Regardless of the quality you may think they offer, the conventional wisdom is that when it comes to price, dollar store spices can't be beat. This survey turns that train of thought upside down, as Wal-Mart had chili powder for less than half the dollar store price. Talk about spicy deals.

Socks. The off-brand dollar store socks were not only significantly more expensive per pair than the name-brand competition at Wal-Mart but, judging by the "feel test," their quality was also much poorer. To wit, the dollar store socks were extremely thin and as scratchy as 60-grit sandpaper. Ouch.

Two-liter sodas. Wal-Mart and Albertsons not only both had lower prices than the dollar store, but a larger selection too.

Toothpaste.

Toothpaste is another one of those items The Wall Street Journal identified as something you probably want to stay away from at dollar stores, especially because the

FDA

identified "several counterfeit tubes that look like Colgate" sitting on dollar store shelves. My dollar store offered tubes of Colgate toothpaste, although I couldn't tell if it was counterfeit or not. No matter. both Wal-Mart and Rite Aid offered (presumably genuine) Colgate toothpaste at a lower equivalent price.
What did I learn?
Aside from reaffirming my personal distaste for shopping, I discovered that there are some really great deals to be had at dollar stores. In fact, I still can't get over the price savings on razor blades!
That being said, I also discovered that there are indeed items for sale at dollar stores that you can get cheaper somewhere else.
I know what you're thinking: "Yeah, Len, thanks for stating the obvious. Didn't you learn anything else from this little exercise?"
Well, actually I did. If those dollar store socks are any indication, I know I'll be telling the Honeybee to make sure she never ever buys my underwear at a dollar store -- no matter how big the savings.
More from Len Penzo dot Com and MSN Money:
DATA PROVIDERS
Copyright © 2014 Microsoft. All rights reserved.
Fundamental company data and historical chart data provided by Morningstar Inc. Real-time index quotes and delayed quotes supplied by Morningstar Inc. Quotes delayed by up to 15 minutes, except where indicated otherwise. Fund summary, fund performance and dividend data provided by Morningstar Inc. Analyst recommendations provided by Zacks Investment Research. StockScouter data provided by Verus Analytics. IPO data provided by Hoover's Inc. Index membership data provided by Morningstar Inc.