Redeeming miles gets tougher
Frequent fliers may find themselves grounded by miles that are more difficult to use.
This post comes from Kelli B. Grant at partner site MarketWatch.

It may be time for travelers to reassess their airline loyalty.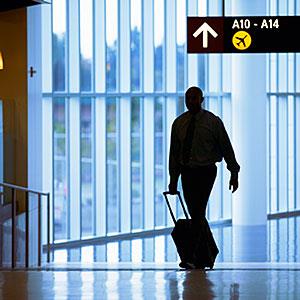 A perfect storm of airline mergers, frequent-flier program changes and reduced flight capacity could make it tougher and more expensive for travelers to redeem miles in coming months, experts say. Travelers who can't reasonably expect to earn elite status -- and the free upgrades, priority boarding and other perks that come with it -- may be better served by chasing fare sales and using a cash-back credit card instead of one branded to a particular airline.
"It's more miles chasing fewer opportunities to spend them these days," says George Hobica, the founder of AirfareWatchdog.com.​ "At least you can spend cash (back)."
Even earning miles is getting more complicated. In September, Delta reduced miles earned on special fares, including student rates and flights booked as part of a discount tour or cruise package. Depending on the fare class, those travelers could see as little as 25% of miles flown added to their frequent-flier balance.
That variation is something carriers abroad have long used, and it could become more popular among domestic airlines, says Randy Petersen, the founder of frequent-flier site InsideFlyer.com. "All miles are not created equal," he says.
Earning miles has become easier for spenders: Programs are increasingly focused on purchases with the airline, with its partners or on a co-branded card, says Petersen. Earlier this year, regional carrier Sun Country retooled its program to award travelers based on how much they spend rather than distance flown, and Delta added a $2,500 spending requirement for frequent fliers to achieve elite status.
Mileage bonuses for new airline cardholders are also on the rise, but so are spending requirements to grab them. For example, Chase routinely offers 50,000 bonus points on its British Airways Visa Signature to new cardholders who spend $1,000 in the first month. Those who sign up before Feb. 27, however, can earn up to 100,000, provided they hit that first spending requirement and then go on to spend $20,000 more within 12 months.
Shifting alliances and mergers further limit earning and redeeming opportunities. US Airways chief executive Doug Parker has said that if the airline merges with American Airlines, the carrier would leave the Star Alliance, a global airline network through which US Airways fliers can earn miles.
Granted, the merged airline would be part of the other global airline network, Oneworld Alliance. But travelers flying particular routes could find that the change requires shifting loyalties, says Hobica. After Virgin Atlantic and US Airways expanded their partnership to new markets last year, the two announced earlier this month that effective June 12, the two are parting ways, with travelers no longer able to earn or redeem miles from one program in the other. The likely reason? Delta's recent 49% stake in Virgin.
On the redemption side of the equation, some experts say Delta and US Airways could shift toward revenue-based redemption. That is, the price of award seats will be based on the going monetary rate, rather than being tied to a flat number of miles. "I firmly believe that's going to be the next step," says Brian Kelly, the founder of frequent-flier resource ThePointsGuy.com.
That could benefit some travelers. In such systems, for instance, award seats are always available. And with each mile worth a penny, travelers taking cheaper flights could come out ahead. (For example, a domestic round-trip flight costing less than $250 would be "cheaper" in miles than the current flat 25,000-mile charge.) But travelers who save their miles to use for pricey flights or first-class seats will end up spending more, he says.
To cap it all off, travelers are likely to see those "free" award seats carry a higher cost in fees. Last year, Spirit added fees of $15 to $100 for booking award travel close to the date of departure. "It used to be, with frequent-flier tickets, there were no fees at all," Hobica says. "Now, it might cost hundreds of dollars."
More on MarketWatch and MSN Money:
DATA PROVIDERS
Copyright © 2014 Microsoft. All rights reserved.
Fundamental company data and historical chart data provided by Morningstar Inc. Real-time index quotes and delayed quotes supplied by Morningstar Inc. Quotes delayed by up to 15 minutes, except where indicated otherwise. Fund summary, fund performance and dividend data provided by Morningstar Inc. Analyst recommendations provided by Zacks Investment Research. StockScouter data provided by Verus Analytics. IPO data provided by Hoover's Inc. Index membership data provided by Morningstar Inc.