Spring clean your (financial) house
Here's how to clean and organize your home and your finances -- and maybe make some money while you're at it.
This post comes from Angela Colley at partner site Money Talks News. 

Artist and writer William Morris once said, "Have nothing in your home that you do not know to be useful or believe to be beautiful."
I agree. Spring cleaning is an annual event in my home. Once a year I scrub from top to bottom, clean out drawers and closets, and reorganize the pantry. I get satisfaction from donating an entire closet full of stuff to Goodwill.
But I don't stop there. I look at spring cleaning as a chance to organize everything, including my paperwork, online life, and finances.
If you're getting ready for spring cleaning -- or could just use more organization in your life -- check out this roundup of tips:
Clean your house
Save money on your cleaning products. After nearly doubling my cleanser budget by going green, I found sites that run great deals on organic products: Amazon, Drugstore.com and Alice.com are three of my favorites.
If you'd rather go the traditional route, buy generic, which can save 30% or more, or use coupons and buy refills.
Of course, you could skip the store altogether and use what you already have around the house, using white vinegar to clean windows, or polishing metal with beer.
Clean the easy way. Don't expend more elbow grease than necessary. For example, you can easily clean your microwave by pouring one-quarter cup of lemon juice in a bowl, then microwaving on high for one minute. Remove the bowl and wipe down the inside of the microwave, using the condensation that formed to clean it.
For more tips to tackle tough stains, see this press release from Consumer Reports. 
Sell what you don't use. No spring cleaning would be complete without clearing clutter. For instance, go through your closets and pile up anything you haven't worn in a year, then sell it for some quick cash online or at local resale shops. Try ThredUP.com for kids clothes and Never Liked It Anyway for other clothes.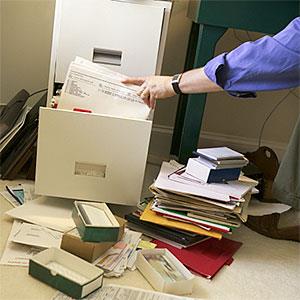 Clean your finances
Fight identity theft with a shredder. Before you toss unwanted documents, look for information an identity thief could use, like your Social Security number, bank account number, or credit card information. If you find sensitive information, shred it.
Toss out what you won't use. Toss expired warranties, out-of-date insurance policies, old receipts, or anything else you won't use again. File the documents you temporarily need toward the front of your filing cabinet so you can grab it and toss it as soon as it becomes outdated.
Don't keep it if it's already online. If someone else is already keeping a digital copy, you don't need it. For example, online banking has made saving paper bank statements unnecessary. My bank stores all of my old statements online and I can access them there. 
Many owners manuals are now also available online.
Go paperless. Maybe this is the spring you go digital: Invest in a scanner and start storing important documents with a service like Microsoft SkyDrive, Google Drive or Evernote. With cloud storage and a scanner, you won't need to sort your filing cabinet again next year. Better yet, it's much easier to search through digital files than paper ones.
Update your budget. I use spring cleaning as a time to give my budget a quick tuneup. Since I already have one in place, it only takes a few minutes to make sure it's still accurate.
Don't have a budget? Now is a great time to make one.
Clean up your online presence. Whether you know it or not, odds are you've built a bit of an online persona. That could be good news or bad news depending on what it looks like.
For example, if you're tweeting about a book you wrote, having those tweets show up in search results is a good thing. But if your former college roommate keeps tagging you in embarrassing photos and you've got a job interview coming up, you'll want to remove anything you don't want someone else to see. 
More on Money Talks News and MSN Money:
DATA PROVIDERS
Copyright © 2014 Microsoft. All rights reserved.
Fundamental company data and historical chart data provided by Morningstar Inc. Real-time index quotes and delayed quotes supplied by Morningstar Inc. Quotes delayed by up to 15 minutes, except where indicated otherwise. Fund summary, fund performance and dividend data provided by Morningstar Inc. Analyst recommendations provided by Zacks Investment Research. StockScouter data provided by Verus Analytics. IPO data provided by Hoover's Inc. Index membership data provided by Morningstar Inc.