Mobile app use exceeds Web browsing
People with smartphones and other mobile devices are spending on average 81 minutes a day using apps. Where does the time go?
This post comes from Matt Brownell at partner site MainStreet.
When it comes to wasting time among the well-wired, mobile apps have finally bested the Web.
Flurry, a company that provides in-app analytics for mobile devices, recently used its data to determine how much time Americans spend using mobile apps on a daily basis. It then looked at Web usage data gathered by analytics firms Alexa and ComScore to compare that with how much time people spend browsing the Web every day.
What it found was a sign of the rapidly changing times: Average daily app use for people with smartphones and other mobile devices is 81 minutes, compared with 74 minutes spent browsing the Web on a PC or laptop. Just three years after Apple launched its App Store, Americans spend more time on mobile applications than on traditional Web browsing.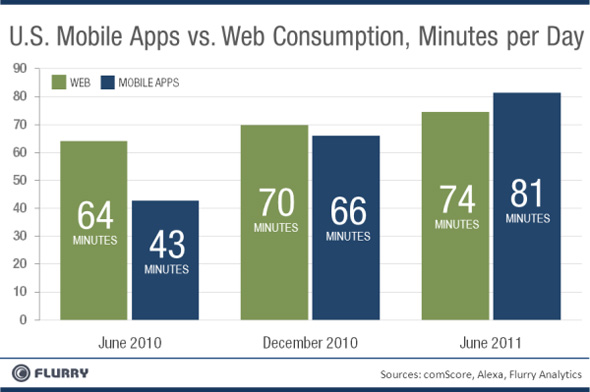 That's not to say that the Web is dead. After all, only a small (but growing) percentage of the population has a smartphone, and not all of them use mobile apps. According to the Pew Internet Project, just one in four adults used mobile apps as of September. Use of the Web is much more widespread. So while it's true those who use mobile apps have made them their time-waster of choice, it's not as if apps have overtaken the Web in overall usage.
And before you accuse us of being flippant by calling apps time-wasters, consider this: According to Flurry, 47% of app time is spent on games and another 32% on social networking. So when app users are spending their 81 minutes a day fiddling with apps, almost 80% of the time it's on the likes of Facebook and Angry Birds.
More on MainStreet and MSN Money:
DATA PROVIDERS
Copyright © 2014 Microsoft. All rights reserved.
Fundamental company data and historical chart data provided by Morningstar Inc. Real-time index quotes and delayed quotes supplied by Morningstar Inc. Quotes delayed by up to 15 minutes, except where indicated otherwise. Fund summary, fund performance and dividend data provided by Morningstar Inc. Analyst recommendations provided by Zacks Investment Research. StockScouter data provided by Verus Analytics. IPO data provided by Hoover's Inc. Index membership data provided by Morningstar Inc.