Southwest Airlines outperforms rivals again
A new survey reveals how airlines, hotel chains and online travel agencies rate among users of smartphones and tablets for best mobile experience.
This post comes from MSN Money contributor Mitch Lipka.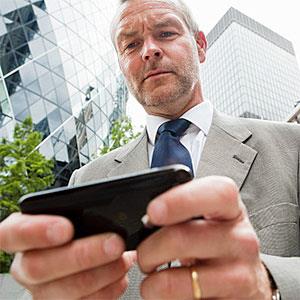 Southwest Airlines, the king of budget travel, also is tops in providing a good user experience for those on mobile devices, according to a just-released survey by the analytics firm ForeSee.
In today's mobile world, consumers are increasingly using their smartphones and tablets to get the information they need -- something that's even more the case when traveling. So, ForeSee, which conduct surveys and evaluates users' Internet experience, took a look at how the travel industry is serving its mobile users.
Overall, mobile users were far more likely to use the mobile travel sites to do research than actually book a flight or service, ForeSee found. About 70% of those who use mobile travel sites -- among 6,000 consumers surveyed -- reported that they booked from home. About 12% said they booked using an app or mobile site while in transit.
While Southwest, Choice Hotels and Marriott topped the ForeSee Mobile Satisfaction Index: Travel Edition, the company found some room for improvement in the mobile travel site user experience.
A key suggestion: "Simple is the rule. Customers are attracted to the convenience of the mobile platform and do not want a complicated experience," said Larry Freed, president and CEO of ForeSee. "That's much easier for a hotel company to do because they have fewer moving parts and a predictable inventory."
But that can be more difficult for others in the travel business.
"Airlines introduce more variables like seat selection and variable pricing. Online travel agencies have the most difficult challenges because they're dealing with all of these factors," Freed said. "Making matters worse, some travel properties are trying to assert more control over their own customers by withholding inventory from the travel aggregators."
In the hotel category, trailing Choice and Marriott were a tightly bunched group including Hyatt Corp., Intercontinental Hotels & Resorts, Wyndham Hotels and Resorts, Hilton Worldwide, Starwood Hotels & Resorts, and Best Western.
Online travel agencies were used dominantly by leisure travelers, ForeSee said. Kayak.com and Travelocity.com topped the pack, followed by Expedia.com, Priceline.com, Hotels.com and Orbitz.com.
"Leisure travelers are more demanding than we thought," said Eric Feinberg, ForeSee senior director of mobile. "It is clear that travel aggregators need to do a better job of understanding what the leisure traveler needs."
Southwest's customer satisfaction among mobile users was far higher than its competitors, ForeSee found.
"Southwest's simple, friendly and no-frills approach to doing business translates well in the air as well as online. No assigned seats and no fees for baggage help to simplify the process for the consumer, which no doubt contributes to a more satisfying mobile experience," Feinberg said.
Trailing Southwest were American, Delta, United and US Airways. Among rental car companies, Avis and Enterprise topped the list, followed by a tie between Budget and Hertz, and then Dollar.
More on MSN Money:
DATA PROVIDERS
Copyright © 2014 Microsoft. All rights reserved.
Fundamental company data and historical chart data provided by Morningstar Inc. Real-time index quotes and delayed quotes supplied by Morningstar Inc. Quotes delayed by up to 15 minutes, except where indicated otherwise. Fund summary, fund performance and dividend data provided by Morningstar Inc. Analyst recommendations provided by Zacks Investment Research. StockScouter data provided by Verus Analytics. IPO data provided by Hoover's Inc. Index membership data provided by Morningstar Inc.