Why wait to shop on Black Friday?
You don't have to wait until Black Friday to snag those great prices if you know where to look.
This post comes from Melinda Fulmer of MSN Money.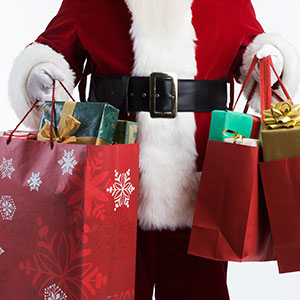 The old retail tradition of queuing up for bargains in the wee hours of Black Friday may finally be on its way out. First, pajama-clad online shopping stole some of the retail thunder. Now retailers are offering many of their Black Friday door-busters weeks ahead of time -- no inconvenience necessary.
Some are offering advance deals to their most loyal shoppers. Target is giving access to some of its door-busters to its REDcard holders on Nov. 21, according to a Dealnews roundup. And Sears is allowing its Shop Your Way members early access to Black Friday prices after 6 p.m. on Nov. 18.
But you don't have to be a member to snag some of the Black Friday ad deals.
Target is already allowing Facebook fans to snag some of its Black Friday deals through a price-guessing game on its page.
And a GE washer and dryer that Home Depot has advertised on Black Friday, for $350 each, were going for $280 apiece at Sears' Friends and Family sale after using a coupon, says Michael Brim of BFads.net.
Similarly, the new Google Nexus tablet advertised for $229 in many Black Friday ads was available this weekend at the same price -- or even lower. EBay's Daily Deals and Office Max were carrying it for $229. Staples had it for $199 but with less memory, says Brad Olson of BlackFriday.Gottadea​l.com.
And that $1,299, 27-cubic-foot French door Kenmore refrigerator that I had my eye on in a Sears Black Friday ad (only two to a store!)? It turns out it wasn't such a rare deal either. Kmart had a similar-size Kenmore French door fridge on sale this past weekend for $1,237 after a 10%-off coupon. At that price, why bother with the crowds?
"I think stores are keeping a lot of their really hot deals for the month following Black Friday," given how early Thanksgiving comes this year, Olson says. And, to be sure, the first weeks of December are when the steepest discounts are usually found, retail analysts say.
The only reason you need to head out on Black Friday is if you find one spectacular blockbuster you can't find anywhere else at a similar price. And that is a rare find these days.
The large majority of Black Friday ad deals will be available online beginning Wednesday, Nov. 21, Brim says.
More on MSN Money:
DATA PROVIDERS
Copyright © 2014 Microsoft. All rights reserved.
Fundamental company data and historical chart data provided by Morningstar Inc. Real-time index quotes and delayed quotes supplied by Morningstar Inc. Quotes delayed by up to 15 minutes, except where indicated otherwise. Fund summary, fund performance and dividend data provided by Morningstar Inc. Analyst recommendations provided by Zacks Investment Research. StockScouter data provided by Verus Analytics. IPO data provided by Hoover's Inc. Index membership data provided by Morningstar Inc.
RECENT ARTICLES ON SHOPPING DEALS