The best time to buy toys
If you have kids on your holiday shopping list, don't fall for the temptation of Black Friday. History shows there are better deals to be found.
This guest post comes from Jeff Somogyi at Dealnews.

A few weeks ago, the children of the world let out a collective shout of "Awesome!" when this year's Toys R Us Fabulous 15 list was announced. At the same time, parents looked into their wallets and let out an exasperated, "They cost HOW MUCH!?"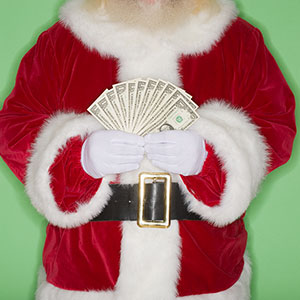 Well, fear not, pennywise parents. We are here to hold your hand, smooth your hair, make soothing shushing noises, and tell you that everything will be all right; you won't have to break the bank this holiday season. And these are not just empty words -- we have data on our side.
We went through our records from last year, and, besides finding out that we have a serious lack of restraint when it comes to our eggnog budget, we turned up some interesting information pertaining to the price trends of last year's Fabulous 15 list -- and by extension, price trends for new holiday toys in general. 
Bypass Black Friday, collect up to 63% in savings
You may be tempted to buy the season's hottest toys sooner rather than later -- maybe even during a Black Friday sale -- but don't.
All of the deal data we have on these "Fabulous" toys tell a similar tale: To get the best price, wait until the last possible moment to make your purchase. On the whole, not even Black Friday -- the hottest of all shopping days -- can beat this technique.
Last year nearly all of the toys we saw deals on hit their price lows during the two weeks leading up to Christmas. We saw Air Swimmers drop 50% in price, Lalaloopsy Silly Hair dolls drop 63%, and Let's Rock Elmo fall 57% in price. Those are some significant savings that shoppers would only have gotten by skipping the Black Friday deals and waiting 10-plus days for December.
Wait for it . . . wait for it . . .
Seriously, wait. Wait to buy those toys for as long as you can stand, then wait just a bit longer. Hold off on toy and game purchases until you're either about to pass out from the stress of disappointing a child or until it's just not physically possible to have the toy delivered to you in time to get it hastily wrapped and thrown under the tree.
Now, we realize that for some people paying slightly more than lowest-of-the-season​ prices is OK if it means peace of mind during an already stressful time of year. In that case, we can relax the window of opportunity a tad and say: Wait until December to buy toys. Last December, we saw all the toys we had Black Friday information on drop in price.
Sure, the prices got better as the month progressed, but deals from early in the month offered savings as well. Purchase one of the Fabulous 15 -- or any "new release" toy -- in December, and you're likely getting a good deal.
The LeapFrog LeapPad Explorer ruins everything
One caveat we'd like to mention: The LeapFrog LeapPad Explorer kinda threw a wrench into our data set. It had an MSRP of $100 and that is where it stayed all season long. The good news? Even if you waited all December for a deal on a LeapPad Explorer, you were never going to end up paying more than anyone else did. Annoying, but at least not costly.
The moral of the story
In the coming weeks, many consumers will be tempted to pull the holiday shopping trigger early. Stores will entice you with savings. Tell them, "Get thee behind me, storefront!" and wait. Then keep waiting, patiently, until the 14-day window before Christmas, when the toys of the season are likely to be at their lowest prices.
More on Dealnews and MSN Money:
No cap limits....none.  All incomes, the extremely low to the extremely high pays the desiginated percentage.  All incomes.  Result would be a true Social Scurity fund for everyone according to their need.  Come on all you politicians, do this and quit using Social Security scare tactics in every election campaign to frighten the older aged people in this country.  Come on, put your best foot forward and not put it in your mouth.  Prove you can lead and not just spout cleshes in all directions, saying nothing and pointing fingers.  Come on, prove you are adults and can do adult jobs, prove it, don't just say you can.  Quit looking backwards at what wasn't done and start doing what is needed today and for the future.  Come on you nimrods, its time to prove to us and the world that you aren't morons.  Make yourself proud and us too by being adult leaders and not over-eduated idiots.

Hey, the right to die (when nothing will "mke you whole") should be up to the person; I am 80 and, so far, in good health but if I were in the position to never get well, keep my loved ones dangling, I would prefer to die with dignity.
Some doctors say NO to contine to collect medicare dollars????????
Are you sure you want to delete this comment?
DATA PROVIDERS
Copyright © 2014 Microsoft. All rights reserved.
Fundamental company data and historical chart data provided by Morningstar Inc. Real-time index quotes and delayed quotes supplied by Morningstar Inc. Quotes delayed by up to 15 minutes, except where indicated otherwise. Fund summary, fund performance and dividend data provided by Morningstar Inc. Analyst recommendations provided by Zacks Investment Research. StockScouter data provided by Verus Analytics. IPO data provided by Hoover's Inc. Index membership data provided by Morningstar Inc.
RECENT ARTICLES ON SHOPPING DEALS