Wal-Mart leaks its Black Friday ad
The giant retailer is opening its doors at 8 p.m. on Thanksgiving and offering a special enticement for those who hang around until at least 10 p.m.
This post comes from Melinda Fulmer of MSN Money.
Wal-Mart released its 45-page Black Friday ad Wednesday night, surprising email subscribers with offers that in many cases blew the doors off last year's deals. The discounter is working hard to pull in more shoppers with a few doorbuster guarantees and an earlier start time this year.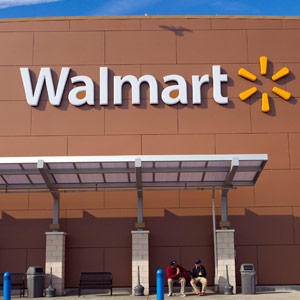 Like rival Sears, Wal-Mart will open its doors at 8 p.m. Thanksgiving Day and offer three sets of doorbuster "events." A gaming and toys sale starts when the store opens and continues while supplies last, an electronics sale starts at 10 p.m., and a third sale begins at 5 a.m. on Friday.
The idea is to keep shoppers in the stores longer so they buy more. However, there is one added enticement for those who stick around until at least 10 p.m. The retailer won't run out of those doorbusters.
The second sale offers a "1-Hour In-Stock Guarantee" from 10 to 11 p.m. on three of its big doorbusters. If you don't get one, you can purchase a "guarantee card," which will ensure that you get the item shipped to the store at the Black Friday price before Christmas.
Those doorbusters are:
32-inch Emerson HDTV for $148.
LG Blu-ray player for $38.
Apple iPad 2 16GB with $75 gift card for $399.
This year, Wal-Mart's ad offers more steeply discounted TVs and laptops, and better values on gaming console bundles and video games than in years past, says Brad Olson of  BlackFriday.Gottadea​l.com, which posted the ad early this morning.
It's certainly besting rival Best Buy with a cheaper brand-name laptop and a $129 price on the Nabi 2 kid-friendly tablet that's $40 cheaper.
Some of the other hot Wal-Mart deals include:
32-inch HDTV for $148 (regularly $298).
15.6-inch 2GB Compaq Presario laptop for $179 (selling elsewhere for $300).
HP 4 GB laptop for $279 (sold elsewhere for more than $500).
Philips 3-D Wi-Fi Blu-ray home theater system for $128.
Xbox 360 4GB "Skylanders" Starter Pack bundle for $149 (the console itself can run $200).
Leappad Explorer for $65 (regularly $99).
Wii "U-Draw" game table for $10 (regularly $29.99).
Uncle Milton Illuminated Gel Ant Farm for $10 (regularly $30).
Moreover, video games like "Madden NFL 13" and "Call of Duty: Modern Warfare 3" are selling at $25 -- about half of their usual price.
More from MSN Money:
DATA PROVIDERS
Copyright © 2014 Microsoft. All rights reserved.
Fundamental company data and historical chart data provided by Morningstar Inc. Real-time index quotes and delayed quotes supplied by Morningstar Inc. Quotes delayed by up to 15 minutes, except where indicated otherwise. Fund summary, fund performance and dividend data provided by Morningstar Inc. Analyst recommendations provided by Zacks Investment Research. StockScouter data provided by Verus Analytics. IPO data provided by Hoover's Inc. Index membership data provided by Morningstar Inc.
RECENT ARTICLES ON SHOPPING DEALS