7 reasons to shop Small Business Saturday
You'll be helping your local economy while possibly earning a $25 American Express credit in the process.
This post comes from Jeffrey Trull at partner site Money Talks News.

Big retailers like Best Buy, Wal-Mart and Target lure you into their stores on Black Friday (or the night before) with special deals. If that's not enough, these same stores offer online deals on Cyber Monday and Free Shipping Day too. But where's the love for the little guys, the small businesses that are a big part of our nation's economy?
With the holiday season just around the corner, you may feel maxed out on dedicated shopping days. But make room for one more: Small Business Saturday.
What is Small Business Saturday?
Started by American Express in 2010, Small Business Saturday falls on the Saturday after Thanksgiving. An estimated 103 million Americans participated in 2011, according to American Express. Here are some reasons to shop on Small Business Saturday, Nov. 24 this year: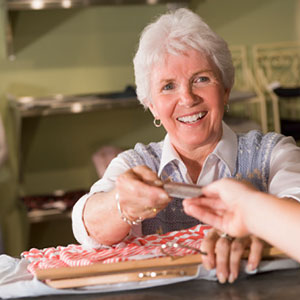 1. Support the local economy
By buying local, your money stays local. This means more jobs for residents and increased tax revenues for local governments.
According to a study of the local economy in Salt Lake City, an average of 52% of revenue from local retailers returned to the local economy, compared with only 14% for national chains. Similar findings were reported with restaurants, with local eateries returning an average 79% versus just 30% for chains.
Even if buying local means spending a bit more, your community may receive a greater portion of your purchase in return.
2. Avoid crazy Black Friday shopping
Black Friday may have some of the best deals of the year, but the packed crowds and insane lines are a turnoff for some. Many of the doorbusters advertised by stores are very limited in quantity, so you'll line up early with potentially nothing to show for it.
By shopping on Small Business Saturday, you might not get the same amazing deals, but you won't have to battle other customers to get what you want, either.
3. A $25 credit from American Express
If you're an American Express credit card holder, you can get $25 back when you spend at least $25 at a local retailer. All you need to do is enroll in the program and meet a few qualifications, which can be found on the Small Business Saturday site. Enrollment is limited and begins Nov. 18.
4. Better for the environment
Whether by boat or plane, shipping goods long distances carries significant environmental costs.
Two-thirds of goods purchased by American consumers come by cargo ships, which are major polluters. Although new regulations recently went into effect that should reduce shipping emissions, the amount of pollution ships have historically been responsible for is astounding. A 2009 article in the Guardian says that "just 15 of the world's biggest ships may now emit as much pollution as all the world's 760 million cars."
While some small businesses obviously stock products from faraway places, you're more likely to find locally made goods, which lowers transport costs and pollution.
5. More local jobs
According to the Small Business Administration, small businesses employ about half of all private-sector employees in the U.S.
Even though large chains create jobs, the downsizing or closure of competing local businesses can mean a net loss in jobs. According to a study (.pdf file) on the effects of Wal-Mart on local labor markets, opening a Wal-Mart store reduces employment by an average of 150 jobs within the county it's located.
Shopping at local businesses helps smaller shops keep their doors open and their workers employed.
6. Unique gifts
You'll often find gifts in local shops you won't find in larger stores, like handmade jewelry or artisan foods. These gifts can add a special touch that you can't get from mass-produced products.
7. Local businesses are online, too
You don't have to limit your local shopping to in-store browsing. Finding nearby small businesses with the handmade goods you're looking for is easy using a site like Etsy Local. You can search by location to find local artisans offering jewelry, art and clothing near your hometown.
If you still want to support small businesses but can't find what you're looking for locally, you can order on Etsy and have your purchase shipped.
You don't have to limit your support of small businesses to just this one day, either. Think local year-round, and both you and your community will benefit.
More on Money Talks News and MSN Money:
DATA PROVIDERS
Copyright © 2014 Microsoft. All rights reserved.
Fundamental company data and historical chart data provided by Morningstar Inc. Real-time index quotes and delayed quotes supplied by Morningstar Inc. Quotes delayed by up to 15 minutes, except where indicated otherwise. Fund summary, fund performance and dividend data provided by Morningstar Inc. Analyst recommendations provided by Zacks Investment Research. StockScouter data provided by Verus Analytics. IPO data provided by Hoover's Inc. Index membership data provided by Morningstar Inc.
RECENT ARTICLES ON SHOPPING DEALS