Best things to buy in December
Deals on hardware, kitchen items, laptops and NFL gear (for losing teams) abound, as do gift card freebies.
This post comes from Lindsay Sakraida at Dealnews.

December is a month when you almost can't avoid shopping. You may have skipped Black Friday -- overwhelmed by the offers, hype and crowds -- but the holiday season is a different beast altogether, with gifts from loved ones, friends, and people you barely know coming at you from all angles.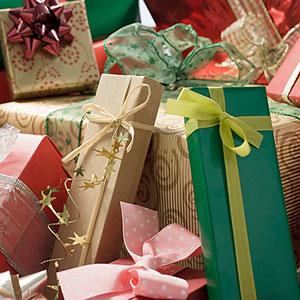 Maintain lots of holiday cheer by shopping wisely with our December buying guide. We've pored over the extensive Dealnews archives of sales, coupons and daily deals from years past to guide you in your quest for the most savvy purchases in December. Here's what we found:
Get good deals on toys ... by still waiting.
Finally, it's the best time to buy holiday toys. Almost. In 2011, many of the year's top toys hit their lowest prices of the season in the two weeks before Christmas. In fact, that middle week of December specifically saw a staggering number of Editors' Choice toy deals.
Keep in mind, however, that shopping mere days before Christmas is probably not wise; retailers realize that last-minute shoppers are desperate and less able to effectively comparison shop, so prices often reflect that.
Put off buying a 2013 wall calendar.
You may see some modest discounts this month and early in 2013 that will entice you to purchase a calendar, but the first significant sales we'll see on these items come at the end of January and beginning of February. (You can, of course, see even bigger discounts the longer you put it off, but you actually want to use the calendar, right?)
Keep an eye out for gift card freebies.
A popular promotion throughout the month of December, especially among restaurants, is to offer a free gift card to shoppers who purchase one as a gift. For example, last year California Pizza Kitchen offered a $40 gift card to anyone who purchased $100 or more in gift cards.
However, retailers are more likely to offer a gift card with purchases that reach a certain threshold: L.L.Bean currently offers a free $10 gift card to any customer who spends $50 or more.
Consider tools and hardware deals for Dad.
Does Dad want a new drill for Christmas this year? Perfect. Like last month, December is an excellent time for tools and hardware deals. In fact, last year the month of December featured double the number of Editors' Choice offers than any other month, save for November. Look for significant discounts on wrench and screwdriver sets, drills, lawn-care tools, and more.
It's a jolly time to buy Christmas decorations ... after Christmas.
It's common knowledge that holiday decorations see their greatest discounts after the holiday in question has passed, and it's no different for Christmas. If you wait until Dec. 26, you'll see discounts of 50% to 70% off seasonal goods.
However, if you absolutely must buy a fake Christmas tree before Dec. 25, look to Wal-Mart, Kmart, and Home Depot for inexpensive options.
Stock up on kitchen items for more holiday cooking.
Although we noted that November sees the greatest number of cookware and kitchen deals, the sales and discounts last year carried over into December and resulted in an uptick in the number of Editors' Choice prices. Look for cutlery sets, bakeware, small appliances and more from Macy's, Kohl's, Amazon, FoodSaver, Williams Sonoma, and Sears.
Look for deals on NFL gear (if your team was terrible in 2012).
If your team has already essentially been knocked out of the running for the Super Bowl, then congrats. You can now start looking for discounts on 2012 merchandise. If your team is still at it, you might need to wait until the playoffs in January for some choice savings. Regardless of your team's standings, though, we typically see a greater number of Editors' Choice NFL deals in both December and January as stores start slashing prices in anticipation of the end of the season.
Skip buying jewelry for the holidays.
Sorry, lovers. As our media editor put it last year, "Big Jewelry" has you in a corner this month. Jewelry just doesn't see its best discounts of the year before Christmas, so if you didn't already purchase something nice, you likely won't be getting the best possible deal.
You can make the most of the season's sales by using a broad department store or apparel coupon for a nominal discount. However, many stores, including Macy's, frequently exclude jewelry from these offers.
For electronics deals, wait until 2013 models debut.
If you didn't jump on the electronics deals during Black Friday weekend, at this point you might as well wait until January and February to buy a digital camera, TV, or other device. The Consumer Electronics Show in January is the official launch for many 2013 models, which means that all the goods from 2012 will begin to see a round of discounts.
December brings added savings to name-brand HDTVs.
When it comes to HDTV deals, it's tough to beat the doorbuster prices we see on Black Friday. However, if you didn't pick up a new set last month, there's good news ahead, as December is still a prime month for HDTV deals. In fact, last year name-brand 42-inch LCD HDTVs dropped an extra 5% in December (when compared with their best November price). Likewise, 46-inch and 47-inch name-brand LCD HDTVs dropped an extra 8% in December. 
Fans of 3-D, unfortunately, are still stuck paying a premium for the latest 3-D technology. As a result, we once again recommend steering clear of any 3-D TV deals, as you simply get more value for your money buying a traditional non-3-D TV. (Based on our 2011 TV deal data, prices on 55-inch 3-D HDTVs increased 10% from November to December.)
Ivy Bridge hits all-time low and desktop replacements are the new budget laptops.
Black Friday and Cyber Monday offered an endless barrage of excellent laptop deals. And while traditionally the most aggressive deals are held for budget 15-inch laptops (those with Celeron or Pentium CPUs), this year we found many of the most aggressive deals applied to mainstream Ivy Bridge laptops. In fact, we saw 16-inch mainstream Core i5 Ivy Bridge notebooks drop as low as $360. (For those keeping track, that's $4 under our Black Friday prediction.)
We expect these aggressive deals to continue through December and to see deals from the likes of Best Buy, the Microsoft Store, and Fry's Electronics.
If you're shopping for a desktop replacement, we saw big drops on both budget Celeron-based 17-inch laptops (which dropped as low as $350) and well-equipped Core i7-based 17-inch laptops (which fell to $645, a price low we hadn't seen since February.) Again, we recommend looking at deals from Best Buy, Dell, and Lenovo.
More on Dealnews and MSN Money:

This year I am respecting my children's wishes and purchasing essential and useful gifts. For those in college- a gift basket filled with supplies such as laundry detergent, dish towels, dishwashing soap ect. The basket will be useful for storage as well. A seperate basket for personal care supplies such as shampoo, hair brush, soap ect.  that will be packaged  attractively for Christmas.
Gift cards for food to help get through the next sememster.
I still will get them one really strange gift such as neon green eye goggles for onion cutting. I just can"t help myself! Lol

Looking for low-cost special treats from childhood for my grown children.  Pez, jujubees, chocolate raisons... anything fun... Old Star Trek goodies,  GI Joe whatever catches my eye.  Grandkids and great-grands get the same, only in their age group for nostalgia.  and perhaps gift ideas for the future.
Merry Christmas everyone!
Are you sure you want to delete this comment?
DATA PROVIDERS
Copyright © 2014 Microsoft. All rights reserved.
Fundamental company data and historical chart data provided by Morningstar Inc. Real-time index quotes and delayed quotes supplied by Morningstar Inc. Quotes delayed by up to 15 minutes, except where indicated otherwise. Fund summary, fund performance and dividend data provided by Morningstar Inc. Analyst recommendations provided by Zacks Investment Research. StockScouter data provided by Verus Analytics. IPO data provided by Hoover's Inc. Index membership data provided by Morningstar Inc.
RECENT ARTICLES ON SHOPPING DEALS