More Black Friday sales start Thursday
Sears plans to open its doors at 8 p.m. on Thanksgiving, even earlier than some of its largest competitors.
This post comes from Melinda Fulmer of MSN Money.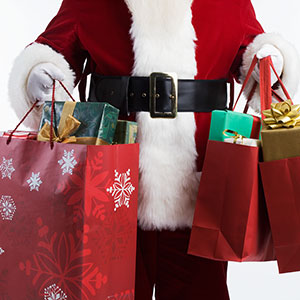 Retailers are more determined than ever to horn in on your Thanksgiving dinner, starting their Black Friday sales before or soon after you've consumed that big bird.
Sears announced that it will open its doors at 8 p.m. on Nov. 22 and keep them open for a whopping 26 hours, or until 10 p.m. on Black Friday, to accommodate its customers who sought more "flexible" shopping hours. The night owls will get door-busters at 10 p.m. and the early birds will get a second round of limited-quantity deals at 4 a.m.
Sears' decision to open its doors early probably has as much to do with the competition as it does with its customers. Toys R Us and Wal-Mart last year opened their doors at 9 p.m. and 10 p.m., respectively, on Turkey Day. Sears, meanwhile, was one of the holdouts, sticking to its 4 a.m. Friday start time.
Nobody, it seems, wants to be last in line for consumers' hard-earned dollars.
Department store rival Kohl's, for one, has said that its Black Friday sales will go live online at 12:01 a.m. Wednesday, Nov. 21, and its stores will open at midnight on Thanksgiving. While many stores do offer many of their deals as early as Wednesday or Thursday, it's rare that a retailer announces these online deals, in part because stores want shoppers to come out to their locations, where they typically spend more on impulse buys.
Sears' sister company, Kmart, meanwhile, has been open on Thanksgiving Day for 21 years running and will continue to be, open from 6 a.m. to 4 p.m. and then again from 8 p.m. until 3 a.m. Friday.
In other shopping news, the Black Friday ad for RadioShack was leaked today, and hardware giant Lowe's provided a glimpse of 25 of its hottest Black Friday deals.
By this time next week, experts say, many of the largest stores will have released their ads, allowing shoppers to begin checking off which of the 20,000 estimated Black Friday sale items will make their list. 
More on MSN Money:
DATA PROVIDERS
Copyright © 2014 Microsoft. All rights reserved.
Fundamental company data and historical chart data provided by Morningstar Inc. Real-time index quotes and delayed quotes supplied by Morningstar Inc. Quotes delayed by up to 15 minutes, except where indicated otherwise. Fund summary, fund performance and dividend data provided by Morningstar Inc. Analyst recommendations provided by Zacks Investment Research. StockScouter data provided by Verus Analytics. IPO data provided by Hoover's Inc. Index membership data provided by Morningstar Inc.
RECENT ARTICLES ON SHOPPING DEALS