First-date coupon use is on the rise
A recent CouponCabin online survey delves into one of the classic personal finance questions people never get tired of debating.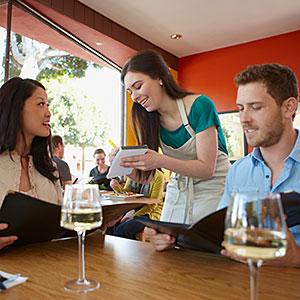 Is this an assault on romance or a triumph of frugality? According to a CouponCabin online survey of 2,346 adults last month, more Americans think it's perfectly acceptable to use a coupon on a first date.
"The economic challenges of the past few years have made many people more comfortable with frugality, so much so that it's part of the dating scene now," Jackie Warrick, the president and chief savings officer at CouponCabin, said in a news release.
Really? Here are the details:
26% of survey respondents said they've used a coupon on a first date, up from 18% in 2011.

26% said they would have a positive reaction if their date used a coupon on the first outing.

73% said if the date produced a coupon, they'd stay on the date and go out with that person again. 
12% said they'd remain silent about the coupon use but decline another invitation.

3% would express their disdain.

1% would head out the door.
Nearly half said the economy has made them more frugal and accepting of coupon use on a date. But somehow a coupon on the first date doesn't seem appealing to me. It begs the question: Am I not worth full price?
Others are also uncomfortable with this practice.
It's not sexy, wrote Helena Echlin in a post last year on Chow.
It's not impressive. "I would have probably been weirded out. On the first date? Maybe on the second or third, but definitely not on the first. That's when you're supposed to show me how generous you are," said the wife of Budgets are Sexy blogger J. Money.
On the other hand, it can be a conversation starter. When personal finance blogger Krystal Yee (aka "krystalatwork") wrote about the topic last year, Marian Perera responded on Give Me Back My Five Bucks:
"I probably wouldn't be too impressed if the coupon was for 50 cents off the appetizer's cost, or something small like that. But a two-for-one coupon? Heck, I'd ask him where he got it, and if he had any more!"
If you have a modest income or you're paying off debt, I can imagine several palatable scenarios for first-date coupon use:
Tell the date beforehand that you got a great offer on your favorite daily deals site for a new restaurant you want to try. If your date is not enthusiastic, chose an acceptable, affordable location and pay full price.

Tell your date you're taking her/him to a special place that you normally couldn't afford, but you can because you have a coupon. I'd like the sound of that.
Better yet, choose a different type of date scenario that requires very little, if any, money.
If you use a coupon, make sure you follow the rule that says you tip based on the full price. Otherwise, your date will know you really are a cheapskate.
Your turn: Is a coupon on a first date acceptable or not?
More from MSN Money:
DATA PROVIDERS
Copyright © 2014 Microsoft. All rights reserved.
Fundamental company data and historical chart data provided by Morningstar Inc. Real-time index quotes and delayed quotes supplied by Morningstar Inc. Quotes delayed by up to 15 minutes, except where indicated otherwise. Fund summary, fund performance and dividend data provided by Morningstar Inc. Analyst recommendations provided by Zacks Investment Research. StockScouter data provided by Verus Analytics. IPO data provided by Hoover's Inc. Index membership data provided by Morningstar Inc.
RECENT ARTICLES ON SHOPPING DEALS